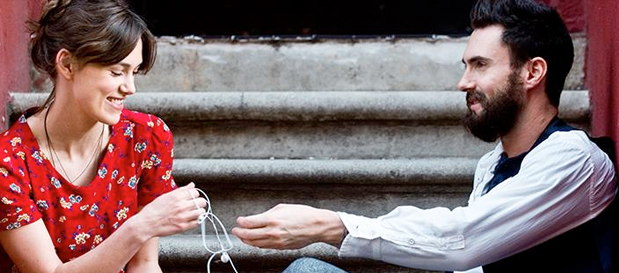 Adam Levine, frontman for Maroon 5 and judge on The Voice, will be co-starring with actress Keira Knightley in the movie Begin Again, due out July 4, 2014. Though Adam has acted before, in the second season of American Horror Story, Begin Again marks his first movie role, as well as Keira Knightley's first time singing in a movie.
On Saturday, Begin Again closed the Tribeca Film Festival. It debuted at the 2013 Toronto International Film Festival. Keira Knightley, 29, stated that she was "terrified" about singing in the movie, and singing around "real people who did it for a living," but Adam and the rest of the cast gave her encouragement.
Adam Levine, 35, said that he enjoyed acting in Begin Again, saying that the experience was "fun." If the movie becomes a box office hit, it's likely not the last time we'll get to see Adam Levine acting in a movie.
Keira Knightley praised Adam Levine's acting job, saying that he was "sensational." Adam returned the praise, saying that his co-star would be someone he's want on his team if she ever auditioned for The Voice.
Reportedly, there seemed to be real chemistry between Adam Levine and Keira Knightley. Knightley serenades Levine in the movie, and then they share a kiss together.
However, Adam Levine is not Knightley's main love interest in Begin Again. He plays her former boyfriend, Dave, becomes successful with his music when it's used in a soundtrack, and then cheats on his girlfriend. That serves to set up the rest of the movie, when Mark Ruffalo, who plays a dejected music business executive, Dan, becomes her main love interest.
John Carney, who also directed the musical drama Once, directs the musical romance Begin Again starring Adam Levine and Keira Knightley as the English singer and songwriter, Greta. Besides Knightley and Levine, Begin Again also stars Catherine Keener, Hailee Steinfeld and Mark Ruffalo. Appearing in a few scenes is a former judge and mentor on The Voice, CeeLo Green.
According to Keira Knightley in an interview she gave to EW, the director "wasn't looking for a voice that was going to carry a musical." That didn't matter, though, the actress added, as the song she sings is more of a folk song.
Knightley said it had "a talky-songy type vibe" to it. Carson didn't care so much about Keira's performance being "perfect." However, her singing in Begin Again is definitely proof that Knightley can sing in tune.
If you are wondering if Keira Knightley is as good of a singer as she is an actress, and you'd like to hear for yourselves how well the actress sings in Begin Again — as well as get a glimpse at how well Adam Levine acts — see for yourselves! All you have to do is check out the video clip from Begin Again below! Please leave your comments, also, and let the rest of the world know if you think the movie will be good or will probably not be worth the price of a ticket!
Written by: Douglas Cobb
Begin Again video clip

StarTribune.com
UpandCommers.net
BostonHerald.com