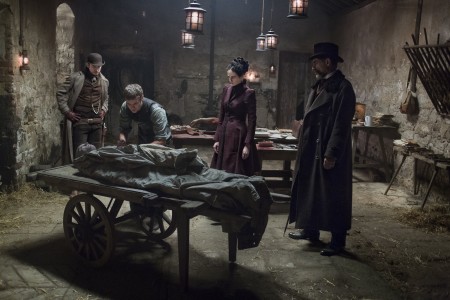 Penny Dreadful is horror based in Victorian London on Showtime and the pilot has a grim sort of style to it. In the one hour introduction to the days of Jack the Ripper, and he is included in the program's lore, viewers learn that in the old days, London was filthy, classist, and full of dark alleys with darker secrets. Thus far vampires, witches, a wild west show's sharp shooter, Mina Harker and Victor Frankenstein have made an appearance.
The characters all seem to be amalgamations of different Victorian characters from literature with a small bit of history thrown in to sweeten the mix. The title, and the story's plot lines are taken from the literary "penny dreadfuls" of 1800's England. Full of lurid and sensational stories these were popular bits of fiction. This Sam Mendes and John Logan production may have strayed from the original stories in terms of tradition, for example, Sir Malcolm dispatches a vampire with a sword by ramming the thing through the creature's heart, but they have not strayed from the stories intent, which was to entertain. Straying from the old fashioned method of shoving a wooden stake through a creature of the night's heart is not unique to Logan and Mendes' production.
Certainly, more modern vampires have had their folklore changed. There are often references to silver blades being a way to slay a vampire, where in the old days, or "old school" swords would only have been used to decapitate a vampire after having a stake pounded through its undead heart. Originally, the dead, "undead" would have had its head taken off and placed face down in the coffin, garlic stuffed in the mouth and roses strewn through the grave.
The pilot of Penny Dreadful, which has the episode title of Night Work is a splendid bit of English hokum set in Victorian London and the style of the program is very British. Even the female protagonist, Vanessa Ives, seems like a sort of Sherlock Holmes sans pipe, violin and Dr Watson. Josh Hartnett, whose "cowboy" character from a wild west show Ethan Chandler, could be seen as another nod to the Bram Stoker original Dracula novel's Quincey P. Morris, the rich Texan who was one of Mina Harker's many suitors.
The sharp shooting character fits the time period perfectly as there were quite a number of these shows that travelled the country. Penny Dreadful goes through other popular areas of fiction in the pilot, one of which being the opium den. All of the actors in the show have stepped up to the plate to knock their performances out of the park. Although it has to be said, that if Eva Green continues to frown so fiercely, a trip to a plastic surgeon could be in the cards for her in the not too distant future.
Production values on the show, shot in Dublin and Bray's Ardmore studio in Ireland due to tax incentives and because all the larger studios in London were full with "blockbuster" features being shot, are sterling. The first episode begins officially on Mother's Day in America, May 11. However, impatient viewers who have access to Hulu Plus can watch the pilot show already. Penny Dreadful, starring Eva Green, Timothy Dalton, Josh Hartnett, Billie Piper and Rory Kinnear set in Victorian London looks to be Showtime's answer to American Horror Story but with an emphasis on a darker style. It has been described as Sherlock Holmes meets The League of Extraordinary Gentlemen and that does seem pretty much spot on.
By Michael Smith
@MikesFilmTalk
Sources: