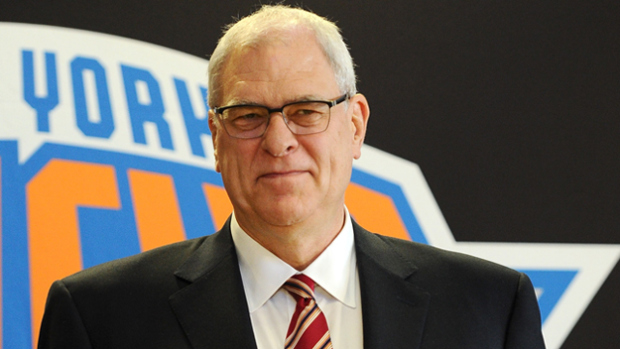 Back in March, Phil Jackson coming to New York was big news in the NBA, when he was introduced as team president. Immediately after his signing, rumors began how he would get rid of then-coach Mike Woodson in favor of one of his former players in Steve Kerr. That all came to a screeching halt this week when Kerr opted to coach the Golden State Warriors in place of recently-ousted coach Mark Jackson. As it turns out, Kerr is not the only former player of Phil Jackson's to be on his list of potential coaches.
If there was one prominent aspect of Phil Jackson as a coach, beyond his 11 championships, it was his implementation of the triangle offense. When he was brought in to New York, many remained unclear in terms of what direction the legendary coach would go in. With Jackson being in a new position, there was no guarantee that he would try to develop a team like his championship Bulls and Lakers.
However, in the days after Kerr denied New York as his coaching debut, it appears that molding a team like his championship squads is exactly what Jackson wants. While it is true that Kerr essentially was Jackson's only egg in the basket, five players have been rumored to be under consideration for the coaching vacancy — Derek Fisher, Kurt Rambis, Luke Walton, Tyronn Lue and Mark Jackson.
It should be noted that since the rumored names were released, Mark Jackson has signed a deal to be an analyst again for ESPN. Due to this, Mark Jackson will not be able to coach the Knicks. It is interesting though as he was the only person on the list who does not have a link to Phil Jackson. In fact, it should not take a brain surgeon to figure out that the recently-departed coach was more the pick of management than the new Team President's.
Now that the dust has cleared from the Kerr situation, it is now abundantly clear that Phil Jackson wants his triangle offense in place for the Knicks. This is due to three of the considerations being former players of Jackson's and the other being one of his former assistant coaches. It is a controversial strategy for the legend who is under a microscope in New York.
The Knicks have been in shambles, and part of the reason is that they have not been able to get a coach that the players, particularly Carmelo Anthony and J.R. Smith, will listen to. This is why it is baffling that Jackson would go after guys who are more or less untested.
Kurt Rambis
Yes, Kurt Rambis has been a head coach before. However, he holds a terrible record of 56-145 after coaching the Lakers half of a season in 1998-1999 and the Minnesota Timberwolves for two full years in 2009-2010 and 2010-2011. He has been a help to Jackson on many of his championship teams on the Lakers (2001-2004, 2005-2009), but just because he is a good assistant, does not make him a candidate for head coach. For a team who had trouble with a coach who was not respected in the locker room, obtaining Rambis is not going to fix things.
Tyronne Lue and Luke Walton
This is the problem with all of the rumored candidates. None of them seem capable of demanding respect from the locker room. Tyronne Lue is probably the most experienced of the rest of the group as he has been an assistant coach since 2009 during stints for the Boston Celtics and currently the Los Angeles Clippers.
Meanwhile, Luke Walton has been itching to get into professional coaching after acting as an college assistant coach for the Memphis Tigers and was productive while acting as an instructor this year in the D-League. The problem in both of these cases though is the fact that neither one has experience in being a head coach. Lue will get there eventually, but making his first stop in the dangerous grounds of New York would be high risk to say the least. Walton on the other hand has not even proven that he can coach professionally.
Derek Fisher
That leaves the Zen master with one man — Derek Fisher, who currently is still playing for the championship-contending Oklahoma City Thunder. Fisher has stated that this is his final season, and it is very possible that he enters the coaching world next year. However, entering as an assistant coach is much different than taking on a mess of a New York team. If he were to do so, he would follow in the steps of Jason Kidd, who became a head coach this year in Brooklyn after his final season as a player.
While it can be argued that Kidd did a decent job, as the Nets made it to the second round of the playoffs, he had a lot more to work with than whoever takes over in New York. One advantage Fisher has is that he always was well liked among his peers; however, failure in New York could be disastrous for someone who wants a long-term coaching career.
As such, there is not a lot of positives in any of Jackson's choices. It is understandable that he wants a coach to carry on his system of the triangle offense; however, it is not something that should be forced on players or a coach for that matter.
What New York Needs
In order for New York to be successful, they need a coach who has proven himself to be a winner. They need someone who will demand respect and has shown that he can improve a team upon his debut on the sidelines. This coach also needs to be the type that can work under pressure, which is why the Knicks need a top-tier coach.
Some have said how George Karl would be an excellent choice. He does have all of the qualifications listed above. Unfortunately, it seems unlikely, after the fiasco, in Denver that he wants to coach J.R. Smith and Carmelo Anthony again.
Lionel Hollins
Lionel Hollins, on the other hand, is an intriguing possibility. He holds a record of 196-159. While that does not appear to be terribly impressive, the first few seasons he was a coach in Memphis were on a team that was rebuilding. As such, he proved to be an excellent teacher in instilling a winning strategy that led them to a 56-26 record in 2012-2013, which led them to their very first entry into the Western Conference Finals.
The only problem with Hollins is that in the year removed from coaching, he has opened his mouth on quite a few occasions in terms of his disagreements with Memphis management. Because of this, he could be someone that does not want to be told what to do.
Nate McMillan
Nate McMillan is another former coach who could work quite well in New York. The former Portland and Seattle coach has a history of being well liked by his players. Additionally, he is excellent in adjustments. During his last couple of years in Portland, they were the most injury plagued team in the league. Despite that, he managed to get them in playoff position his last full three seasons. McMillan has been someone who has proven to have solid mental toughness that is necessary in the New York system.
Unfortunately, it does not appear that Phil Jackson will go with either of the aforementioned coaches. Instead, he appears to be making a highly controversial move in essentially hiring an unproven coach and putting them into a very hostile environment.
Despite the fact that New York needs someone who is respected, Jackson seems primed to bring on one of his former players to bring the triangle offense to New York. For someone who recently made the jump to an executive, it is a risky move that may have disastrous effects, not only for the team, but for Phil Jackson himself.
Commentary by Simon Mounsey
Sources:
Yahoo Sports
Point Forward
NY Daily News
Pro Basketball Talk
NY Daily News
SB Nation