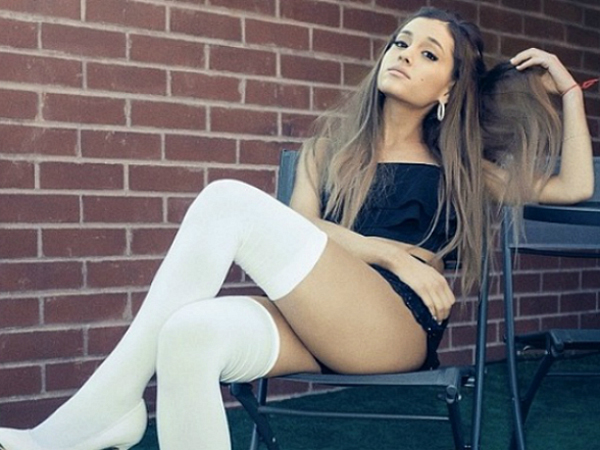 Fans of Ariana Grande certainly have no problems with this princess of pop's hot new video or her hit song of the summer, Problem! The sexy music video came out May 30, and it's already taking the world by storm, with its cool 1960s throwback feel and Grande's soaring vocals, awesome dance moves and stylish hairdos. If you're into stripes, and great music, this video is for you!
After Ariana Grande, 20, released Problem as a single on April 28 on iTunes, it sold incredibly quickly, as her fans and everyone who loves listening to cool music rushed to buy it. Now, her video of Problem is also set to be the massive hit of the summer! What's that, you say? You haven't seen it yet? You can check it out, below!
In her video Problem, Ariana Grande just might have left her image of being a squeaky-clean teeny-bopper behind for good. The video shows a more mature, sexier side of Ariana — not that she was chopped liver before!
Ariana Grande, who is also in Victorious and plays Kat in Sam and Kat, goes through several mod clothing changes in Problem, making leather look far sexier than any cows ever did — they just don't wear it the right way, in comparison. Other clothes Grande dons in her 60s-inspired video include a crop top which she wears with a two-toned, black-and-white skirt and knee-high white Go-Go style boots. She also wears a black dress that reveals her bra and shapely legs.
Fierce, thy name is Ariana Grande, at least when it comes to the video, Problem! Rapper Iggy Azalea, who joins Grande, is not too bad-looking, herself. Iggy adds her usual intoxicating blend of rhymes to the mix, and she rocks out a form-fitting black turtleneck ensemble.
Ariana Grande seems to be growing more and more confident in her talents with each new success. It will be spooky to see what the future holds for Grande and her fans, if what we've seen so far is only the tip of the iceberg.
With the catchy lyrics, stylish mod clothes, and rocking hairdos — not to mention the terrific arrangement and addition of Iggy Azalea — the video of Problem is guaranteed to be a hit for Ariana Grande, and for Iggy. While Adriana pretty much sticks with her trademark ponytail, Iggy is a bit more bold and adventuresome, but they both look pretty hot in the video for Problem. Though summer doesn't officially start until June 21st, Problem by Ariana Grande just might end up being declared the "Hit of the Summer."
Besides the video, Problem, by Ariana Grande (featuring Iggy Azalea), there is another potential contender for the "Hit of the Summer," and that is the Iggy Azalea masterpiece, Fancy, which just this week destroyed its competition on the Billboard Hot 100 and took over the coveted #1 spot. Even if Problem gets declared the "Hit of the Summer" over Fancy, Iggy Azalea will get to share in the honor with Grande. Will Problem by Ariana Grande prove to be a bigger summer hit, or will Fancy, by Iggy Azalea? Please leave your comments below!
Written by: Douglas Cobb
Problem Video by Adriana Grande (feat. Iggy Azalea)