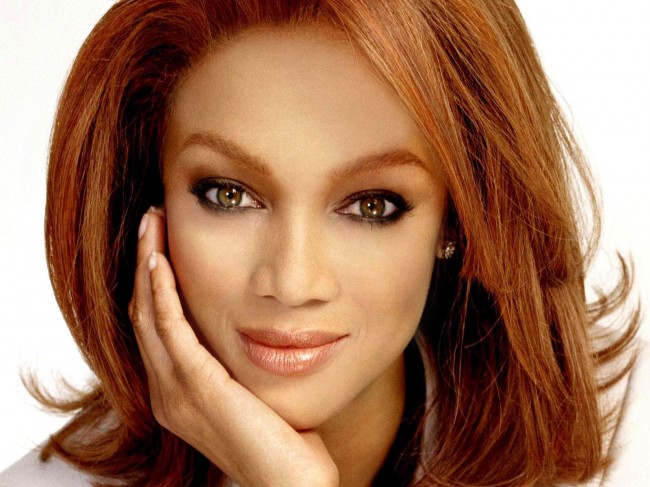 This year has been a good one for the transgender community as their visibility in film and television has skyrocketed with popular characters like Sophia Burset on Orange Is the New Black, played by transgender actress Laverne Cox. Now they are set to take over the documentary genre as Tyra Banks is involved in producing a new transgender documentary called TransAmerica. She hopes that by revealing the real lives of transgender persons they can fight stereotypes and find some common understanding between two often disparate groups of people.
Supermodel and executive producer of America's Next Top Model, Tyra Banks is no stranger to the world of producing a television show. This will not be her first foray into that job, but it will be one that she hopes will be somewhat revolutionary. Her hopes for the show include "blow[ing] the roof off stereotypes" and setting the record straight when it comes to how transgender women live. She will be aided in that task by transgender model and former RuPaul's Drag Race contestant Carmen Carrera, who will relocate to Chicago in order to be part of filming. She will be one of five featured women who are part of the cast of the show, which will air in late 2014 or early 2015.
This is not the first reality show to highlight transgender women. In 2010, Laverne Cox hosted a show called TRANSform Me on VH1. The premise of that show was that transgender women gave makeovers to cisgender women (or women whose gender matches up with the sex they were assigned at birth). The show was an attempt to make transgender women part of the mainstream by putting them in an area that the LGBT community knows well. Fashion and makeover reality television are common themes for LGBt television and examples include Queer Eye for the Straight Guy and RuPaul's Drag Race. But Cox's reality show was not well received and was criticized by members of the transgender community. Cox has continued to raise the visibility of transgender women by her participation in the hit show Orange Is the New Black, however, and she has been far more well-received by her own community and by critics in that role.
Not all shows that purport to raise visibility hit their mark. Some, like Cox's early attempt, are criticized and denied legitimacy by the community they are trying to help. Even being a member of the community is not enough to create support, as Cox found out in 2010. But each attempt gets more press than the last, which does give more visibility to the transgender community whether the shows are good or not. The Tyra Banks produced documentary has yet to air an episode, but it is generating media stories that serve to highlight the transgender community.
Banks has a history of supporting LGBT causes, including wearing purple for Spirit Day, a day set aside to express support for gay teens who have experienced bullying for their orientation. Wearing purple on her show was a visible sign of her support for the LGBT community. She was also vocal about her delight when President Obama came out in support of the LGBT community, taking to Twitter to express herself. Her history of supporting members of the LGBT community and LGBT related causes makes her a prime candidate for participating in the new transgender documentary.
Ultimately, the question will be how faithful the new documentary will be to the experience of the transgender women involved. TransAmerica will highlight five real women, including supermodel Carmen Carrera. There will be four other women as well, who are not as famous as the former RuPaul alumna. They include a college graduate preparing to undergo sexual reassignment surgery – a big step for anyone – a party girl, a beauty consultant for Christian Dior, and a young woman who dreams of being a doctor. This could be the set up for any reality television program, except for the fact that all these women are transgender. Nevertheless, the simplicity of the premise is what people involved hope will really have an impact. VH1 executive Susan Levison said that focusing only on the transgender aspect of these women would be an easy thing to do, but she believes the show will do so much more than that. After all, it is harder to stereotype a group of people when they are shown to be relatable in their hopes, dreams, and everyday lives – a solid strategy for combating prejudice.
Having a famous executive producer is a good start for any show hoping to get good ratings. Banks is a well-known name in the fashion industry and in television and she brings a lot of interest to the premise of the new TransAmerica documentary. How well the show fares, however, will depend on its reception by viewers, including the transgender community. As the experience of Laverne Cox's reality program shows, being well-meaning does not ensure success. No doubt audiences will be looking for nuance and care in dealing with transgender issues. That more than anything will determine the success of the transgender documentary that Tyra Banks is producing for VH1.
Opinion By Lydia Bradbury
Twitter @theAQTweets
Sources:
Rolling Stone
Time
The Hollywood Reporter
Out
Jezebel
On Top Magazine
Gossip Cop