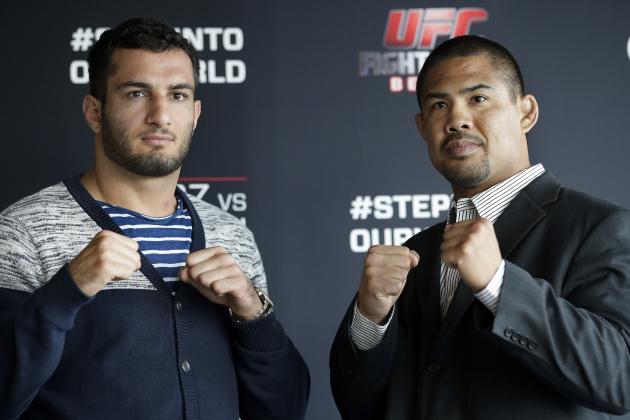 UFC Fight Night in Berlin, Germany has just about wrapped up, and fans will now be waiting for the second Fight Night to kick off on FOX Sports 1 at 8 pm EST. Stipe Miocic versus Fabio Maldonado will square off in a heavyweight bout, while Demian Maia will look to move up the welterweight weight ranks. In the meantime, enjoy the post fight analysis from the event that just concurred. A couple knockouts, a few submissions, and tons of action are covered as the MMA Spotlight puts a stamp on the Berlin card.
#11 Gegard Mousasi defeats #7 Mark Munoz by Submission in Rd.1 (Rear Naked Choke) Well the overall analysis stated earlier in the MMA Spotlight's preview for this main event was not far off. Mousasi showed he was the more superior UFC middleweight, and established his dominance early. Munoz went in for the take down on a few occasions early, one Gegard reversed into full mount position. Mousasi stalked his Munoz around the cage and just overwhelmed his opponent with strikes, and even out wrestled the grappler Munoz. After Mousasi took mount position, Munoz rolled over looking to escape and slide out the back door. To no avail though, as Mousasi locked his arm around Munoz's neck, and sealed the deal with the rear naked choke submission. After the fight, Mousasi was hesitant on whom he may want next, but stated some like Luke Rockhold would be an ideal opponent for his next UFC fight.
C.B. Dalloway defeats #9 Francis Carmont by Unanimous Decision One of the more entertaining fights on the main card, the two middleweight exchanged heavy shots throughout the first round. Carmont landed some heavy body and leg kicks, before Dalloway landed a a crisp right hand that sent Carmont reeling to the mat. Dalloway pounced to finish his opponent, Carmont hung tough though. When standing back up both raised their hands in the air to the delight to the crowd, and continued to exchange until the round ended.  The second and third rounds were not as exciting as the first, Dalloway decided to take over this UFC middleweight fight with some wrestling. Throughout the final two rounds, Dalloway found himself on top or on the back of Carmont for a excess amount of time through each. Not much damage was done, but it was enough to earn the unanimous victory for C.B. Dalloway.
Sean Strickland defeats Luke Barnatt by Split Decision A match up between two intriguing UFC prospects practically turned into a snooze fest through much of the fight. It was the same story every round, Luke Barnatt would follow Sean Strickland around the cage, while throwing kicks and an overhand right; while Strickland would circle away while looking to jab and counter anything Barnatt threw. In the second round Barnatt started to find a home for his right hand, mixing it up well when he threw his kicks. Strickland landed a few right hands that did not have much affect on Barnatt, and came close to latching a knee bar at one point in the fight. The crowd went into an uproar of boos when the decision was announced for a split decision victory for Strickland. Like Dana White always says though, never leave it in the hands of the judges. Tough pill for Barnatt to swallow, but he will sure to be back fighting soon.
Niklas Backstrom defeats Tom Niinimaki by Submission in Rd.1 (Rear Naked Choke) A newcomer never looked more calm and collected them Niklas Backstrom when he walked into the octagon. Tom Niinimaki's game plan was very clear from the beginning, press the young new comer against the cage and take him down. The game plan worked quite nicely for the first few minutes of the very first round, but when Backstrom got back up the experienced featherweight was in trouble. Backstrom landed a clean knee to Niinimaki's dome that left him dazed when going in for a single leg take down. Backstrom defended it perfectly and wrapped his arms around his opponents neck, and dragged him to the ground. With his arm wrapped around Tom's neck from the side, Backstrom locked in a rear naked choke without having his opponent's back or any hooks in. Astonishingly, the young prospect was able to make the veteran tap from that awkward position; possibly crowning Backstrom with a 'Performance of the Night' bonus with that finish.
Nick Hein defeated Drew Dober by Unanimous Decision, #7 Iuri Alcantara defeats Vaughan Lee by TKO in Rd. 1; Magnus Cedenblad defeats Krzysztof Jokto by Submission Rd. 2 (guillotine choke); Peter Sobotta defeats Pawel Pawlak by Unanimous Decision; Maximo Blanco defeats Andy Ogle by Unanimous Decision; Ruslan Magomedov defeats Viktor Pesta by Unanimous Decision. 
German's own, Nick Hein, rag dolled Drew Dober around the octagon for a unanimous decision victory. Iuri Alcantara established his rising stock in the bantamweight division after quickly knocking out Vaughan Lee. Maximo Blanco also got back into the winner's bracket with a decision victory over Andy Ogle.
The night is not over for the organization as the UFC will be hosting another Fight Night live in Sao Paulo, Brazil. Stay tuned to the Guardian Liberty Voice for more updates and results throughout the night.
Commentary by Justin Huffman
Follow Justin Huffman's Coverage in the MMA Spotlight section
Guardian Liberty Voice Sports Writer leading the coverage in MMA
Sources:
MMA Fighting
ESPN
Bleacher Report