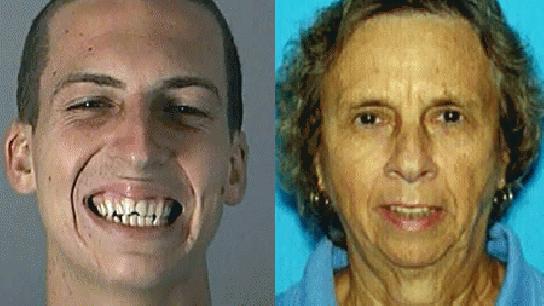 A Florida teenager allegedly murdered his grandmother in a bloody struggle inside her home, which is located at a nudist community, and then proceeded to drive around with the dead body for almost five hours. Brandon Machetto, age 18, had been staying with his grandmother, Sylvia Schmitt, age 74, for a number of weeks and they apparently fought quite often, explained a Pasco County sheriff's spokesperson.
One of Schmitt's neighbors called the police after seeing Machetto drag what appeared to be a covered bag with feet hanging out of it into the minivan that his grandmother owned early Monday morning, declared Florida state police. After Schmitt herself was reported missing, a Silver Alert was also issued by police also early Monday for Schmitt.
The teenager supposedly drove around with the body of his dead grandmother inside the trunk of her Honda Odyssey minivan. When Sheriff's deputies attempted to pull him over, Machetto refused to stop. It was a deputy who was patrolling just outside the gated community, who spotted the teenager returning in the minivan around 10 a.m. He finally drove back to the community, which is named Paradise Lakes, and there he was arrested and taken in custody.
Police have yet to release how exactly Sylvia Schmitt was killed. Machetto was charged with the first-degree murder of his grandmother and is now being held in jail without any sort of bond. It is unknown at this time if he has an attorney or not.
Ronnie Hall, who was Machetto's martial arts instructor for just over five year, told that Machetto was nearly killed himself several years back when he was attacked by a group of teens who smashed him on the backside of his head with a large rock. Hall stated that the teenager suffered a serious brain injury and that he was not known to be aggressive but since then Machetto had "never been the same afterwards."
Machetto and his grandmother had seemingly got into the fight because she attempted to get him to take his medication. Pasco County deputies revealed that Machetto had been accused once before of domestic violence against Schmitt. This was back in 2012 but she had decided to drop all charges.
The teenager had a juvenile criminal history for domestic violence, including the prior one with his grandmother that was mentioned above. Witnesses describe Schmitt as being a very friendly woman who never said anything poorly of anyone.
Police stated that Machetto remained stoic and expressionless after his arrest. However he grinned a large smile when it was time for him to have his booking photograph taken. It was a different story in a second picture that was taken a few minutes later because he appeared to be on the threshold of sobbing.
Hall stated that the teenager's emotional maturity was believed to be about that of a 13-year-old boy. He added that Machetto acted like a child and was spastic at times. Those were some of the reasons that Schmitt had taken Machetto in to live with her. Police records revealed that he also had been arrested twice this year alone. In March he was charged with obstructing justice and resisting arrest. In May he got arrested for stealing. The teenager allegedly murdered his grandmother in a bloody struggle inside her home and then proceeded to drive around with the dead body for almost five hours.
By Kimberly Ruble
Sources:
The Huffington Post