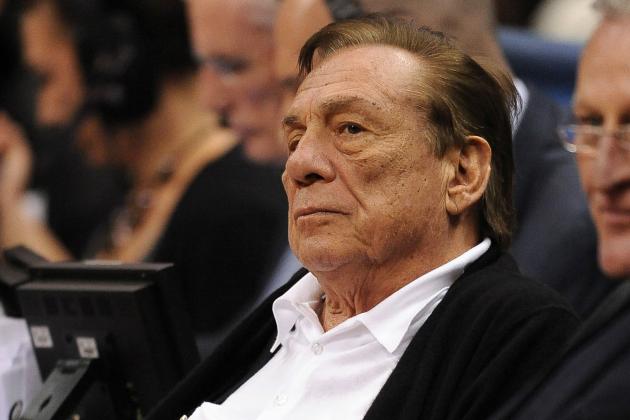 For over 30 years, Donald Sterling, according to public opinion, has not only served as one of the worst owners of the NBA, but in all of professional sports. His latest controversy, which was a hot-button issue during May, consisted of many racist statements recorded in a conversation with his then-mistress V. Stiviano. While it had been publicly documented previously of Sterling's supposed racial ideology, his controversy as an owner had, for many years, more to do with the losing ways of his team. As much trouble as Donald Sterling has been to his Los Angeles Clippers, his era appears to have come to an end, after a judge ruled that his wife, Rochelle (Shelly) Sterling, can sell the team for $2 billion to Micorsoft CEO Steve Ballmer, in hopes to focus on a winning future.
On Monday, Judge Michael Levanas stated that Shelly Sterling had executed the correct steps, legally, in removing her estranged husband, Donald, from the Sterling trust. As a result of the ruling, Shelly's reported sale of the Los Angeles Clippers to Ballmer could be conducted, without any appeal of the purchase from Donald and his team of lawyers. This is not to say that Sterling cannot counter-sue for monetary damages.
Most likely, Donald Sterling will come back at his estranged wife, Adam Silver, and the NBA over this result and his eradication from the league. If this first court case of Sterling, the forced sale of the Clippers, is any in indication, it is unlikely that any future court cases will favor him. It, in all likelihood, does not matter to the controversial billionaire though. He has shown his bitterness, anger, and unquestionably irrational behavior, throughout not only this court case, but throughout the duration of his tenured ownership of the Clippers. Sterling's best move, quite simply, is to end his charade. He wants to sue the NBA until he is dead, but he is best served to exit and live what time he has left.
Despite all the blows he has delivered to his Los Angeles Clippers team through the years, his time with the team is finished. The new owner, Steve Ballmer, will take over the team sometime within the next few weeks. In turn, it will be the beginning of a new era for the Los Angeles Clippers. Not only will the Clippers be removed from the controversial distinction of having a supposed racist real estate billionaire as owner, but the franchise's focus will be spotlighted on basketball only.
Never has it been a better time for the Clippers to break into a new era. With a team led by championship coach Doc Rivers, along with his key players of Chris Paul, Blake Griffin and DeAndre Jordan, they have, unquestionably, become the star team in town. Oftentimes over the last 30 years, sans a couple glimmers of hope, the Clippers were looked at as a disgrace of a team that only made the playoffs seven times in the last 30 years. Additionally, they only made it into the second round of the playoffs three times, two of which coming within the last three years.
During that time, it was the Los Angeles Lakers who were the popular team in Hollywood, having such legendary squads that included Jerry West, Kareem Abdul Jabbar, Magic Johnson, Shaquille O'Neal and Kobe Bryant. The Lakers are a team that won 16 championships, whereas the Clippers have not won a single one. However, with the Lakers in a rebuilding mode that will, likely, take many seasons to rebuild, the Clippers have officially become the team of Los Angeles.
Steve Ballmer will now inherit a team that has a past of controversy, a past he can steer the team away from. He can oversee this Clippers team to a winning culture that the people of Los Angeles and the NBA alike can be proud of. No longer will Donald Sterling take his seat at midcourt, taking potshots at his players. Instead, his era concludes while the Ballmer-era Los Angeles Clippers begins, with a positive focus on the future. Finally, three years into the making, the NBA can shed its controversial owner. After all the heartache, the Clippers can focus on one thing and one thing only — basketball.
Commentary by Simon Mounsey
Sources:
CBS
Deadspin
RealGM
Bleacher Report
SB Nation
NY Times