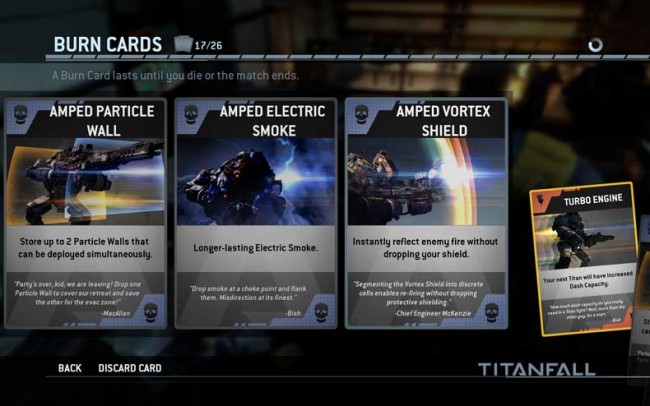 Respawn is ready to bring the newest Titanfall update to the Xbox 360. Update four is free and arrives July 21, it includes new modes, additional content to customize your Titan, and fixed bugs. Newer consoles were fortunate enough to get this update about a month ago, now it is available across all platforms. This update introduces the new featured game modes, which offers specific game types for a limited time. The update starts with Marked for Death, followed by Wingman and finally Last Titan Standing.
These newly introduced game modes have been live for Titanfall on other platforms. In Marked for Death both teams have one of their teammates become targeted, when both are killed new players will be marked.
Respawn is focusing in on Titans is this update, they get 14 new burn cards and additional voices. Now you have the option to change the voice of your Titan announcer; options include Jeeves, Lisa, and Betty. Now you can customize how your Titan looks with new insignias. These identifiers can be unlocked by completing challenges, if you have previously reached the goal of one of these challenges you will automatically gain the insignia when the update is installed.
What are some of the biggest changes? New game modes, 14 new titan-focused burn cards, and burn card overflow protection (which allows you to still find and keep rare burn cards with a full deck).  Improvements have been made to matchmaking and team balancing. When you leave your Titan in autopilot (Auto-Titan) it will activate all abilities when available. If this works as intended, it could use each ability to its fullest extent, which would boost the difficulty of each match. When you rodeo a Titan, you can see its name. Above the picture of your next map you will now see a win/loss streak for the last ten games played.
This update has zoned in on and fixed a large number of bugs, here are some of the changes.
Sonar Burn Cards missing from kill replay has been fixed
Fog will no longer reveal cloaked characters and will behave properly with water
Fixed issue with tearing when running 60 fps
Smart Pistol can hit crawling Spectres
Infinite jet effects have been fixed
"Titan Locking"/ "Pilot Locking" indicator no longer disappears
A number of weapons have been tweaked in this update. The R-97 is now the fastest weapon in the game. It is incredibly quick and now does more damage to Titans as well. Satchels have been nerfed, but are still incredibly powerful. Here is a more in-depth look at some of the weapon changes in update four.
Titanfall developers Respawn have their hands full keeping all versions of Titanfall working properly. Update four does have some specific tweaks for specific consoles, but they were included when the update launched June 26. Update four is becomes available on the Xbox 360 July 21 and is free to download. Update five has not yet been officially announced, but rumors claim that it will bring the new mode, Capture the Titan.
By Garrett Jutte
Sources
Titanfall
Polygon
Xbox Achievements
IGN
Twitter
Latian Times