For those that live by a body of water, boating is a way of life with opportunities for big parties that are often like a Mardi Gras on the water. This weekend's "raft off," in Lake St. Clair was also an attempt at a world record. Virtually everywhere in the world that has a coast line, also has an annual boat party. Some are sponsored and sedate, while others are self organized and crazy, and still others are set up to break world records. Boaters on Lake St. Clair lined up on Saturday August 9, 2014 to once again try to beat the record for the most boats tied up in one continuous line. This little lake in the heart of the Great Lakes Community has a monumental number of boaters, and they have tried for several years to break the existing record. Although they get more boats than are needed to take over the title of raft off winners, they just have not been able to get them all tied together to form a continuous line.
This year, many just came for the party, the chance to visit with old friends, and make new friends. Most were not even aware that it was yet another attempt to challenge the record. The event coordinators were simply going for the unofficial record before getting the Guinness Book of World Records folks back out for an official count. Unofficial counts are that there were over 3,000 boats in the bay, but that they were not all rafted off. However, it appears that over 1600 boats were tied up and that beats Lake Norman's record of 1450. The official count is dependent on the final aerial pictures to determine if this would have been a successful attempt.
The record attempt took back seat to the party and with thousands of boats participating, the atmosphere was more like Mardi Gras, with colorful hats and even costumes. Beads are a staple of the New Orleans party and they were also a big part of this boating event. People could be found walking the gauntlet as early as 9:00 a.m. right through until the end of the day. Muskamoot Bay actually has a raft off each weekend, where those that boat and seek the sun and water can tie up and party all day, and it is not for the faint of heart. Beads, beers, and boobs are a staple of this weekend party and every year they kick it up a notch at the annual raft off. Although each year is not an attempt for the coveted spot in the Guinness Book of World Records, it is still one of the premier parties of the year.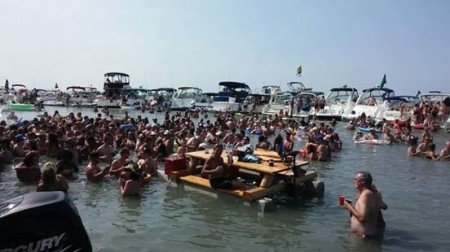 Walking the gauntlet, one can find characters from all walks of life, and some of the most inventive floats around. Check out the picnic table pictured here, that not only floats but sports its own small motor also. Walking through the line will also provide a new musical experience with each twist and turn of the boats. Every section seems to have a boat with the most amazing sound system, and no matter what one's music of choice is, it is a sure bet that it will be found somewhere along the lines in the raft off.
The video below will give those that did not attend the event an idea of what they missed. Lake Norman also hosts an annual boat raft off, which they call the "raft up", however, even though they hold the record, it is the opinion of many that they will never touch the number of actual boaters that show up for the party each year in Lake St. Clair.

by Kristi Cereska
Sources
CBS Detroit
Off Shore Only
Boating Mag