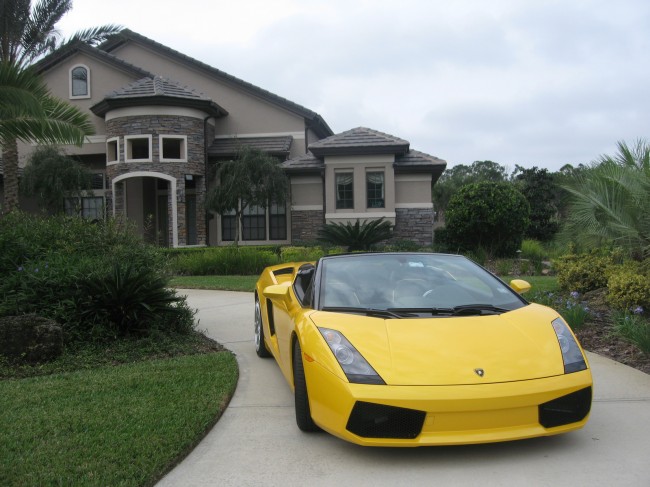 An 18-year-old's death while test driving a Lamborghini was caused by speed, according to police. On Friday morning in Mount Sinai, a terrible accident closed down a street for over 8 hours. Samuel Shepard was reportedly driving a 2010 model of the Italian supercar close to 2:30 a.m., before he lost all control and crashed the car into a nearby guard rail. Shepard, who lived in New York, was said to be taking friend of the family's, 49-year-old Michael Power's car out for a spin. Power, who is the registered owner of the vehicle, rode passenger side during the collision. He was treated later at a local hospital for mild injuries.
The crash happened in Long island, where Detective. Sgt. Michael Fitzharris told reporters that "speed was a key factor in the accident." Continuing on his thoughts about the "going way too fast" test drive, Fitzharris offered this, "I assume that it was more than likely a one-time type of experience for this kid. The same can be said for the man who presented him with the opportunity." Gene Shepard, who is the victim's father, expressed to Newsday that sports cars, particularly Lamborghini's, were a favorite of his son's.
The horrific crash site was said to turn the $200,000 luxury vehicle, into a complete mangled pile of metal. Police report that Shepard had just recently graduated high school, had plans to go to the Army, and later to become a police officer. The dangerous power and speed behind sports cars, was also a discussion in November of 2013, when actor Paul Walker died in a similar fashion riding in a Porsche. Investigators, along with police say the nature of Walker's death was caused by speed, much like 18-year-old Shepard who drove the Lamborghini Gallardo.
The difference in Walker's case however,  was the fact he was riding passenger in a car believed to be going over 95 mph. Investigators say that the car started to drift around a curve, and ultimately lost control. Immediately bursting into flames, the vehicle was completely charred, and Walker's body was later recovered, burnt. The final conclusion was attributed to high acceleration, and not any sort of mechanical issues in the sudden death of Walker, and his friend Roger Rodas. Combined reports from the California Highway Patrol, and the Los Angeles County Sheriff's Department, had the Porsche Carrera GT driven by Rodas, traveling somewhere in-between 85 and 95 mph. Kristy McCracken, who was the lead investigator assigned with the Los Angeles coroner, gave a description of how the Porsche was speeding, and the direction it went. "For reasons unknown, the person behind the wheel lost their control of the car and it spun partially, sending it traveling in what looks to be a south-east direction," said McCracken before continuing, "The car then ran up alongside a sidewalk, striking a tree, before eventually colliding with a light post."
Gene Shepard, who also owns an automotive repair shop, shared with reporters about his sons love for fast vehicles, but more importantly, his expected life. "Samuel had planned out his whole future already. I still can't believe it," he confessed. With an ongoing investigation, Police say the death of 18-year-old Shepard who test drove the Lamborghini was caused by speed, and encouraged both new and experienced drivers to obey all city speed limits.
By Theodore Borders
Sources: