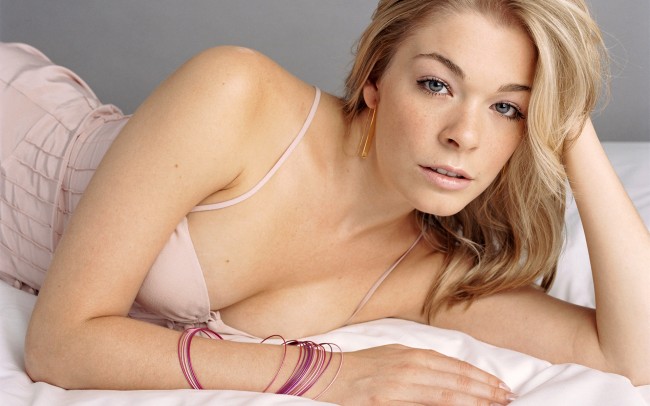 Many people have compared Taylor Swift to another country female singer, LeAnn Rimes. The similarities are there and they go much further than the obvious outset. Like Rimes before her, Swift has chosen to switch things up and dive completely into the pop genre. After dominating charts with a mix of southern twang and honest lyrics (although some of her past suitors have problems with that aspect), Swift's upcoming album, 1989, is one that she considers a "musical rebirth". For the first time, all of the tunes on the LP will be just pop. It is a genre she first heavily toyed with on her previous album, Red. Rimes once attempted to pull off a similar feat. Unfortunately for her, however, the move nearly destroyed her then burgeoning career.
Around the year 2002, Rimes was going through an interesting "rebirth" of her own. After battling with her own father over money he was alleged to have stolen from her, along with other shifty business deals, the then 20-year-old was ready for change. She had recently married her first husband, dancer Dean Sheremet, and was growing from the adorable country darling that most saw her as, into a full-grown woman.
She, like Swift, had some pop crossover success with past singles, such as with the ballad "How Do I Live" and the more upbeat "Can't Fight the Moonlight", from the Coyote Ugly soundtrack. With those notches under her belt, she felt it was time to stretch those moments into something a bit more long lasting. That decision would lead her to recording her first full-on pop album, Twisted Angel.
There were other noticeable changes with the recording of the album. First off, her father, Wilbur C. Rimes, would have nothing to do with the project. Until that point, he had been noted as the producer of all four of her previous studio discs (LeAnn herself would executive produce Twisted Angel).
Secondly, she would lean on more "adult" topics as opposed to the innocent nature she has once relied on in the past. Songs such as "Tic Toc "and "Review My Kisses" were more sensual in nature, especially the former, which centered on her calling on a lover to "climb inside" her "walls of ecstasy".
It was a brazen move and one that had to be performed as gently as possible. Her first single from the release, the ambitious "Life Goes On", was released in two formats for separate radio play, country and pop. The video for the track showcased a lot more of her femininity as Rimes moved seductively in a revealing dress.
"Life Goes On" would do well on the Adult Contemporary Charts, but only made it as far as number 60 on the Hot Country Chart. Her fans felt as if she was alienating the base that had supported her for so long. Surprisingly, the country version of the track never had a full release to radio, which could have possibly also harmed the chances of it gaining popularity.
The Twisted Angel album would be released in October of 2002. Almost immediately, critics and fans alike shared their disapproval of it. Critics felt that she was trying too hard to fit into a genre already overrun with teen pop queens, such as Britney Spears and Christina Aguilera. Her fans felt that there was too much sexiness and not enough of the Rimes they had come to know by that point. Although it was still successful enough to debut at number 3 and number 12 on the Country and Pop Billboard charts, respectively, Twisted Angel would ultimately become a dent in a once prominent career path.
There would be a strong resurgence for her next offering, 2005's This Woman. Going back to her country roots, the album would become another top seller and regain the audience that had once turned their backs on Rimes. She did attempt another style change with the rock-influenced Whatever We Wanna in 2006. Learning from past mistakes, however, the album was only released in European countries. It was still less than successful.
Swift and Rimes do have some other interesting connections. For example, Rimes is often talked about in relation to her marriage to actor Eddie Cibrian, which occurred under some controversial circumstances. Swift is consistently pointed out for her romantic trysts as well, with tabloids commenting on the many men she is rumored to be connected to. Also, Twisted Angel, Rimes' album, and 1989, Swift's album, are both the fifth release from each artist.
They often say that those who fail to learn from history will soon repeat it. For the sake of her career, Taylor Swift should hope that the lightning that once struck LeAnn Rimes has no intention of hitting her as well. 1989 is set for release in October of this year (and yes, Twisted Angel was an October release as well).
Opinion by Jonathan Brown
Source:
E! Online