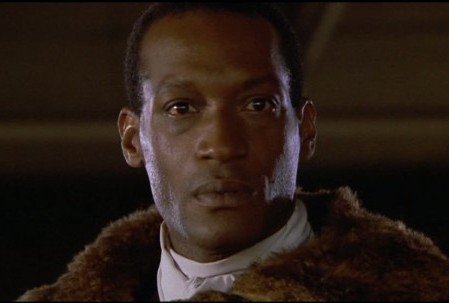 Covering the Las Vegas Star Trek Convention gave this reporter the chance to speak with iconic actor Tony Todd who talked about his one-man show, Twitter and pawn or porn. The iconic actor who gave a generation nightmares and an unnatural fear of mirrors, along with saying the name Candyman repeatedly, graciously offered to have a chat with the Guardian Liberty Voice (GLV) via myself and we spent huge amount of time talking about many things. One of which is his upcoming one-man show titled Ghost in the House which is about the last 90 minutes of boxer Jack Johnson's life. The title is said to be from Drew "Bundini" Brown, Muhammad Ali's cornerman, who used the boxer's mental connection with Johnson to give him a boost while the fighter was in the ring. During a number of Ali's major bouts,  Bundini could be heard to shout from the corner,  "…Jack Johnson's here! Ghost in the house!" Although Tony himself explains later what the phrase means.
Fans of Mr. Todd's may not realise that he started in, and loves, theatre and studied at the Eugene O'Neill National Actors Theatre Institute. Therefore it is not surprising that he is excited about doing the one-man play and taking it on tour. Tony is tall and impressive at six foot five inches and his personality is a big as his size. It is this presence that gives him the advantage over other actors since he combines his height with an  unmatchable ability to act whoever is on screen with him right off the camera. It is also this ability that gave one fan at the Star Trek Las Vegas 2014 Convention a self professed terror of entering his bathroom alone, and in being front of the mirror ("Candyman, Candyman…") while he was growing up.
While chatting with this award- performer, and producer, we talked about his latest work on the Diahnna Nicole Baxter/Andrew Piccone short film Cowboy's Girl. The film which was written by Baxter and Piccone (who also directed the production) star's Tony as Diahnna's father in the movie, "Cowboy." It is a biographical film by the actress/producer based on her issues with her own father. Mr. Todd and I came very close to chatting about the film in June this year, but since he has got to be the only actor in Hollywood who is busier than James Franco, the opportunity never came about.
When the 59 year-old actor realized that we had "missed one another in June" he kindly offered to have a chat while he was here at the Star Trek Convention. Before doing a transcript of the interview, a few things need to be pointed out. Firstly, Tony Todd is easily the most enjoyable interview I have ever done, he had me laughing constantly. Secondly, he is generous with his time and I almost felt we could have talked the afternoon/evening away without any pressure from him to stop. Thirdly, his quick mind can move from subject to subject in about a nanosecond.
So on August 2, 2014 at around 5:00 p.m. at the Rio All Suite Hotel and Casino, Tony Todd talked with myself about his upcoming one-man show, Twitter and pawn or porn. While the last bit sounds a bit dubious it is more innocent than it appears, think of the television commercial "frog or fraud" and all will become abundantly clear. After taking a good bit of time to set up, which Mr. Todd did not mind in the least, the two of us were ready to talk.
GLV: "I found out recently, as in yesterday, that you are co-starring with the gentleman sitting next to us, Richard Hatch, in the upcoming Star Trek Independent film Axanar. Of course you've just finished working on Cowboy's Girl…
Tony Todd: "Yes that's right."

GLV: "I'm very excited to see that film when it comes out. And Sushi Girl is making the rounds?"
Tony Todd: "Well that actually made the rounds a couple of years ago but I was executive producer on that."
GLV: "But there are still good things being mentioned about the film."
Tony Todd: "Yes."
GLV: You are going to be doing, as in voicing, another video game which you said yesterday you can't say what it is?
Tony Todd: "Yes, for example when I did the Call of Duty game, I had to sign a nondisclosure agreement about it. They said that while we won't fire you, we will sue you if you talk about the game. I guess they want the game to be the star."

GLV: "Which doesn't make a whole lot of sense when they go out of their way to put people who are so well known, like you, in the game."
Sidenote: The day before a younger fan wanted an autographed picture of Tony's character in the Call of Duty: Black Ops II. Tony told the youngster that he would be doing another video game but could not tell anyone what it was. I asked how excited was he, the lad, when he saw Tony Todd in the game.
GLV: It's like when I asked the kid yesterday about how excited he was when he saw it was you in the game."
Tony Todd: "Exactly you saw his little joy, that's why I had to give it to him [the picture] and hopefully he will treasure it, not covet it, but treasure it and appreciate it, because at the end of the day that's all we want."

GLV: "You've been working for a very long time in the industry and you've become what I consider an icon in just the horror Genre alone…"
Tony Todd: "Yeah…I just want to grow up to be Morgan Freeman so I can play the same guy in every movie…"
GLV: [laughing] "That is brilliant."
Tony Todd: [laughing] "I read an article that Morgan himself did and he said that at this point he works two days, three days a week but they always say he gets second billing in the movie. And I guess that's what everybody aspires to, some of us, or I just want to be James Earl Jones and just be able to say 'CNN.' Just three letters…CNN."

GLV: "What's amazing is that they haven't used you in that capacity. You do have the same quality voice…"
Tony Todd: I'm just not commercially friendly enough…"
GLV: "I think that there are millions of fans who would disagree with that."
Tony Todd: "Well you know what? Have you seen the Jack Daniels commercials for the honey?"
GLV: "Yeah, yeah."
Tony Todd: "Well you've got all these actors doing these TV shots now. Kiefer doing whatever he's doing, playing himself…I've only seen it once though, the one with all the bees swarming around. Have you seen this? Flying into battle and I was thinking where are all my people on this thing. This would be perfect for the character.
GLV: "Perhaps since Candyman as a character actually killed people they couldn't get the negativity ."
Tony Todd: "It is an iconic character, maybe I'll just grow up to be the 'most interesting man in the world'" [talking about the Dos Equis beer commercials]
Sidenote two: At this point, I made a reference to something I'd heard about the man in the advert being Julio Iglesias. Having since learned that was a complete bit of misinformation, this part of the interview will be left out. Although it should be noted that Tony had heard nothing about the singer being in the adverts and did not believe it.
Tony: "That's okay, I'm not really too serious about this advert business, especially since I'm a bourbon fan and I wouldn't drink it. I like Woodford, if they want to do business that would be fine. Otherwise I'd be lying. Have you ever heard of a drink…I've been doing work on a side project on interesting drinks (the Esquire channel, Esquire's America). Did you ever hear of a drink called the Pickle Back?"
GLV: "Pickle Back?" No I've never heard of it."
Tony: "Well you've got to try it sometime, okay. You take Jamesons and then you take a shot of pickle juice."

GLV: "Wow that is two of my favorite things in the world. I used to drink pickle juice straight from the jar when I was a kid."
Tony: "I'm telling you, that combination of flavor is something else. Don't have more than three of them. So, anyway Pickle Back is just one of the strange drinks we've discovered on our American fascination."

GLV: "So, are you going to be at the Axanar screening?"
Tony Todd: "Tonight? Less than 50/50 because I'm doing a one-man show and we open in two weeks, and I have to do my work. I don't just show up [for the play] I've got to get him in my bones."

GLV: "Just looking on IMDb alone this year and next year…"
Tony Todd: "This year's been a great one ."
GLV: "Yes, you have got a lot of projects going on."
Tony Todd: "And good stuff. Some years, I've learned, I've learned how to say no. There was a point when I didn't realise that I was becoming such a hard working actor and then that led to a couple of questionable things and I discovered that you're only as good as your weakest link and you've got to respect the words. And sometimes saying no gives you more respect."

GLV: "Speaking of respect, one of the things I loved that you did through the entire life of the Final Destination franchise, was that you kept showing up either in person or…"
Tony: "or somehow…"
GLV: "Yes. If they come back yet again, and it would not surprise me if they did, would you say yes and come back?"
Tony Todd: "I would have to because they would finally have to explain who the h*ll I am."
GLV: "Yes that would be brilliant."
Tony Todd: "And I know who I am, because I told them who I was [in the film] – the powers that be – as they had no idea. I had to make it real. But it's not what people think."
GLV: "I always thought that in that particular role you were the emissary of death, not the big-bad himself."
Tony Todd: "No, that's what people think, but that's not it. You can't play negative, as an actor you can't play negative, you have to use the positive. So I made another choice."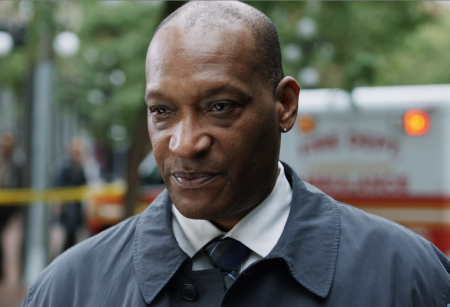 *At that point two gentlemen came up to sort out something with Tony and after a short break we got back into the interview.*
Tony: "Now where were we."
GLV: "I was just about to ask that, but just remembered that I forgot to pick up your business card yesterday."
Tony: "This is like radio folks, so let's pretend we're like Orson Welles. 'I am handing him a perfectly laminated card, I think it says Twitter or something, tweet tweet? Are you a bird man Michael? [gives his classic Tony Todd laugh]

After thanking Mr. Todd for retweeting a post I'd done the day before we talked some about the social networking site. I was, and still am actually, amazed that Twitter has not verified this iconic man's account. At that time a couple of fans came up for an autograph and one of the two men had a vibrating tribble. Tony then asked if he could hold the thing and then did a Vine video of him and the "creature" trembling. Pausing for this very entertaining exchange, the fan revealed that after seeing Candyman, "when I was a kid," he was too scared to go into his bathroom alone for a shower or to stand in front of the mirror for years.
GLV: "I forgot where we were at now. "
Tony: "Well, we were having too much fun. We had a tribble moment, somebody came up with a pink tribble and I put it in my hand and was shaking it and it felt great. And before that it was the laminated tweet card that we told our fine audience about."
GLV: "That's right we talked about celebrities who have Twitter accounts but who don't personally use them."
Tony: "Well, Twitter doesn't come with instructions right? No. So learn as you go and my the best proclivity win.This new one though is the one that frightens me, the Vine, because it's geared towards six seconds of expression a visual expression and this feeds into America and the world's whole short attention span which is getting shorter as we speak. And for kids I think there's more to life than just six seconds."
GLV: "Yeah, yeah, Definitely, and yet I'm glad you brought that up. I did an article a couple of years ago about an interview they did with children in the U.S. and in England, where they asked school kids what they wanted to be when they grew up and their answer was 'famous.'And that was it, they had no idea how to get there…"
Tony: "No, no idea of how to be famous. I think, I don't want to name any names, but I think a certain family made that sort of palpable in our society and unfortunately a lot of reality shows, and I don't want to mention any particular brand…But they are all based on bad behaviour towards each other. Particularly the women shows that are around. "

GLV: " I know exactly what you mean and I can think of the initials right off the top of my head."
Tony: "And it's all on bad behaviour and these people feel that they are now famous and okay, this one I will name, cause I'm not going to say anything bad about it, look at the Pawn Stars. I didn't know, until I was in one of my rooms upstairs, that's there's a live show…did you know this?"
GLV: "No I didn't know that."
Tony: "In Vegas, every afternoon at 4:30…"
GLV: "I had no idea."
Tony Todd: "It's called the lost episode and they're getting paid for this bullsh*t and they've done a spun-off into another show called Pawnography. All right?"
GLV: "I had no idea. I knew that this was like the mecca of the world for porn…"
Tony:"Did you say pawn or porn?"
GLV: "Porn."
Tony: "Pawn or Porn. It's like that show where he says frog or fraud…frog…fraud…So did you say pawn or porn?"
GLV: "I said Porn, with an Irish pronunciation."
Tony Todd: "Oh, you know what they're doing, they are doing the Vanessa del Rio Story."
GLV: "No kidding."
Tony: "Do our friends out there know who Vanessa del Rio was?"
GLV: "Would you care to explain to them?"
Tony: "No I cannot!"
GLV: [laughter}
Tony Todd: "She was a seminal participant in the Pawn industry. Pawn or Porn…Pawn. No I'm actually happy for her because it's going to be like Boogie Nights meets Taxi Driver. She's part, and I don't know why I know all this, Cuban and Puerto Rican and she came up at the time that Times Square was still there. The Midnight Cowboy Times Square and there was a lot of mob influence in the Pawn industry and it makes for a fascinating story if you do it right. She's got over a 100 literal bodies of work already. Anyway, I digress, I'll let you bring me back on point."

Tony: "Hang on a second while I have another sip of my Caramel Macchiato on ice."

GLV: [laughter] "Will they be doing a premiere of Cowboy's Girl?"
Tony Todd: "Yes they will be."
GLV: "In LA or will they be doing it here?"
Tony: "I think, you know, she wants to do both."
GLV: "That would be great."
Tony: "Because she has family here. Yes, her father, the actual cowboy, lives here."
GLV: "What I would love to do, when it comes out, is have a chat with you and I want to have a chat with her. [Diahnna]
Tony Todd: "That's what you should do."
GLV: "And lastly, your show. Starts in two weeks? And is called?"
Tony: "Ghost in the House. Which is in reference to superstition in boxing gyms all over the world and people who really know the history of boxing is that the spirit of Jack Johnson is a restless soul. The play is about the last 90 minutes of Jack's life.
GLV: "How long is that going to run for?
Tony Todd: "Well We hope it runs forever. But we'll do four quick days in LA for spring training and then we're touring around everywhere, we've got Puerto Rico, Howard University, Tuskegee, Chicago, and Reno so far. When that is all "official," official that will be dropped on Twitter. So I hope you get to see it."
GLV: "I hope so too! Thank you so much sir for taking so much time with me."
Tony: "My pleasure."
As the interview ended, Tony Todd agreed to have a photo taken with me, and he had talked of many things; his one-man show, Twitter, which I still think the social network should get off their backsides and verify his account, and pawn or porn. His show, Ghost in the House will open in two weeks time. Check Twitter, @TonyTodd54 on a regular basis as I'm sure this iconic performer will be tweeting where and when in Los Angeles. This particular interview has been memorable as this fan finally got to meet the man behind Candyman and so many other iconic characters. The audio of this interview is down below for your listening pleasure.
By Michael Smith
Tony Todd Rio All Suite Hotel and Casino Star Trek Convention August 8, 2014