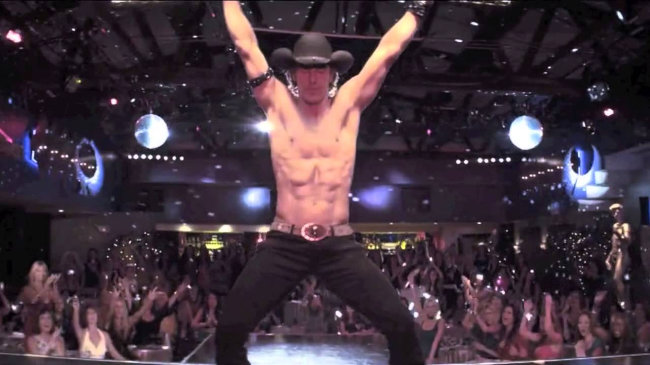 Despite Channing Tatum saying to a reporter from MTV earlier in 2014 that he thought that the entire cast of Magic Mike (2012) would be returning for the sequel, Magic Mike XXL (Warner Brothers), at this moment, it does not look like Matthew McConaughey will be returning to play strip club owner, Dallas. Director Gregory Jacobs has verified that McConaughey will not be reprising his role in the much-anticipated sequel in which the male strippers will be hitting the road on a tour of America.
Steven Soderbergh directed Magic Mike. Gregory Jacobs, his longtime assistant, appears set to place his own mark on the Magic Mike franchise with Magic Mike XXL, which means that there will not be a return of Matthew McConaughey as the owner of the strip club. Jacobs recently confirmed this news in an interview with Indiewire.
Fans of Matthew McConaughey might be depressed by this news, but viewers of Magic Mike should recall that Channing Tatum's character leaves behind the strip club at the end of the movie, as well as the Adam and Xquisite strip clubs. Taking the main strippers from Magic Mike on the road seemed like the logical way to take the story forward to Jacobs, who has stated that nobody will be able to accuse everybody involved "of making the same movie twice."
Joe Manganiello, Alex Pettyfer and Matt Bomer, besides Channing Tatum, will also be reprising their roles in Magic Mike XXL, which is expected to be in theaters on July 1, 2015. On 7th August 2015, the movie about male strippers will open in theaters in the U.K. Jacobs mentioned in the MTV interview that there would be other new cast members joining the cast of the sequel, but he would not say who they would be at the time.
Now, however, the news has come out that Johnny Depp's fiancé, actress Amber Heard (Machete Kills), will be one of the new cast members of Magic Mike XXL. Also contributing their acting talents to the film will be Andie MacDowell, who joined the cast officially this last Thursday, and quite possibly actress Jada Pinkett Smith, who has met with Warner Brothers execs and is in discussions to play a role in the movie. The wife of Will Smith, Jada Pinkett Smith has starred in several movies, like The Matrix Reloaded.
Amber Heard has become a hot property in Hollywood lately and will have many other movies coming out soon that she is starring in. The films include When I Live My Life Over Again, The Adderall Diaries and London Fields.
According to actor Joe Manganiello, Magic Mike XXL as reportedly already begun filming, as he stated production on the flick would begin this fall. Fans of Magic Mike are eagerly awaiting the sequel and are hoping that the new direction that director Gregory Jacobs is taking the movie in will not detract from what made the first movie as hugely popular as it proved to be.
Magic Mike was made on a shoestring budget of just $7 million and it grossed an impressive $167 million. If director Jacobs can make lightning strike twice and be as successful with Magic Mike XXL, he will have definitely earned whatever amount of money he is getting to direct the sequel. Not having the genial and amiable actor, Matthew McConaughey, back in the role of Dallas will be a disappointment to many people; but, the additions of Amber Heard, Jada Pinkett Smith and Andie MacDowell to the cast might just help the Magic Mike franchise continue its magical ability to attract audiences into movie theaters to see Magic Mike XXL.
Written By Douglas Cobb
Sources:
Entertainmentwise
Contactmusic.com
TheCelebrityCafe.com