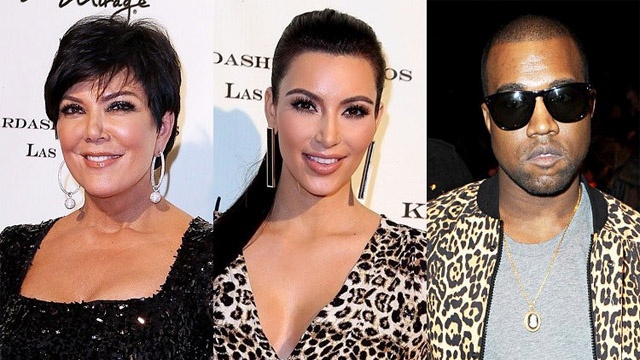 Kanye West and his wife Kim argued during their entire family outing on Saturday. They planned to take their daughter to Underwood Family Farm's pumpkin patch with Kim's sister Kourtney and her children when Kris Jenner insisted on joining them. Onlookers said their family fun day turned out to be "not so much fun" as they spent the day bickering over the paparazzi being tipped off by Kris.
Reportedly, Kanye and Kim wanted to enjoy a low-key family day with their daughter and her cousins. Once Kris learned of the event she insisted on tagging along. As the family arrived to the pumpkin patch the first thing they saw was a welcome wagon of paparazzi, which were allegedly invited by Kris.
The presence of the "camera crew" threw Kanye into a rage because hates the paparazzi. His disdain for them is no secret; the rapper has been accused multiple times of attacking paparazzi in times past. In his song Flashing Lights Kanye said he hates the paparazzi more than the Nazi. When questioned about the Nazi reference in court Kanye did not render a solid answer, however a lot of things artists rap about are only done for shock value.
Yeezus, as he is commonly referred to, was previously sentenced to two years probation after a fight with Daniel Ramos, a paparazzi photographer, after an outburst of anger. He originally pleaded not guilty to charges of misdemeanor battery and attempted grand theft but later pleaded no contest to misdemeanor battery charge. In exchange for the plea Kanye was sentenced to 30 days of anger management and 250 hours of community service. The conviction will be expunged from his record should he stay out of trouble for two years.
Kanye supposedly knew that his mother-in-law was the reason the photographers were present because she was hoping for a photo opportunity with her daughter and son-in-law. Kris thought the farm would be the perfect place due to the scenery. It is no secret the head of the Kardashian clan loves the lime light. Other visitors at the pumpkin patch said Kim and Kanye looked distressed while Kris was all smiles.
Although some would consider it a shame that the West family along with Kourtney, Mason and Penelope could not enjoy an "undercover" family outing without photographers, while others would argue Kanye should be used to Kris and her fame seeking ways by now. The Keeping Up With the Kardashians star is no stranger to the paparazzi and loves the attention of the camera. She and Kanye had a previous disagreement when North was born because Kris wanted her granddaughter on camera right away and Kanye wanted no parts of it.
Kanye West and Kim Kardashian-West wanted to enjoy a day of fun with baby Nori, Kourtney and her children at Underwood Family Farm in California. Kris insisted on joining them and supposedly ruined their plans by tipping off the paparazzi. Although Kanye and Kim spent the day arguing, hopefully the children had a great time in spite of the cameras.
By: Cherese Jackson (Virginia)
Sources: