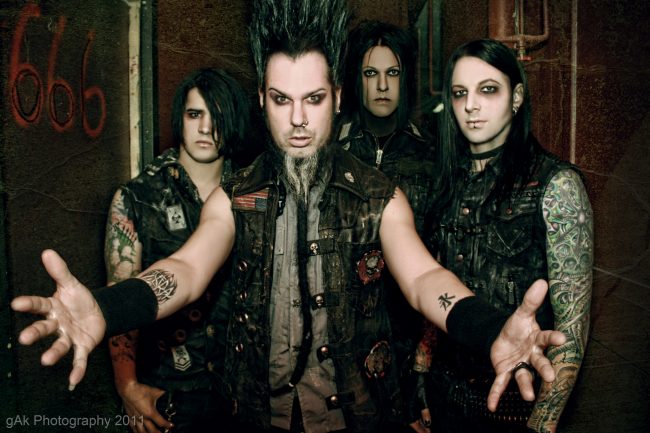 Wayne Richard Wells, who was better known as Wayne Static, and the former front man and founder of the metal band Static-X, has died at age 48. The group broadcast Wells' passing through a Facebook posting on Saturday evening but they did not state the cause behind his death.
Wells created Static-X back in 1994. The band released six albums. The best known came out in 1999 and was called Wisconsin Death Trip. It ended up going platinum.
Wells' passing was confirmed to the media by his publicist late Saturday night, Nov. 1, 2014. There was no other information given other than that Static-X had planned to start a multi-headlining tour along with the groups Drowning Pool and Powerman 5000 over the next few months. A message from Twitter from Static-X's official account was sent out about seven hours before any official word was released to the general public.
Wayne Static created his namesake group in 1994, and debuted the first album, Wisconsin Death Trip in 1999. It would end up going platinum. They would then end up releasing five other albums, the last one being Cult of Static in 2009, before Wayne broke away and started his solo career.
There have been no added specifics surrounding the details of Wayne's demise, but several of his contacts have stated that his death might have been due to the consequence of a drug overdose. This has not been confirmed by any official source, however. Numerous individuals have stated that they are in shock that Static has passed away. One individual stated that he was glad to have known Wayne Static and that he got to record with him. He said that he had toured with him, recorded a couple of songs with him and had a few good talks with him. He added that Static was a good person who had just happened to pick the wrong path to go down in life but that he would be greatly missed.
As was stated above, Static-X released a total of six albums all together between the years of 1999 and 2009, which ended up spanning an entire decade. They then ended up breaking up the band. It was in 2009 that Wayne Static stated his own lone career and in 2011, he released his first unaccompanied album, which was known as Pighammer. Wayne Static had been slated to hit the road again along with Drowning Pool and Powerman 5000 on Nov. 6 at their very first gig Waterloo, Iowa when they began their brand new tour.
Wayne Static had gotten married to Tera Wray, who was once a major porn star, back in January of 2008. His trademark was the way he wore his hair. He always had it spiked so to make sure it would stand up on end.
It has been reported that sympathies from all around the hard rock community have been rushing in on various social media sites. Among the different mourners, one individual stated on Facebook that having a drug addiction was very real and it would take people out if they were not careful.
By Kimberly Ruble
Sources:
CNN
Billboard News
Blabbermouth News
Photo by  Nicole Valentine  – Flickr License