On The Tonight Show Starring Jimmy Fallon this Thursday, Fallon has some incredible guests, even for him. His first guest was the lovely actress, Amy Adams, who stars with Christoph Walz in Tim Burton's Big Eyes. Also on the show as a guest was actor Nick Offerman, from Parks & Recreation. The musical guest was Dave Grohl of the Foo Fighters. Later in the episode, Jimmy Fallon played Holiday Flip Cups with Amy Adams. He also gave away a holiday sweater during his "12 Days of Christmas Sweaters" bit, and each member of the audience got a gift during the "Tonight Show Stocking Stuffer," giveaway.
Host Jimmy Fallon opened up the Tonight Show by warmly welcoming his studio audience. He then did his nightly comedy monologue, joking about people and events in today's headlines. Paraphrased jokes from the monologue follow.
"Here's what people are talking about," Fallon said. "Big story — Sony Pictures has cancelled The Interview. The hackers have accomplished their goal of making everyone in the world want to see The Interview."
"The other big news is the U.S. renewing their relationships with Cuba. Castro wondered 'How am I still alive?'"
"In a recent interview, President Obama said his favorite movie of the year was Boyhood. When asked what his second favorite movie was, he said 'The Interv — I mean, Interstellar."
"A woman in Wisconsin has been going on walks with her dog. She has been dressed as the Abominable Snowman from Rudolph," Fallon said. He showed a clip of her being interviewed wearing the costume. Fallon said that the dog was saying "Help me!"
Then, actor Nick Offerman read aloud his special version of The Night Before Christmas. It was hilariious! "Then, a fat bearded man stole into their house with a sack and made off with their socks," he said.
Tomorrow night, Ben Stiller and Damon Wayans will be here, and of course, 'Thank You Notes,'" Fallon said at his desk. He then said "Amy Adams will be here tonight, and I'm going to challenge her to a game of Holiday Flip Cups. Also, Nick Offerman will be here, and the Foo Fighters!'
Jimmy Fallon then opened up door number four, and gave away a Christmas Sweater saying "Meeeoowy Christmas" on it, with a cat on the sweater playing with a string of Christmas lights. He read off number 292, and ran up the aisle to give the sweater to a lady in the audience in that seat. The New Jersey woman put the sweater over her turtleneck — it looked pretty festive.
"Guys — I'm in the spirit of giving right now. It's time for 'Tonight Show Stocking Stuffers,' right now! We're giving away an awesome gift to everyone in the studio audience!" Tonight, the Stocking Stuffer was an XBox One! Then, The Tonight Show Starring Jimmy Fallon went to a commercial break.
After the break, Fallon said "It's time for Tonight Show Hashtags!" The hashtag for tonight was "Christmas Fails." He said "Within ten minutes, it was a trending worldwide topic."
"After our Christmas tree fell down for the sixth time, my dad just left it down and we laid the presents all around it.'
"I heard Santa in the living room. Mom stopped me from going in to see him by saying 'He throws salt in your eyes and blinds you!'"
"One year, my brother secretly spiked the eggnog, and my grandmother drunkenly said 'I have a crush on the mailman.'"
"I was chewing gum as I sat on Santa's lap and he said 'Quit chewing gum like a cow.'" Jimmy Fallon then said "We'll be right back with Amy Adams!"
"Our next guest stars in Tim Burton's Big Eyes and on Saturday, she'll be hosting Saturday Night Live — ladies and gentlemen, welcome Amy Adams! Are you excited or nervous for SNL?"
"Terrified," she answered. "The only thing I remember were the costume changes — it's crazy," she said, recalling her first appearance hosting SNL. She told Fallon she was one of seven kids, and she now has her own daughter to share the holidays with.
"Did your parents wrap your presents?" Fallon asked.
"No, he did not. With seven kids, our parents left the presents unwrapped," Amy said.
"So, Big Eyes comes out Christmas day. It'a bout the painter, Keane, who painted pictures of children with big eyes," Fallon said.
"Her husband took credit for the paintings that she painted."
This guy, Keane — he didn't even know how to paint," Fallon said.
"No, not at all," Amy replied. Then, Fallon showed an intense clip from the movie.
"Every time I have a guest on, we play a game," Fallon said.
"Cheater, cheater, pumpkin eater!" Amy called him.
Fallon showed supposed proof that Amy had actually also cheated. He said "I learned it from you!" He said that they would play Holiday Flip Cups after the commercial break.
"Welcome back, everyone!" Fallon said. "The rules are simple — first, we chug the beer and then we flip the cups. Okay, here we go.'
Jimmy Fallon took the early lead, and had five of his cups flipped over to Amy's one. He easily beat her, and said "I am the champion, everyone! Amy Adams in Big Eyes opens Christmas day." It looks like a great movie to check out.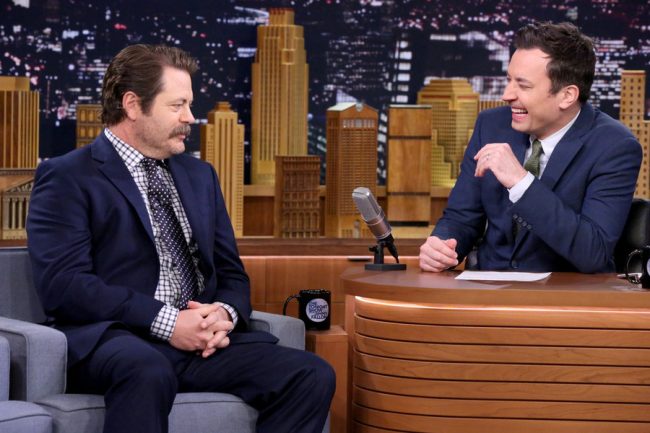 Jimmy Fallon introduced his second guest of the night, Nick Oferman. "Your delivery is one of the favoirte ones of any comedian – that deadpan delivery," Fallon said.
Nick Offerman said that his parents had been farmers, and said "I have become a humorist of late." He said colleges have been inviting him to speak. He told them "I am not that funny. I'm not a comedian; I am a humorist." He gave his Ten Tips for Prosperity, including "Eat read meat."
Offerman and Fallon also talked about an upcoming comedy special and tour he will be going on. "Dates for it are at my website," he said. He told Fallon that there are also plans there "for a skateboard, an old school deck."
Nick said he thought he got his love for crafts from his dad, though his ability to grow tomatoes left something to be desired. He spoke about the final scenes shot of Park & Rec. "Everyone was crying — except myself. I was vomiting and crying, getting oatmeal on everyone."
After yet more commercials, The Tonight Show Starring Jimmy Fallon came back. Fallon introduced his musical guests of the night, Dave Grohl and the Foo Fighters. They will be performing a song from their latest album, Sonic Highways.
When The Tonight Show Starring Jimmy Fallon returned from the commercial break, Fallon inroduced Dave Grohl and the Foo Fighters. "Performing I Am a River," Fallon said, "please welcome the Foo fighters!"
Dave Grohl is a great singer, and he and the Foo fighters continue to be as popular as ever. I am a River is a cool song, and the band rocked out the Tonight Show audience with their amazing performance of it. Grohl played the guitar as he sang, holding the audience in the palms of his hands with the lyrics of the song and his powerful voice. Fallon said that "Sonic Highways is in stores right now!" concluding the show.
That was tonight's episode of The Tonight Show Starring Jimmy Fallon. His guests included actress Amy Adams, actor and…humorist Nick Offerman, and Dave Grohl and the Foo Fighters. Jimmy Fallon played Holiday Flip Cups with Amy Adams, and talked to her about her upcoming movie, Big Eyes, that she stars in opposite Christoph Walz. Nick Offerman explained where he got his dry sense of humor, and talked about the last day of shooting at Parks and Rec. The Foo Fighters closed out the show with an electrifying song, I Am a River.
Written By Douglas Cobb
Jimmy Fallon and Amy Adams Play 'Holiday Flip Cups'

Sources:
NBC Universal Media Village
Nick Offerman Official Site
The Foo Fighter Official Site