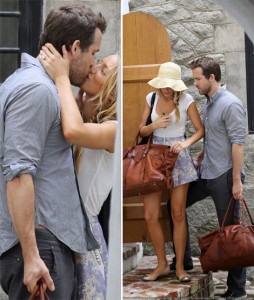 Blake Lively is back to work after her whirlwind marriage and reception. The Newlywed returned to work a week after marrying her beau Ryan Reynolds in secret wedding ceremony.
The actress, 25, was spotted on the set of Gossip Girl in Brooklyn, New York, dressed in a sparkly frock, black robe and Ugg boots.
She chatted on the phone between takes and keep her wedding finger well out of sight.
It's the first time Blake has been seen since she tied the knot with Ryan on September 9 in South Carolina in front of 60 of their closest friends and family.
Wedding planner Tara Guerard revealed they were closely involved in every aspect of the planning.
She told People magazine: "Ryan and Blake wanted the event to look and feel like home. We created the charm, elegance and magic of times past. It was a truly elegant celebration."
A source revealed the pair had a retro-carnival themed cocktail hour and served popcorn in paper bags with their initials, adding: "They're a fun couple who wanted to inject that into their wedding."
Friends of the pair – who have been dating for a year – revealed they have 'an ease' with each other which is heartening to all.
A source said: "They have such an ease when it comes to their relationship. He looks after her, dotes on her and protects her and she honestly just complements him perfectly. They knew early on that this was it."
Lively and Reynolds wanted their wedding to be unique and memorable so the wrote their own vows for their wedding ceremony. The 35-year-old Green Lantern co-stars became man and wife at Boone Hall Plantation in Mount Pleasant, South Carolina nearly a year since they were first publicly linked.
Just 60 guests were invited to the rustic, family-themed ceremony where they munched on white cheddar popcorn served in paper bags featuring the couple's initials 'B' and 'R', separated with a heart, as a children's choir from the local First Baptist Church serenaded the party.
Lively walked down the aisle in a custom-made Marchesa dress to Frankie Valli and the Four Seasons' "Can't Take My Eyes Off You" and carried a bouquet of white and peach roses and peonies.
A source told People magazine, "When Ryan first saw her, his face broke into a huge smile that crinkled his eyes. They just stared at each other with absolute love. Their faces were lit up with the candlelight, and it looked like something out of a romance movie."
The insider says, they promised to support and love each other and to make each other laugh… (Reynolds) said he would treasure Blake; she said she would adore him. The whole time they were beaming.
During the reception, which featured a performance from Lively's pal Florence Welch, guests were invited to light "wish" lanterns and sent them floating up into the night's sky as they all gathered to watch the event on the Cotton Dock outside the Plantation.
The decision to choose Charleston, S. C. was met with curiosity by guest attending the special occasion.
"Charleston is one of the most sought after wedding destinations in the southeast. It's the most relaxed tranquil place.
Leading up to their wedding, the couple had, in fact, escaped to Charleston several times.
Over Thanksgiving, Lively, 25, and Reynolds, 35, stayed in a quiet bed and breakfast, says an onlooker.
"They looked like they were totally in love. Ryan was stroking her hair and they walked around holding hands. At one point, they went over to a little gazebo on the property and sat around laughing, talking and joking around. They seemed very at ease with each other."
A few months later, the Green Lantern costars returned.
"I saw them on April 1 at Leaf. They were laughing together and you could tell they were enjoying their meal. When they left they were holding hands," a different source says. "People left them alone, but eventually people started to realize who it was."
Then a few weeks later, the couple was spotted again dining at Halls Chophouse, a family owned restaurant in the Upper King District of Charleston.
"Halls is a much more intimate setting and definitely an upscale dining experience. It's known for its prime cuts of beef. It's amazing. There's a live piano player and sometimes saxophonist. The restaurant in general has a more vintage and classic feel," the source says.
While at Halls Chophouse, Lively and Reynolds enjoyed their meal like any other couple out to dinner.
"They were very normal, they did not give off a pretentious vibe at all. My mother would not have known they were celebrities," the source says. "They seem like very happy and very content and relaxed. Nothing about the way they were acting was showy. It just looked like genuine love. It was natural."
As for why the couple chose Charleston for their big day, it's clear the city offers a respite from the demands of two acting careers.
"The amount of times they'd come to Charleston, it was a lot all at one time especially for people who are so busy," the source adds. "They don't live in North Carolina or Virginia – they live in New York. I could tell it was a special place for them as it is for many people. It's a very special place for a lot of people. You could tell it's their place."
Lively and Reynolds have been in nesting mode since buying a home in Bedford, N.Y., earlier this year. They have subsequently been seen workingout together at a local gym, as well as spending quality time with their families in New York and Vancouver, where Reynolds, PEOPLE's 2010 Sexiest Man Alive, was born.
The two, who costarred together in 2011′s Green Lantern, have stayed relatively mum about their relationship, though Lively, 25, did tell Marie Claire this summer, "It's definitely attractive when a man can dress well."
Reynolds, was previously married to Scarlett Johansson. The couple divorced in 2010 after two years of marriage.
This would be the first marriage for Lively, who previously dated her Gossip Girl costar Penn Badgley.
The couple will give fans a glimpse into their secret nuptials by sharing their first wedding photos in the upcoming December issue of domestic diva Martha Stewart's bridal magazine.