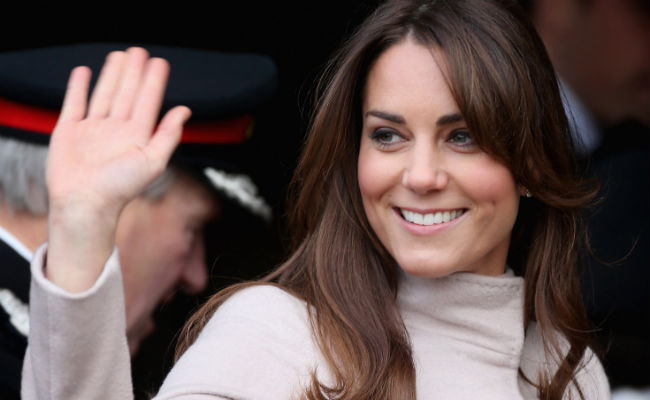 Kate Middleton is perhaps the most talked about woman in the word. In fact, her admirers often take their devotion to the princess a bit too far. What's too far? How about to such an extreme it borders on insanity. And I'm not just talking about common people. Some of the most popular people on the planet exhibit the wackiest behavior in their effort to be like Kate.  It's quite hilarious to see people deliberately imitating and following her every step. OK, I'll admit, she has an extraordinary eye for fashion along with a curvy physical structure that can captivates the most devoted cleric. Taking an interest in dressing like Kate is a likely by product of her regal fame, but to go as far as to collectively  imitate her dress, walk, talk, and physical distinctiveness is not only bizarre , it is the wackiest display of a lack of self esteem I've ever seen.
Global interest in the princess exponentially escalated around the time her storybook  Royal Wedding dominated headlines and television screens worldwide. Almost immediately following her and prince William's exchanged 'I dos'  business clamored for her endorsement. And when their efforts to attract the young royal were ignored, they resorted to associating  wacky products and zanny sales slogans to capitalized on the princesses appeal.  So for those of you interested in enjoying a cynical laugh every now and than, here are the 10 wackiest imitations of Kate Middleton, uncut and uncensored.
The list or crasy products and wacky behavior is quite daunting. Nevertheless, I've carefully selected the best ten from a list that might be as long as the English Channel.
1.- Plastic Surgery
Believe it or not, the well to do residents and visitors of the city that never sleeps have  increasingly sought plastic surgeries so they could look like Kate. Requests are extremely popular.  According to a recent inquiry, New Yorkers are stampeding into the offices of local plastic surgeons to get a new nose, or a new lips resembling the British royal and picture-perfect fashion darling ,Kate Middleton.
According to the New York Daily News, Middleton's perky schnoz has become "spring's hottest accessory" for many New York women.
"A couple of months ago, these women started coming into my office and asking for Kate Middleton's nose," says Dr. Stephen T. Greenberg, a Manhattan plastic surgeon and author. "It has become so popular that we have made a file of a dozen Kate Middleton pictures to show patience when they come in for their consultation."
Jessica Blaier, a NYU student in her early 20s, made headlines earlier this year after she said she spent about $12,000 on plastic surgery to get a nose like Middleton's. "Every time she smiled it's like, that's what I want — I want my nose to be like that,'"
2.-Royal Couple Teeth tattoo

Barmy Baz Franks, who happen to be 29-years-old at the time; a patriotic plumber from Bristol, England, had the royal couple's faces tattooed on his teeth in honor of their wedding day. Of course the English were never very highly regarded for their pearly white teeth, and this guy is no exception. Baz spent six hours in the dentist's chair while portraits of William and Kate were painstakingly etched on his front teeth using ultra-fine brushes.
The temporary artwork known as 'gnasher tats' lasted for up to three months and can only be removed by "several long, hard brushes". The royal devotee ended up paying for this bizarre body art, to the tune of $1,500.00. If that's not wacky, at the very least, it's whacked out. 
3.- Wills and Kate commemorative pizza
Think about it; commemorative pizza. It's enough to spoil your appetite. And from the image to your left, it hardly looks appetizing. Nevertheless, I'd like to present to you… the royal wedding recreated in pizza. This little goodie is Papa John's (UK) way to celebrate the big day. A rep from Papa John's said, "It seems like the whole country had the royal wedding fever, so we just had to do something special to celebrate this momentous occasion." What could be better than a bride's dress made out of cheese, a groom's suit made out of salami and peppers and a veil made from mushrooms? I'll tell you what could have been better; watching  someone wacky enough to get tricked into eating the guey  meal.
4.- Jelly bean that looks like Kate Middleton
Wesley Hosie, 25-years-old, found the yellow and red sweet by chance as he and his girlfriend tucked into a 700 gram jar from The Jelly Bean Factory. The trainee accountant claimed that the moment he opened the pot, he was
struck by the red pattern on its surface, illustrating Prince William's bride-to-be's strong facial features, long hair and smile.
Mr. Hosie and girlfriend Jessica White, 24-years-old, from Taunton, Somerset, kept the mango-flavored bean and now plan to sell it on eBay for $500.
Mr. Hosie said: "As Jessica opened the jar, I saw her immediately. She was literally lying there staring back at me.
"Given that the royal wedding is only a few weeks away, we hope to make a few pounds out of it by selling it on the Internet to a collector."
5.The Royal Wedding Built With 170,000 Legos
Each one of these Lego people is built with 30-40 bricks. Do you see the whole crowd of fans surrounding Buckingham Palace as well? There were 10,000 Lego bricks just used to make the people. In addition to that, another 160,000 Lego bricks were used to build Buckingham Palace itself.
6.-The Crown Jewels condoms

To celebrate the engagement of Prince William of Wales to Ms. Catherine Elizabeth Middleton, Crown Jewels Condoms of Distinction has commissioned unique heritage edition Royal Wedding Souvenir boîte de capotes.
Combining the strength of a Prince with the yielding sensitivity of a Princess-to-be, Crown Jewels condoms promise a royal union of pleasure. Truly a King amongst Condoms.
7.- The William & Kate Commemorative Refrigerator
Mainly what I'm referring to is the couple's royal wedding memorabilia that companies everywhere are trying to cash in on. I suppose almost every manufacturer in the world thinks they can make a buck if they create something, anything… and plaster their faces on it.
8 .- the Royal Wedding Cell Phone

Carphone Warehouse UK launches the Special Edition Royal Wedding Phone for Prince William and Kate Middleton's special day. On the front, you can find the pattern of the UK flag and on its back cover you can see a symbolic inscription of Kate Middleton and Prince William's initials joined together.
9.- Wills and Kate tea bags
The German company Donkey Products, which is manufacturing his and hers teabag sets emblazoned with cartoonlike images of William and Kate. Dubbed "KaTEA & William," the tea bags, which also come with a greeting card. Luckily Pylones-USA.com & all Pylones stores in New York City are also carrying them for $8.00 a piece.
10 .- Wills and Kate acrylic nails

Every woman loves doing her nails, but if you're  a true fan don't You just know Camilla is getting these done. Moreover, can you imagine Kate all styled up in her designer's wardrobe stepping out with her nails resembling this wacky combination.
Oh, and don't worry, I'll be back to serious writing tomorrow, as I'm now royally whacked out over this nonsense.