In today's America, skin color and political persuasion determine what one can and cannot think, say and do; if your skin is not white, you have carte blanche to express whatever deep-rooted hatred and racism you may harbor. If you are white, however, you have to be a Liberal to get away with racist, sexist or homophobic comments or "hate-speech". The second-degree murder trial of George Zimmerman, currently underway in Florida, has sparked numerous death-threats and an outpouring of racism on Twitter, but the mainstream media ignores it because it doesn't fit their narrative; that only white Conservatives are capable of being racists.
An interesting side-note is the recent downfall of celebrity kitchen maven Paula Deen; after admitting, under oath, that she had used the "N-word" more than twenty years ago, Deen's contract with the Food Network was doomed and she has been deluged with negative publicity and widespread criticism. Deen's mistake was not making it widely known that she voted for Barack Obama twice; had she done so, the mainstream media would have ignored her transgression or made excuses for her and her career would have continued, unaffected. Being a white woman from the South, however, meant that everyone assumed she was just another evil Conservative – probably one of those crazy Tea Party racists – and, therefore, she was condemned.
Were a white Conservative to take to social media and express a desire to kill some "ni-ers", there would be a national outcry and the individual in question would, without a doubt, be in jail and awaiting trail for a string of charges. This scenario is unlikely, of course, due to the fact that 99 percent of white Conservatives are not racist. Sparked by the George Zimmerman case, a number of black people – displaying an impressive level of intelligence and educational prowess – have taken to twitter to issue death threats and spew their vicious hatred of white people. This has all been largely ignored by the mainstream media. More importantly; it has been ignored by the Justice Department, who should already have dispatched the FBI to question these individuals, since they are making actual death threats and also inciting public disorder and violence.
This is just a small selection of comments that were originally published by Twitchy. Be warned: The language is graphic: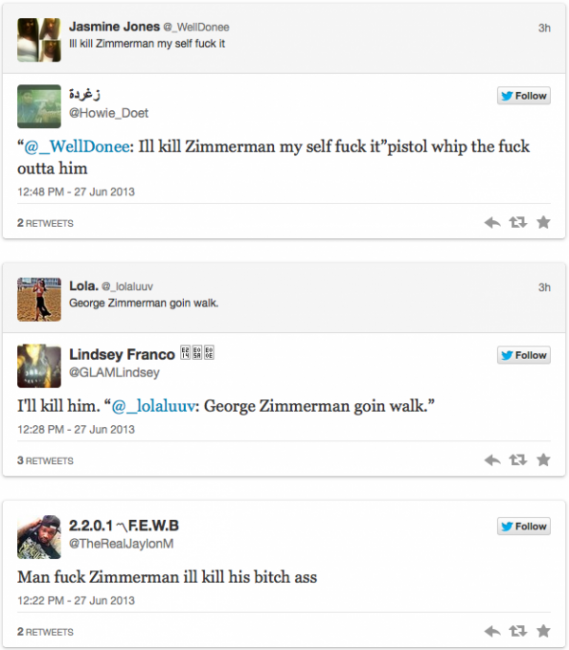 At one time, is was generally accepted that the limits of free speech were drawn at the point where that speech incites hatred or violence. The questions every reasonable American should be asking, therefore, are: Where is the outrage of the sanctimonious Left, who are so opposed to "hate-speech"? Where is the action by law enforcement? Why has the mainstream media ignored such blatant death threats and racism, sparked by the trial of a man who was, clearly, doing nothing more than defending himself?
Hailing the recent Supreme Court ruling on Same-sex marriage, President Obama spoke of America being founded upon the idea that all men are equal. He is absolutely correct. The Liberal media – along with almost every Liberal in this country – clearly does not believe this, however; they continue to apply different standards to different groups, based on political belief, skin color, gender or religion.
When white and black are judged equally; when Conservative and Liberal are judged equally; when Christian and non-Christian are judged equally, then America will be the country it was intended to be. However; whilst blacks are allowed to openly display racism and homicidal intentions with impunity, where a white person, doing the same, would find themselves ostracized and, likely, imprisoned, then racism will live on. The black community deserves no respect from the white community until they deal with these degenerates in their midst. The dishonest and hypocritical mainstream media deserves no respect from the American people until they break their deafening and shameful silence, regarding such incidents.
Graham J Noble
Source