James Gandolfini, most famous for his role as Tony Soprano, charismatic head of the New Jersey organized crime family depicted in the HBO series "Sopranos" is dead from unknown cause at 51. A heart attack is suspected.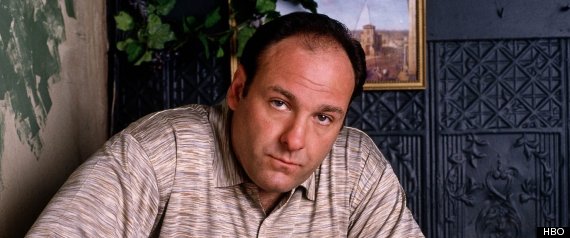 "It is with immense sorrow that we report our client James Gandolfini passed away today while on holiday in Rome, Italy," voiced his managers, Mark Armstrong and Nancy Sanders. "Our hearts are shattered and we will miss him deeply. He and his family were part of our family for many years and we are all grieving."
HBO announce the much-loved star of The Sopranos would be "deeply missed". HBO said in a statement. "He was special man, a great talent, but more importantly a gentle and loving person who treated everyone no matter their title or position with equal respect. He touched so many of us over the years with his humor, his warmth and his humility. Our hearts go out to his wife and children during this terrible time. He will be deeply missed by all of us."
Growing up in Park Ridge, New Jersey, Gandolfini loved to play basketball and participate in school drama group events. James graduated from Park Ridge High School in 1979 and earned a Bachelor of Arts degree in Communication from Rutgers University. Gandolfini, born September 18, 1961, worked as a bouncer, bartender and bar manager prior to establishing himself as a self-supporting actor. James came to Broadway in 1992 where his career gained momentum in a breakthrough role-playing a mobster in the movie "True Romance." From the days of scraping together enough to pay his rent, Gandolfini's spectacular stardom netted him an estimated $77 Million dollar net worth.
Gandolfini, born in Westwood, New Jersey, to His mother, Santa, a school lunch lady and James Gandolfini, Sr., a native of Borgotaro, Italy, a bricklayer, both of Italian background, Gandolfini never really planned on an acting career. "I dabbled a little bit in acting in high school, and then I forgot about it completely," Gandolfini told Vanity Fair in 2012. "And then at about 25 I went to a class. I don't think anybody in my family thought it was an intelligent choice."  In an AP interview, December 2012, Gandolfini said he became an actor to get rid of his anger. "I don't know what exactly I was angry about," Gandolfini said. "I try to avoid certain things and certain kinds of violence at this point," he added. "I'm getting older, too.
"I don't want to be beating people up as much. I don't want to be beating women up and those kinds of things that much anymore."
James Gandolfini was an unlikely sex symbol, yet never the less women adored him. James was awarded the title "Class Flirt" in his senior yearbook.
HBO reports Gandolfini was vacationing in Italy, planning to attend the 59 Taormina Film Festival in Sicily. Although he appeared in a diverse array of roles prior to his catapult to fame in the hit HBO series, his portrayal of panic-attack ridden Tony defines his stellar rise to stardom.
Gandolfini starred in the series from 1999 – 2007: winning critical acclaim, 3 Emmy Awards for Outstanding Lead Actor in a Drama Series and 3 Screen Actors Guild Awards for Outstanding Performance by a Male Actor in a Drama Series. In 2009, Gandolfini whowed Broadway theater goers in the Tony Award-winning comedy "God of Carnage." Most recently, Gandolfini stared in Steve Carell's "The Incredible Burt Wonderstoner" playing the role as a billionaire casino owner. According to the Hollywood Reporter, last month, HBO order 7 episodes of Gandolfini's latest project, "Criminal Justice." Recent films include "Zero Dark Thirty" and "Killing Them Softly."
Television critic Bill Goodykoontz Gannett reports on the death of Gandolfini, stating, "He appeared in plenty of other things. He was great as the hitman in "True Romance," and Bear in "Get Shorty." ("Bur-ri-to.") He was also outstanding in the understated role of Leon Panetta in "Zero Dark Thirty." Just a sly chuckle was enough to impart years of experience mixed with admiration when he chatted with Jessica Chastain.
But Tony Soprano was the role of a lifetime, of several lifetimes. The blend of humor, violence, compassion, anger, delusion, greed and gluttony was a godsend for an actor, and a perfect fit for Gandolfini. "The Sopranos" wasn't just good, it redefined how drama was made on television. Great shows that followed, like "The Wire," ''Deadwood," ''Breaking Bad" and "Mad Men" are inconceivable without it.
And "The Sopranos" is inconceivable without Gandolfini."
By: Marlene Affeld
BBC News
James Gandolfini, Sopranos star, dies in Italy aged 51
Jconline
Critic on Gandolfini's death: 'Sopranos' star made us love a made man
Poughkeepsie Journal
VIDEOS: 'Sopranos' star James Gandolfini has died
Get Net Worth
Huffington Post
James Gandolfini: 'The Sopranos' Star's Best Moments In The Wake Of His Death (VIDEO)
CBS To Adapt Canadian Comedy Series 'Taxi-22′ With James Gandolfini Producing