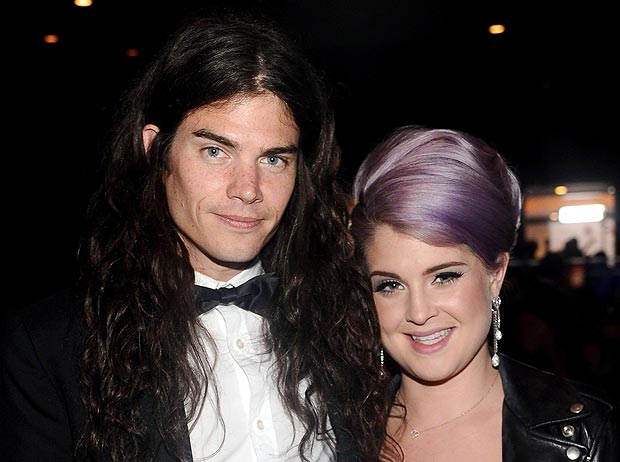 Kelly Osbourne is getting married to boyfriend of two years, vegan chef Matthew Mosshart. Osbourne is thrilled and gushed, "'I've never felt this close to another human being, ever. People say we're co-dependent but we just want to be together all the time."
Osbourne and Mosshart met at another martial celebration in 2011. The happy couple connected at the wedding of Kate Moss. Shortly after they started dating, Mosshart left behind the big Apple behind for sunnier skies and joined Osbourne in Los Angeles.
Osbourne has shared a wealthy amount of emotion and compliments towards her recently ringed beau. She credits him for helping her lose weight. Over a two year process, Osbourne lost 63 pounds and thanks her finance for keeping her slim, "that's because he cooks for me! He's a vegan chef, so he makes sure that I eat healthily." It's pretty certain the wedding will have an almost completely vegan menu.
Since her weight loss, Osbourne has become a red carpet favorite and joined shock queen Joan Rivers on her E! popular show, 'The Fashion Police,' where typically Osbourne is defending the fashion choices of celebrities.
If Mosshart seems familiar to many people, his sister, Alison Mosshart comprises one-half of the band 'The Kills,' and is also a member of 'The Dead Weather,' a band that also houses Jack White, Jack Lawrence and Dean Fertita. Osbourne has made leaps and bounds from her days as a teenager. Born to Ozzy and Sharon Osbourne on October 27, 1984 the petite dynamo has made headlines more than once.  At the age of 15, the family made Beverly Hills their home, in hopes of assisting rocker dad to kick a substance abuse.
What her father dropped, Osbourne picked up. She became a regular at the L.A. clubs, becoming a television sensation during the reality series of the family called, 'The Osbournes,' which aired for three seasons. Audiences across America built a love/hate relationship with the ill-tempered teen.
In 2002, Epic Records signed Osbourne to a record deal for her to record Madonna's classic hit, "Papa, Don't Preach," and her debut album 'Shut Up!' was born. Needless to say the sales were dismal and just as quickly, Epic Record released the wanna-be singer.  Osbourne launched head-first into substance abuse and drinking, immersing her misery into the bottom of a bottle, a dark time she recalled as a way to avoid thinking, "about it anymore."
In 2004, Osbourne looked to redefine herself and clean up her act. She launched her line Stiletto Killers and several years later joined the cast of 'Dancing with the Stars.' This provided the miracle turnaround she needed. During her competition, Osbourne suffered a foot injury and the death of her long-time pooch.
Although, Osbourne did not win the dancing competition, she became stronger from it. She lost an incredible amount of weight and learned to take better care of her health. She gives much love and credit to the popular show,
"It absolutely changed my life, I wouldn't be standing here talking to you today looking like this," she said. "It taught me that I was able to go this far so I can go the rest of the way."
Now, Osbourne's star continues to shine. Boyfriend Matthew Mosshart proposed during a vacation to the Caribbean island and Osbourne is thrilled to be getting married. She also has plans to have a ring created around an earring her doting father wore, she remembers as a child.
Angelina Bouc