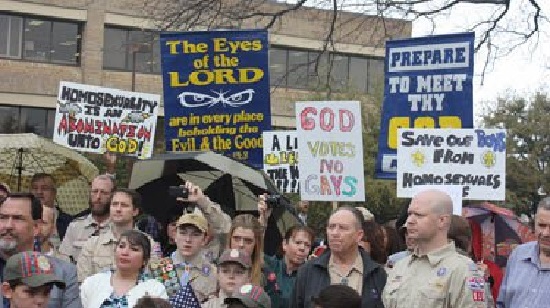 After 60 years Calvary Baptist Church is cutting ties with Old Hickory Council division of the Boy Scouts of America. This comes after the organization, on a national level, voted to allow openly homosexual boys to join the scouts.
The Boy Scouts have decided to include openly gay participation within the organization. They voted in May to lift the "homosexual" ban but adult gays are still restricted from becoming troop leaders. As it stands now no youth will be turned away from becoming members based on their sexual preference or orientation.
The previous ban on homosexual boys caused other companies to discontinue their support; Intel Corp, Caterpillar and UPS to name a few.
Rob Peters, Senior Pastor of this North Carolina Church said that they are a faith-based organization and as such must remain true to their own convictions and that's all this decision is about. The church feels that the boy scouts decision violates their moral standards. Peters said he is sad to see them depart from the Judeo-Christian values because the church has not. He added that this decision is controversial and directly challenges the moral standards of the church.
Calvary Baptist Church pondered this for three months before making their decision. They have confirmed that as of the first of January 2014, they will no longer affiliate with the Boy Scouts of America. Calvary says they will allow current members in the Eagle Scout process to gain any awards earned before the end of the year but after that time it's a done deal.
The Old Hickory Council Boy Scout troop is located just up the road from Calvary Baptist Church. Steve Wilburn, Scout Executive for this troop, said that they are disappointed and sorry that this is the decision the church came up with. Wilburn added they aren't changing the scout law or oath. The same values still apply as they have for 100 years and include all children.
This has become one of the major concerns facing churches everywhere; homosexuality as an alternative choice. Many Christians that have chosen to dismiss the legitimacy of the gay lifestyle have been deemed homophobic, hateful and intolerant. Other churches have accepted and support this lifestyle for members as well as their ministers.
'Evangelicals Concerned' is a homosexual group of people who say they are Bible reading, believing and born again Christians. They don't believe the Bible prohibits the homosexual lifestyle; at least not in modern times. They believe any claims made against homosexuality were for that time and culture. They seem to be conventional in many other aspects of biblical teaching but they feel it's acceptable to be a practicing homosexual.
The gay community has gained serious momentum in the political and social realm of society. Many who were "in the closet" have torn off the door and are wide open. They are heralding throughout online communication, reading material such magazines and newspapers and in public marches. However they can get the message about tolerance, justice, love and equality to the masses they are hitting those avenues head on. They no longer want to be viewed in a negative light; instead they want to be accepted and welcomed into society with open arms.
Several bills have been introduced from many states here in America from politicians who support the homosexual community. They are fighting to have them protected by law. So far there are clauses that affect schools, employers and other sects. Soon it could possibly bleed over into the church community.
The Christian church is already taking measures to ensure that their right of "separation of church and state" is heard and respected. Churches in North Carolina are starting now by severing ties with the Boy Scouts because of their new acceptance of gay boys.
The editor of Qnotes, Matt Comer, said that he's waited 13 years for this to happen. Qnotes is community newspaper for gays and lesbians. Comer was dismissed from his Boy Scout troop in the same area when he was 14-years-old because he was homosexual. He said finally young people like he was won't have to worry about that anymore.
The organizations national council is comprised of 1,400 members. These members voted and the majority supported the policy change. This change begins January 1. The Winston-Salem chapter of the Boy Scouts partners with 135 organizations and serves eight counties.
Calvary Baptist Church in Winston Salem, North Carolina says after 60 years this is the straw that breaks the camel's back. They are done.
By: Cherese Jackson (Virginia)