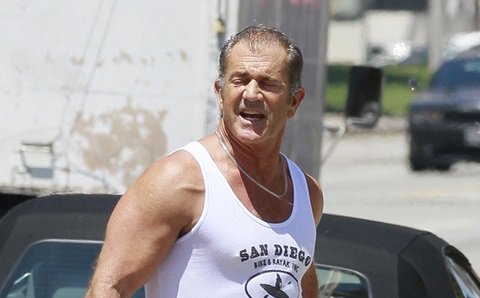 Mel Gibson is no spring chicken. His days of rolling on pavement as a sharp0-shooter in Lethal Weapon or riding bareback in Ireland in Braveheart are long gone. Long gone. Even his hair is starting to thin. Recently, however, Gibson was photographed leaving an LA gym in California wearing a very tight tank-top that revealed both his muscular upper-body and core. At the age of 57, father of 8 children, and stuck with fatherly movie roles for the rest of his dwindling career, one can only wonder how he managed to build biceps thicker than most people's thighs.
Is Mel Gibson on anabolic steroids? Human growth hormone?
Alas, he has been cast in "Expendables 3" by Sylvester Stallone, which only makes hGH use more likely as Stallone was charged in 2007 with importing steroids to Australia, no doubt in an effort to keep up his rugged beefcake appearance for "Expendables 1" and the last (thank goodness) Rocky film.
Gibson has never really debut an overly muscular appearance for any past roles. Yes, he was fit and in shape, and even muscular, but the appearance of muscles supported by anabolic steroids or hGH often come with a much thicker, plumper appearance, never lean and fit like was throughout his earlier career.
A website focused and supportive of steroid use explains, "Bodybuilders may illicitly self-administer hGH to improve size and strength, usually by subcutaneous injection into the lower abdomen."
This hormone is naturally produced in plentiful amounts in young people, but HGH has always well-known for its ability to slow or even reverse the signs of aging.
Administered via injection and often prescribed to older men, hGH is known to give even the average user bigger muscles, increased energy, and increased exercise capacity without much effort. For an athlete putting hard work in at the gym, the benefits are simply ten-fold.
The benefits go on to aid more than just your outer appearance, explains Harvard research: "They enjoy protection from fractures, increased muscle mass, improved exercise capacity and energy, and a reduced risk of future heart disease."
Best of all? Users easily drop body fat levels, too. Oh, and your sex drive will bring you back to your college days.
But it's not harmless. "Up to 30% of patients experience side effects that include fluid retention, joint and muscle pain, carpal tunnel syndrome (pressure on the nerve in the wrist causing hand pain and numbness), and high blood sugar levels."
Is it that preposterous to assume Gibson has turned to a some serious supplemental support? Not really.
Vanity Fair explains that addiction to hGH among celebrities is not a new fad, and is definitely a growing issue as older actors feel pressured to keep their bodies looking young. So far, aside from Sylvester (who was outed in Sydney), other actors to acknowledge hGH use include Oliver Stone and Nick Nolte.
(It even helps diminish wrinkles. Really, this stuff is gold. Or, just youth in a syringe.)
While hGH supplementation has proved to be life-saving for patients with HIV/AIDS, Prader-Willi syndrome, and Turner's syndrome, the long-term, the risks and side-effects for seemingly healthy abusers are worrisome:
"Long-term risks were somewhat more troubling." explains Ned Zeman of Vanity Fair. "Endocrinologists have been monitoring H.G.H. recipients ever since those first treatments. Now, armed with 30 years' worth of data—a bounty, by new-to-market standards—the researchers found a few concerning trends, among them an increased risk of cancer, heart failure, and diabetes. The diabetes is thought to be caused by H.G.H.'s tendency to increase glucose intolerance (because the hormone impacts the metabolization of carbohydrates). But all pharmaceuticals pose some degree of hazard. The medical establishment, having done the risk-reward analysis, came down in favor of H.G.H. for appropriate patients."
If Gibson is using, let's hope "Expendable's 3" actually pays off in the box-office and makes the irrevocable damage to this long-term health worth it. Or perhaps, he's just really pumping the iron and eating his broccoli and steamed chicken for the lean, vascular, beefy look?
Op-Ed
Written by Ginger Vieira
Source 3