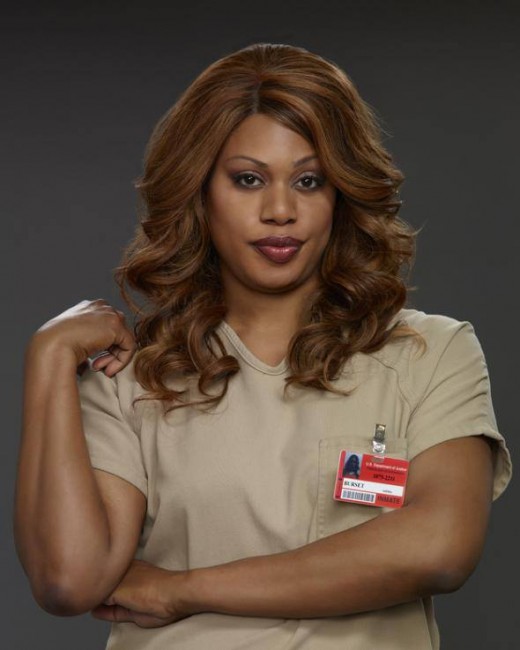 Netflix, the popular Internet streaming media service that provides a list of free television and movie titles to its users, has found its newest success with their release of original works like the series drama, House of Cards. With the show up for a Most Outstanding Drama Emmy nomination next month, Netflix has kept this ambition going after premiering another hit original series, Orange Is the New Black. Proving to be a favorite amongst viewers and critics alike, the series has also gathered praise for tackling subject matters not typically portrayed accurately in the media. Specifically, Orange Is the New Black has drawn attention in one of its character by humanizing the complexities that the transgender community often faces.
Orange Is the New Black follows the story of Piper Chapman, a woman in her early thirties sentenced to serve time in an upstate New York prison. Amongst a range of complex characters and their storylines, this woman-driven series features a look into a transgender inmate's experience within the prison. With its refreshing structure, viewers are able to catch a glimpse of what it means to be a transgender woman struggling to assert an authentic identity in society.
The character, Sophia, is played by real-life transgender actress Laverne Cox. To demonstrate the character's transformative background, Laverne Cox's real-life twin brother was asked to portray the character of Marcus, a man with a job, a wife and a child, who desperately wants to be a woman. After seeking a sex change through illegal means, Sophia has to struggle not only with being away from her family while in prison, but with maintaining a marriage to her wife and a complicated relationship with her son. It may be the first time in television history that a show like Orange Is the New Black can introduce good to the transgender community by humanizing a transgender character and actress on screen.
The actress noted that while roles for transgender actors are sparse (the unemployment rates among the community is twice the national average,) she felt the character of Sophia was the perfect opportunity to discuss issues facing trans women in prison.
"When folks want to write a trans character, the first thing that they think of is sex work," said the actress. "Obviously there are lots of trans women who don't do sex work."
While the entertainment industry has been known for its stereotyping amongst the transgender and female community, Lavern Cox also notes that being a woman of color has played a role in determining what parts she can play. Discrimination amongst the transgender community as a whole is founded in various areas affecting employment, health care, education and social situations. Within the African American community, the discrimination is even higher.
"It's hard," said Cox. "The issue of not just being trans, but also being a woman, and [being] black."
However, Orange Is the New Black is helping to show audiences a different perspective into the universal emotions and feelings that transgender people carry, whilst simultaneously humanizing the community as a whole. "I think [that is] the wonderful lessons that Orange Is the New Black is teaching us," says Laverne Cox. "You can cast women of different races, you can cast different ages and body types, and folks will tune in and be interested."
Written by Annie Elizabeth Martin