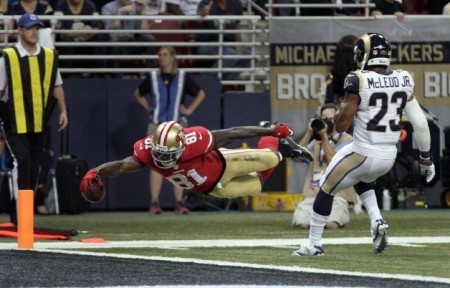 The San Francisco 49ers are a team in need of a win after dropping back to back contests to fall to 1-2 in this young NFL season. After playing in the Super Bowl last year, the expectations are sky high for Colin Kaepernick and company. Taking on the Rams on Thursday night football, it has been aging stars Frank Gore and Anquan Boldin who have the 49ers offense cruising early.
Through the first half of play the 49ers are off to a nice start. The score is 14-3, and the Rams have been gashed repeatedly by both Gore and Boldin. Both of the men have scored while combining for nearly 200 yards of offense already.
Given the expectations of Kaepernick, one would imagine that Jim Harbaugh and his 49ers coaching staff would prefer to keep the ball in his hands. Perhaps because of his struggles against Indy a week ago, they have foregone Kaepernick and given Gore the rock more often.
In the first half the team attempted 12 passes and handed the ball off to Gore 10 times. Kaepernick did not take off running in the first half.
Still early in this one, the St. Louis defense is already showing signs of being gassed.
Toss in a defensive performance that has the Rams offense looking hapless, and you have the makings of a blowout in the opening game of week 4. The Rams have talent, but the 49ers look like a team on a mission in this NFC West battle.
Frank Gore has sputtered out of the gate so far in 2013, but is still a key piece of this offense. If the 49ers get him going, they have a chance to be the scary offense they were a year ago.
Wide receiver play will also be a key factor in their offensive performance, but Anquan Boldin looks to be the lynch pin out wide. Not the fastest or biggest target, the crafty vet finds ways to get open. Just ask the Green Bay secondary about what he can do. When he finds the end zone, his 49ers have not lost. Granted that's only against Green Bay, but he found the end zone tonight and his team is well on its way to victory.
Senior Sports Editor
The Guardian Express