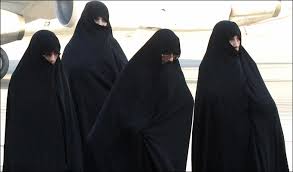 Islamic women's rights over the decades has changed, allowing Muslim women to have the freedom to live as a dignified human being, according to the Quran.
In the early days before Islam, families did not celebrate the birth of a girl as it was considered more of a tragedy than a celebration. Female infantile killings were uncontrolled during those times, and the family made the decision without permission to either have the child killed or protect the child who of course would remain a problem for them. A verse from the Quran condemned this action against female infants.
A woman was considered a slave or bought as property in the days before Islam. Women were unimportant; they had no rights, no independence, could not own property and were not worthy to inherit. Women were used as a pawn for one reason only, and discarded like an old football, when they were no longer able to perform the requirements of their husband or family. All marriages were prearranged, and women did not have any support in this matter. The family made the decision and a woman did not have any rights to either accept or reject the instructions of her father.
During those early days, it was no better in European countries, India, or Egypt for the Muslim women. They were all treated no better than slaves. Shamefully, women were regarded as subspecies between humans and animals.
It was more than 1400 years ago that the compassionate and all merciful Allah (SWT) gave the Arab women rights. Finally, rights were established for women and taught from the perfect example of the Prophet Muhammad (SAW). In the Quran, it is stated, "Who created us and Who alone knows what rights are best for our female natures." At length, the Muslim women were respected as human beings rather than subspecies.
The Prophet Muhammad (SAW) said to recognize that a woman was created with the soul of the same nature as man, which gave women the right to be considered equal as a human being and as a partner in this life.
The Islamic law was changed and stated that a woman is an independent unique individual in her own right. She must show the same responsibility toward herself, toward all other human beings, and toward Allah (SWT), and it is stated that either a reward or punishment will be given in the hereafter without discrimination of the female gender.
Some other rules attached to Muslim women are their right to go outside of their home, and the law that must not change her family name when an agreement of marriage is accepted. More importantly, Muslim women now have the right to accept or reject a proposed marriage and can now request a divorce, if necessary.
Education is no longer banned, and Muslim women have the right to seek knowledge. In fact, women are encouraged to gain knowledge and to continue to learn throughout their lives.
Women are still required to keep their home intact, but they do have the right to go to work or visit relatives and friends, providing their spouse or guardian is aware of the arrangement. They are still required to cover their heads and speak according to Islamic guidelines.
The laws of yesteryear no longer apply; and today, Muslim women are respected as individuals, and can live a life without condemnation.
Written by Laura Oneale
Source 1