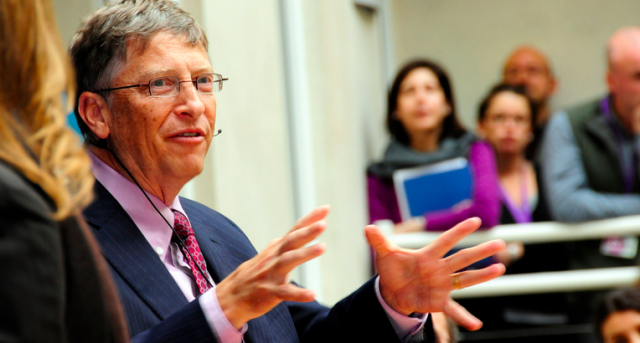 As Microsoft focuses on its vision of providing more than just software, there has been talk of pushing its founder Bill Gates off the board of directors.
According to Reuters, three members of Microsoft's board are concerned that their chairman Gates is not forward-thinking enough anymore, but that he still has the power to influence the direction of the company because he holds the largest percentage of shares in the company.
Although it is not known who these three investors are, it is known that together they own more than Gate's almost five percent and they are very concerned about Microsoft's future against companies like Apple and Google.
This desire for fresh starts and fresh faces is already being seen in the forced resignation of Steve Ballmer, the current CEO of Microsoft. The board is responsible for hiring his replacement and some investors are worried that Gates will want someone with a similar background as his, which is exactly what the rest of the board does not want.
Ballmer is currently focusing the company more on developing products like the Surface tablet as well as providing online services. It is unclear whether the new CEO will continue with these initiatives, but the company is definitely looking to be more than just a provider of software. With more and more consumers buying smartphones and tablets, Microsoft is feeling the pressure to diversify.
Besides a new vision for products and services, it seems Microsoft is looking for more innovative leaders who will help the company adopt more cutting-edge strategies. Shareholders believe the company still has great potential, but that it won't be fully realized with Gates and Ballmer at the helm.
One of the much talked about candidates for CEO is Alan Mulally who is the current CEO of Ford. He has received much praise for saving the car manufacturer from a federal bailout. The board has also been interested in Stephen Elop, the chief executive of Nokia, which incidentally Microsoft just bought.
Saying that Gates is not innovative enough might seem ridiculous to many, considering how the company he started with Paul Allen back in 1975 has changed the face of the computer industry. But in our high tech world where things are changing every nanosecond, the pressure is high for companies to constantly transform themselves into some new, something better.
Sources in the company have not confirmed whether or not the rest of the board will agree with these three investors.
Gates has been gradually selling his shares in the company and is projected to no longer have stock in another 4 years. The question then becomes should he play such an influential role in the direction the company takes when he will no longer have a financial stake in it?
Written By: Tracey M. Romero