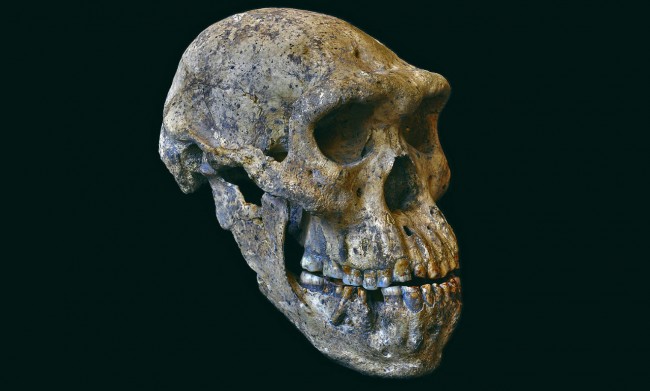 The eight-year study of the skull fossils found by an international team of scientists at a site in the medieval town of Dmanisi, in the Mashavera River Valley, Georgia in 2005 and reported this week in the Science journal was estimated to be 1.8 million years old.
When compared to contemporary skulls, the skull fossils have strange combination never seen in early Homo. The braincase only measures 33.3 cubic inches which is smaller than the average modern human brain volume of about 76 cubic inches. It has heavy, jutting jaw, but the bones show that it has short arms and long legs like our own species, which support the idea that there is only one kind of early human species.
This controversial conclusion indicates that the ancestors of our Homo genus may have evolved from single species when they first migrated out of Africa, not from multiple species, a theory taught in the textbooks since late 1800s.
These scientists have been lucky to uncover the complete early adult human skull. The findings propose a new theory that challenges old assumptions that several human species existed on Earth in Pleistocene era.
David Lordkipanidze, a paleoanthropologist at the Georgian National Museum in Tbilisi, who is also the head of the team of eight international scientists labeled the cranium they discovered as Skull 5.
As reported, Skull 5 was known to be "the world's" first completely preserved adult skull and was noted to possess primate features and a braincase a third in size of the average modern man. The excavation site at Dmanisi, located at the crossroads of Asia and Europe, provided a glimpse into the migration patterns of early hominids into Eurasia region out of Africa almost two million years ago.
Aside from Skull 5, four other full or partial crania were excavated and studied in Dmanasi. The fossil is useful material and aids in comparing the physical traits of other ancestor hominids found in the same antiquity and location.
Hominid fossils are widely scattered in archeological sites around the world, mostly in unpreserved states and appear as bone artifacts from different species. This may have tricked early scientists into thinking they came from various family trees. However, Lordkipanidze's latest findings may prove otherwise.
Dr. Christoph Zollikofer, a Professor of Anthropological Institute and Museum, University of Zurich in Zurich, Switzerland and co-author of the journal report says that the assumption that there was only one species at that time is sensible enough because of the similar range and pattern in the African fossil record.
Susan Antón, a New York University paleoanthropologist argued that while the fossil features found in Dmanisi vary within the samples found in early African Homo, they are no different from one another, and that they belong to the same early Homo individuals.
For Dr. Anton, the scientist's hypothesis that there was only one lineage is not totally convincing.
Research scientists are still continuing work in excavation sites in Dmanisi where they have an exceptional resource to unravel the distant past and the evolution of mankind.
Written by: Janet Grace Ortigas
Sources: