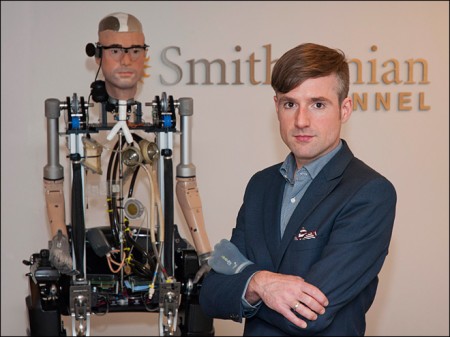 Forget about the Six Million Dollar Man. On Sunday, Oct. 20, The Smithsonian Channel will air a new documentary that follows the efforts of a team of scientists as they attempt to build the world's first fully functioning bionic man. We'll be able to watch this incredible real bionic man walk, sit, nod and even speak. Surprisingly, this bionic man is worth a measly 1 million dollars in parts provided from 17 manufacturers around the world, making him much cheaper than the 1970s Steve Austin version.
This far less fleshy guy has a beating heart that pumps oxygen-rich but artificial blood through its body, an artificial kidney and even a very realistic human-looking face. The model for the bionic man is Bertolt Meyer, a psychologist at the University of Zurich. Meyer was born without a lower arm on his left hand side, and he sports a bionic arm that allows him to do everything he could do with a natural arm.
The underlying reason for wanting to build the incredible real bionic man was to focus on medical advancements that will hopefully be able to help people in the future. "We wanted to showcase that the technology can provide aesthetic prostheses for people who have lost parts of their faces, for example, their nose, due to an accident or due to, for example, cancer," Meyer says.
In addition to a beating heart and an artificial kidney, the robot also features feet, one lung, a pancreas, and ankles. He stands over 6 feet tall, making him an astonishing presence, especially without clothing on. His appearance actually made Meyer quite uncomfortable at first. He says "I thought it was rather revolting to be honest, it was quite a shock to see a face that closely resembles what I see in the mirror every morning on this kind of dystopian looking machine."
Once the "man" was dressed in swanky clothing from Harrod's of London, however, his appearance became much less disconcerting. Meyer says the creation is truly groundbreaking. "Almost everything you see on this robot wasn't available five years ago," he says. "The inspiration to do this came after seeing so much advancement in artificial science since then. We thought it'd be neat to see the most advanced prosthetic human body parts created all over the world come together in one being."
The team members who worked on the incredible real bionic man say they want to show people the mind-bending possibilities of the future as science and medicine continue to advance. On Oct. 20, we'll all be able to watch incredible real bionic man walk, breathe, sit and step. He will be appearing in Washington D.C. at the Smithsonian's National Air and Space Museum and will wow the public with demonstrations of his amazing abilities. In the future this prototype will undoubtedly seem very elementary indeed, but for the time being he is a miraculous achievement. Watch a preview of the documentary below.
By: Rebecca Savastio
Long Island News Day