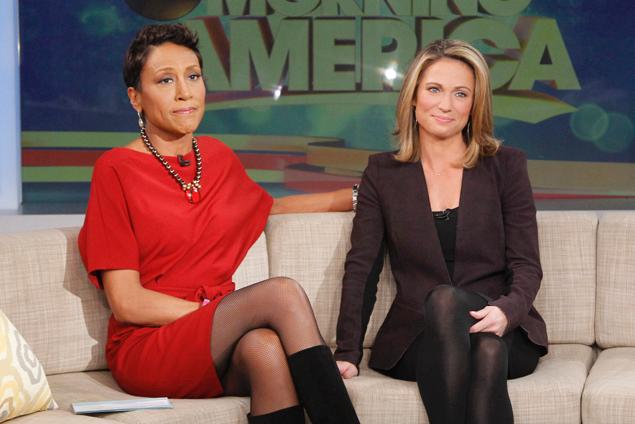 ABC Anchor Who Initially Oppossed an On-screen Mammogram Is Now Thanking Her Co-Workers: It May Have Saved Her Life
When ABC News's Amy Robach was first approached with the idea of having an onscreen mammogram, she resisted. Now, the test she did not want to show to the public may have saved her life.
Robach, an Anchor for ABC's "Good Morning America" was urged by her bosses to undergo an onscreen mammogram on Oct.1 to inspire other woman to have the test themselves and promote the life saving procedure.
Before the test Robach said she "would have considered it virtually impossible that I would have cancer." She said, "Between flying all over the world for work and running around with my kids to school and ballet and gymnastics like so many woman, I just kept putting it off."
But after Robard's colleages pointed out to her that she was of the age when woman should begin to get tested for Breast Cancer she agreed to do the test as part of ABC's promotion of Breast Cancer Awareness Month. "Thank God you did," Robach said, speaking of her co-workers. "I had cancer the whole time we were sitting in that office, and I said, 'I don't have any connection to that disease.'"
Robard reports that she maintained a healthy, active lifestyle and had no family history of the illness. Robach revealed to ABC's Robin Roberts, also a breast cancer survivor, that she will now undergo a double mastectomy on Thursday. She told Roberts, "I've decided to be very aggressive."
Still, there are mostly unknowns for Robach right now at this stage of her illness. "There's a lot you don't know until you have surgery," she during an on air interview, Monday. "I don't know about chemo. I don't know what stage I am. I don't know if it has spread. So we'll find out those things in the weeks to come."
But the special circumstances that led to Robach's knowledge of her illness has only empowered her to fight it that much stronger she says. "Only [after surgery] will I know more about what that fight will entail, but I am mentally and physically as prepared as anyone can be in this situation," she wrote. She also urges those women who are of age and have not yet had a mammogram to do so.
Robach, a wife and mother, said that a checkup following the initial mammogram led to a "tornado of tests," which ended in the realization that she did in fact have breast cancer. After receiving this news her husband, 'Melrose Place' actor Andrew Shue left a business trip to fly back to be by her side in New York City.
Also coming to New York City to be with Robach were the couples five children. Robach has two daughters from a previous marriage, and Shue,43, has three sons, also from a previous marriage. On air Monday with Roberts, Robach thanked the thousands of messages and tweets she has received from viewers expressing their support for her fight against cancer. Robach will take a leave of absence for an undetermined period from her work at ABC, a spokesman for the company said.
By Nick Manai