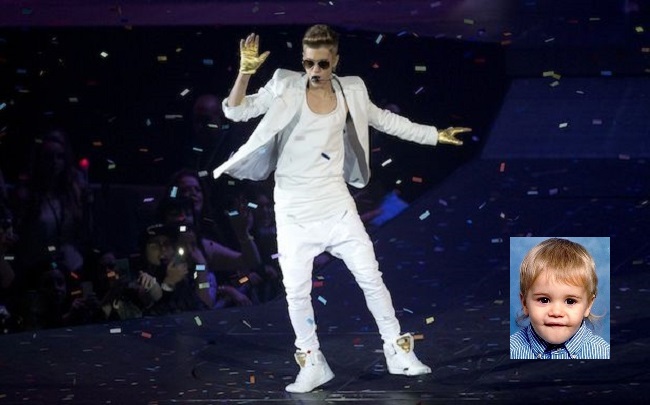 While the world is enamored by the recent antics of Justin Bieber it's become quite obvious that despite his age he still has a child on the inside.  Bieber apparently blew up before he grew up.
Bieber is on the brink of manhood but is still a child inside.  Just like a child he's caught in Brazil painting graffiti as opposed to exploring the wonderful artifacts of this country.
The 19-year-old superstar is doing what boys do.  He's more interested in having fun than protecting his brand.  He's been captured on film while sleeping in a young woman's space and illegally attacked the outside wall of a hotel with spray paint.  That's just the child inside that never had a chance to grow up.
His recent behavior hasn't gone unnoticed by his mentor and manager.  Usher, the child's mentor and father figure in the music industry had to chin check him following his crazy antics and childish behavior.   
A snippet of the recent chastisement was caught on a short video clip where Usher is heard telling Bieber not to f**k it up.   He reminds his young protégé of one of their initial conversations where he told him he could have it all; he said now that you have it don't mess up.
Producer Rodney Jerkins also had words of wisdom for the child inside of Bieber, "stay humble, be the best person you can be and don't fall off the wagon."
The young superstar's mother took the road of least resistance by telling him how proud she is of him and the amazing young man he's turning into.  Perhaps a bit of tough love is what the boy inside requires in order to become the man he needs to be.
It seems as if Bieber had forgotten the advice he received when he first signed up for all of this; or could it be that the child inside blew up before he could grow up?
Hopefully he will take heed to the wise advice of his mentors. Bieber's recent string of controversies; which include spitting on fans and showing up two hours late for concerts don't look good on him and aren't good for his brand.
There's no question about Bieber's talent; he's a beast in the music industry and his fans adore him.
His bank account is past full; he can do anything he wants and go wherever he wants.  It just seems as though he lacks the discipline required to maintain the level of respect he's had in times past.
Whether a fan or not, chasing the world of Justin Bieber has become a popular and lucrative sport for many.  Bieber, although he's been accused of negative behavior and investigated, has managed to stay out of criminal court.
Bieber has been diligent when it comes to his music.  He keeps the hit songs coming and the concert halls selling out.  It seems the world can't stop watching him.
His new movie, Believe, will be released in the United States on Christmas day.  The movie will give fans as well as un-Beliebers insight into this young superstar's life.
While the world is captivated by the recent antics of Justin Bieber; it's probably not as bad as it seems.  Bieber simply blew up before he grew up and as a result has a child….inside.
By: Cherese Jackson (Virginia)
Entertainment Wise