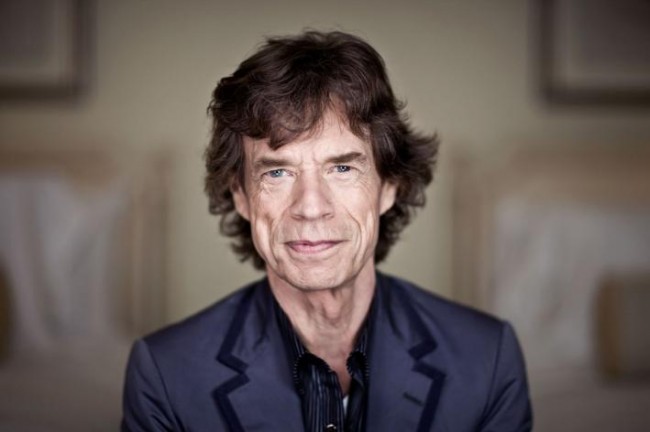 Those original fans of the Rolling Stones from way back when, might start feeling a tad old as they find out the latest news, that Sir Mick Jagger will, at the age of 70, horror of horrors, become a great-grandfather early next year.
Yes,  you heard it right.  First he was a father when he and the first love of his life, Bianca produced Jade Jagger and several other children followed with many and various wives.  He then became a proud grandfather when Jade gave birth to her daughter, Assisi, followed by several more grandchildren from various other children.
Now we hear that Assisi, 21, is set to give birth herself early in 2014 to Mick's great-grandchild.  He will be 70 at the time.
Jade, 42, told the Sunday Times all about it saying, "It is true. I am going to be a grandmother," but not sounding all that unhappy about the idea.
She added that her father had no problems with becoming a great-grandfather.  But, she did share that while becoming a grandfather had a big impact, becoming a great-grandfather would not be particularly fascinating.
Jade also said that her father had always been good at keeping the family together, especially for those special moments, like Christmas celebrations  and birthday parties.  She said that they will (most of them) be spending New Year's Eve together in Mustique this year.
Jagger actually has, in total, seven children, by four different mothers.  Jade is his only daughter, by way of his first wife Bianca, the well-known human rights campaigner and former Nicaraguan model.  They were married in 1971 and were divorced eight years later.
He later had four more children with his second wife, Jerry Hall, another child with Marsha Hunt, following by yet another with Luciana Morad. While he does have four grandchildren, Jade being the mother of two and two more via Karis Jagger-Hunt, this will be the very first great-grandchild.
Jade's daughter, Assisi, will be having her first baby with her boyfriend Alex, who reportedly is a chef.
Of course, all the members of the Rolling Stones are getting older these days and, incidentally, are all now grandparents.  But now, yes, Mick Jagger is about to become a great-grandfather at the age of 70.  Sobering thought.
To show how long they have actually been going, Mick Jagger and the band marked their 50th anniversary in 2012 with huge shows in the U.K., including the Glastonbury festival and in North America.
They are not stopping there either, as despite being old enough to collect their pensions and starting to look a bit wrinkly around the edges, they have announced this week that they are planning a brand new tour around Australia and New Zealand in 2014.
In fact, they will be re-opening the Adelaide oval in front of 70,000 fans in March 2014, which isn't bad for Mick Jagger, the great-grandfather and a whole bunch of other grandfatherly types.  So really, it can be considered a celebration and it all makes you wonder if, for instance,  Miley Cyrus will still be around and popular 50 years down the line?
By Anne Sewell
Sources