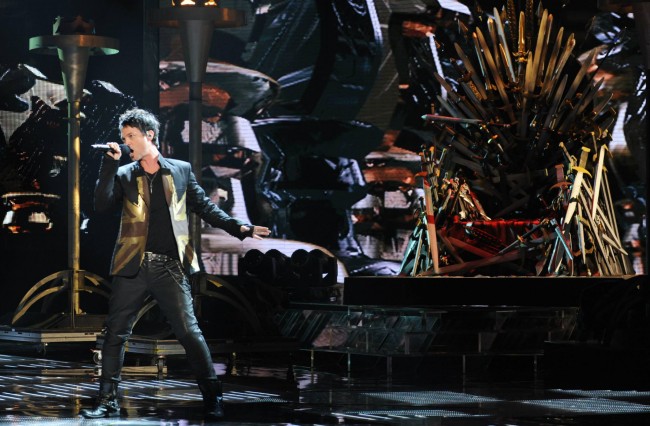 There will be a double elimination on The X Factor tonight, based on your votes, America! The Top Ten acts left this season will be whittled down by two, who will get sent home. One person/act will be sent home early on in this episode; and then, later on, the two others who have the lowest total votes will face off, head-to-head, singing for the chance to be saved and move on to next week. As if that isn't excitement enough, the group One Direction will also sing tonight on The X Factor!
Mario Lopez introduced the judges of The X Factor and the remaining Top Ten competitors, and he explained how one of the Top Ten would get eliminated right off the bat and the other one to go home would be the loser in a head-to-head sing-off at the end of the episode. He also mentioned that One Direction would be performing their hit song, Story of My Life, and recapped what happened last night.
There were many strong performances yesterday, I don't know how America might have voted. I'm guessing that some of the acts to move on will be Rion Paige, Restless Road, Ellona Santiago, Josh Levi, and Jeff Gutt, though I could be wrong about these — it all boils down to how many fans that each act has across America, and if they got on their phones or their computers to vote for their favorite acts.
Simon believes that the female judges on The X Factor were too harsh on both Alex & Sierra and Restless Road — they are both on his team, The Groups. I kind of felt the same way. It's hard to tell if they were giving their honest opinions or they wanted to make their own teams look better by slamming acts on Simon's team.
Mario said that based on America's votes, one act will be going home right now. "The act leaving the competition right now is — Khaya Cohen!"
That was a shock to me, as she seemed to be one of the many favorites left. But, they're all good, or they wouldn't have gotten to this point in the competition. Mario says that One Direction will perform right after the break.
I'm not sure how Khaya ended up having one of the lowest vote counts tonight, but maybe some people didn't vote for her just because they thought they didn't need to, because she would easily get enough votes to be safe. If that was the case, the people who thought that were, apparently, wrong.
One Direction performed next. Mario:  "They are the first British band since the Beatles to have two Number One albums in one year!"
The females in the audience creamed loudly for several seconds, and One Direction started in performing Story of My Life. The young women still kept screaming at points during the song as different band members sang parts of the song. The audience members had their hands over their heads, clapping — the screaming continued throughout the song.
It's a great song, but I'm sure that the women were screaming more because of the looks of the guys singing than the quality of the song, itself. Mario said that the song is from their album Midnight Memories, which will go on sale this coming Monday.
Mario then read more results: "The first act saved through to the Final Eight is — Rion Paige! The next act saved through to next week is — Josh Levi! The third act through to the Final Eight is — Alex & Sierra! Also coming back next week is — Lillie McCloud! The fifth act going straight through to the Final Eight is — Jeff Gutt! The next act safe and coming back next week is — Ellona Santiago!
"That leaves three acts: Restless Road, Tim Olstad, and Carlito Olivero. One will go on to the Final Eight. Going straight through to the Final Eight is — Restless Road! That leaves Tim Olstad and Carlito Olivero. It will be Boy vs Boy tonight. They will have to sing for their survival, and only one of them will be able to move on," Mario said. He added that the Final Showdown would begin right after the break.
These two acts are both from Paulina Rubio's team, The Boys, They are her final two acts left, and one of them will be going home tonight. Both are very talented singers; it should be a fantastic head-to-head showdown. Who will move on, and who will go home?
Mario said the two acts left have one last chance to move on, and the judges will decide who stays and who leaves. Paulina announced that Tim Olstad would be the first one to sing.
The song that Tim Olstad chose to sing was  You Raise Me Up. He did an excellent job;  the females in the audience screamed their appreciation at how well he sang. He hit the song's high notes very well, and he displayed the power of his voice with his great singing.
"So, Tim Olstad just had his shot. Can Carlito Olivero do better? We'll find out, when we come back," Mario said.
When The X Factor came back from break, Carlito will sing  Beneath Your Beautiful. The young females in the audience began screaming for him as soon as he walked onto the stage. He did an awesome job with this song, and his growing legions of female fans responded with their screams as he sang. It's probably a safe guess that Carlito will be the one staying on, though Tim did a great job.
"Now, the power lays with the judges. It's the judges decision, when we come back," Mario said.
After the commercial break, we will learn which of these two members of Paulina's The Boys team will move on. Whichever one does, Paulina will be left with only one member of her team, so she will be at a distinct disadvantage as the season moves onward.
Mario asked Tim to tell the judges why they should keep him in the competition. He gave a brief statement, and then Carlito gave his statement, also, about why he should be kept.
"Kelly, what is the name of the act who you will be sending home?" Mario asked Kelly.
"You just made this really hard for me to make a decision. Right now, the act I'm sending home is Tim Olstad, Kelly said.
Demi: The act I'm sending home is — Tim Olstad."
Paulina: "You two are my boys. You are so talented, and are great, great human beings. Both of you did such a great job — I love you both and admire you both. You two should stay in this competition. The act I'm sending home…is…Tim Olstad."
Mario: "Congratulations, Carlito. Tim Olstad is now leaving the theater." There was a brief look back at Tim's progress on The X Factor to this point in the season, reflecting the ups and downs and obstacles Tim faced and overcame. Sadly, he will not be moving on, though Carlito is also a great singer.
Mario says that next week will be Big Band Week on The X Factor! It will be very interesting to see how the remaining Top Eight acts will do singing Big Band songs. Did your favorites move on? Please leave your comments below!
Written by: Douglas Cobb