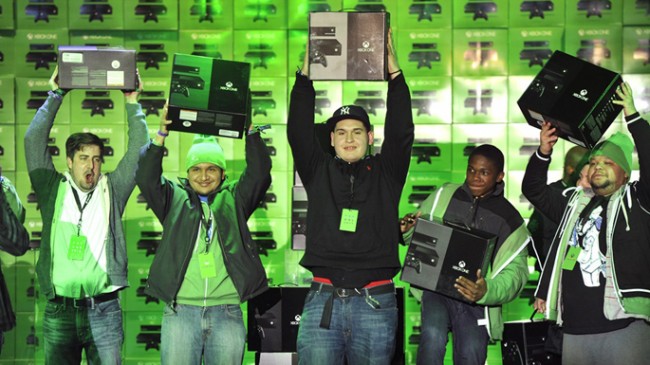 Microsoft's launch of the Xbox One has resulted in the sale of one million units in under 24 hours. It's been the most successful launch yet in the Xbox product line. Why has it been so successful, so soon? What is it about Microsoft's Xbox One that has people desiring to buy it at such a rapid rate — about equal to how many PlayStation 4's were sold, when it came out a week ago.
Of the 22 Xbox games currently available, many can be played online. Because of this, Microsoft has managed to learn what games are, so far, the most popular.
Dead Rising 3 is one of the most popular Xbox One games, with over 60 million of the Living Dead killed already, and counting. In the racing game "Forza Motorsport 5" over 3.6 million miles have been driven. In another popular game, "Ryse: Son of Rome" more than 8.5 million baddies have been slaughtered.
The release and success of both Xbox One and PlayStation 4, as well as the games that you can play on each platform, has retail outlets which sell them gleeful that they are bringing much-needed holiday dollars to their stores.
Why should you buy the Xbox One? 
Both PlayStation and the Xbox One are cool gaming platforms, ones that anyone would love to receive this Christmas. Why should people consider getting an Xbox? What are some of the features that it has?
One of the neat features about the Xbox is, though it costs $499 or so, around one hundred dollars more than the PlayStation 4, it recognizes your voice and responds to it. You can use voice commands to control your Xbox One console.  The console is always on, though in a resting state. Enter the room, say "Xbox, on" and it comes on, allowing you to watch TV, play a game, adjust the volume, change channels, go to Netflix and more — all at your command.
With the Xbox One, you can both play a game and then switch to watching a TV program at any time you'd like. Multiple remotes aren't needed anymore, and you will no  longer miss out on multiplayer matches, because you'll also still receive Xbox notifications.
Besides that, you get a personalized home screen. Because Kinect is able to recognize you, it can log you into your own personalized home screen.  Your Skype contacts, favorite games, movies, photo  albums, and more can be made a part of your home page, and each person in your home who uses the Xbox One can have his/her personal home screen.
Also, the Xbox One has a DVR function built into it, enabling you to record as much as five minutes of gameplay. If something pretty cool is happening onscreen, you can say "Xbox, record that!" and it will. Then, you can use the Upload Studio and do things to your video like record a taunt over the footage and share it with others who have Xbox One game platforms.
As if this wasn't enough, the Xbox allows you to connect or snap two screens together, so that you can do two things at once — like, listen to Xbox Music and play a game, or manage your Fantasy Football team while also watching a game. You can even get access to game walk-throughs and other useful things, like videos of cheat codes and tips.
You can Skype, find opponents of a similar sill level to play against, and check out a TV guide that comes built into the Xbox One. For instance, you can ask "Xbox, what's on ABC?" and the onscreen guide will show you.
Those are just a few features the Xbox has, to whet your appetites. Instead of visions of sugar plums dancing around the heads of children, teens, and many adults this Christmas Eve, there are likely to be images of dancing Xbox Ones.  It's priced at a hundred dollars more than the PlayStation 4, but holiday shoppers and game players have been rushing to buy the Xbox One, which sold a million units in under 24 hours across America.
Written by: Douglas Cobb
PCWorld.com
Telegraph.co.uk
WBIR.com