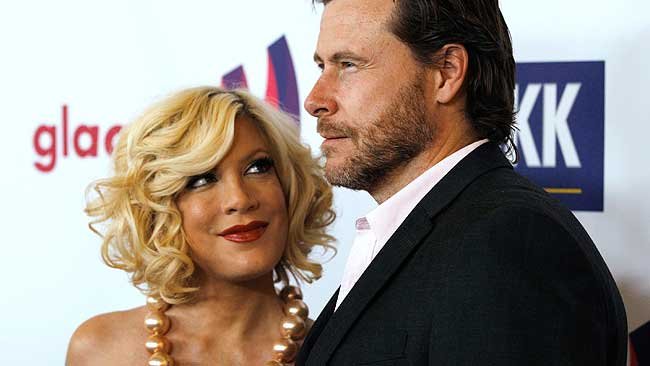 Tori Spelling is handling a searing topic of deceit as news is surfacing that Dean McDermott cheated on his wife of seven years. The person making these claims? The other woman, Emily Goodhand  met McDermott while he was promoting Chopped Canada in Toronto. Goodhand, 28, states that McDermott told her, he and his wife were in a "sexless marriage" and she "believed" his claims. The infidelity is speculated to have occurred during Dec. 6 and 7th while McDermott was away for work.
If Spelling is affected, she is not showing it. The married mom of four, put on a facade of a happy face when she took to her blog on Christmas Day. She wished her fans Happy Holidays and stated she and her family would be, "spending the day together — cuddling, cooking, baking, unwrapping gifts, eating, watching movies and counting our blessings." The blog post was signed by Spelling, each of their children and McDermott. Perhaps, Spelling's handling the rumors now surfacing may be cushioned if her husband actually came clean, or maybe, McDermott is innocent and Goodhand is wrong. Only time will tell.
Reports of marriage issues are not new for the couple. Earlier this year, Spelling battled rumors of a pending divorce by once again taking to her blog to state, " Daddy and I are very happy and in love" and "There will be no divorce and all of us will remain together as a family." Goodhand may have some room to shake her head at these claims. The other woman states she met McDermott through mutual friends in Toronto, while connecting with said friends at the Pravda Vodka House. She states she and McDermott connected and decided to walk together, with the group, to another bar. She states she was drinking and so was he and he became very open about the issues in his marriage. She said the "sexless marriage" comment did not surface till later.
Per Goodhand, McDermott flirted openly with her and prior to arriving to the next bar, the star passed her a note with his keycard. Goodhand stated she was caught between going and declining the invitation. She eventually succumbed to temptation and headed to meet McDermott later that night. She called her choice a "bad decision." Once she arrived at the hotel, she states McDermott met her there immediately after she sent a text she was giving him "five minutes" to show up.
While in the room, Goodhand explains to US Weekly, the couple engaged in protected sex and laid together afterwards. A moment, Goodhand recalls, that McDermott confessed that he loved his wife "but she won't sleep with" him, she explained. Goodhand went to leave but states McDermott begged her to stay and she did. That would not be the first night.
The next evening, McDermott extended the invitation to his secret lover to meet him again. Goodhand states no sex occurred, it seems McDermott just wanted to cuddle and oddly? He wanted to share a sex video of him and Spelling from some time ago. Goodhand demanded it be turned off and they spent the night together. The next morning, Goodhand states, they parted ways.
This could be a heart-wrenching moment for Spelling or a bitter taste of karma. In 2005, Spelling and McDermott met while both were still married. After a torrid three week affair, the two initiated divorces from their spouses. In previous interviews, Spelling has confessed to worrying about McDermott cheating on her in a similar fashion. It seems her worries may have been confirmed, if Goodhand is telling the truth.
Spelling and McDermott, is seemingly, trying to make things work in the marriage. Sources close to Spelling states the reality star is enraged, but trying everything in her power to remain calm to keep her family together. The stars have four children – Liam 6, Stella 5, Hattie 2 and little Finn at just 16 months old. Reports the last couple of years have spoken about their financial issues creating marriage stress.
Goodhand has issued her apology to Spelling stating she made a "stupid decision" and she is sorry she "f***ed up." The couple have yet to release a statement regarding the allegations. Chopped Canada is a new show featuring McDermott as the host. He spent the better part of December in Toronto to promote the show. For now, it seems Spelling is willing to overlook the indiscretion, at least from a surface standpoint. Hopefully, the couple can work this out, especially since they have such a young family together. Good luck.
Angelina Bouc
Sources
Hollywood Life
Fox News