Pope Francis has been revolutionising the Vatican, but former revolutionary, Jose Mujica, had brought humility as a hallmark of leadership to Uruguay in the years since 2010.  These two leaders may between them change the very concept of what is means to be powerful in the emerging world.  They are both old, both have weathered many storms, both are exemplars of practicing what they preach.  High-spending, grandiose and profligate politicians and previous pontiffs are put to shame by their humility and honesty.
This week, in a radical and unprecedented move, Uruguay legalized cannabis. The man behind this bold initiative, and the first to step up to the international drug barons with a plan to out-thwart them, is known as Pepe. He is 78 years old. He knows about fighting. He was formerly a member of Tupamaros, a guerrilla group. In a bid to re-distribute money and food from the rich to the poor, he took part in bank robberies and kidnappings.  These so-called Robin Hood activities earned him six gunshot wounds and 14 years in military prison.
In 1972 he was put into solitary confinement down a well-shaft where he spoke to the frogs and insects in there to preserve his sanity. He was released in 1985. The experience, he has said, showed him it is always possible to start again.
President of Uruguay since winning the election in 2010, Mujica has put his money where his mouth is when it comes to excessive consumption. He refuses to indulge in it. Eschewing the presidential palace, he opts to live in a one-bedroom farmhouse set among chrysanthemum fields with his wife, Lucia.  Even his dog, Manuela, only has three legs. They are vegetarian, and grow their own. He flies coach class, drives an old VW Beetle and gives away 90% of his salary. He is tagged as the "poorest president" but he refutes that label. "The poorest is the one who needs a lot to live" he says.
In 2012 he turned the president's palace into a state shelter for homeless people. By the time he has given away the lion's share of his salary – mostly to the poor and to start-up entrepreneurs – he earns roughly the same as the average Uruguayan, that is, $775 a month.
"I may appear to be an eccentric old man," he jokes "but this is a free choice."
When he was first elected deputy in 1984, he turned up on a Vespa scooter to the parliament building. He was asked if he was going to be long? "I certainly hope so" said Mujica. It is an anecdote which characterises so much of his charisma.
In his tenure to date, he has forged ahead with same-sex marriage, abortion and the cannabis reform, all moves that have transformed Uruguay into the most liberal of the Latin American countries. In so doing, he has drawn the admiration of millions. Even the notoriously right-wing British newspaper, The Daily Mail, has lauded him.
Children in Uruguay all get free education and computers. Essentials like milk are on set prices.  Telecommunications and energy companies are nationalised and Uruguay leads the way in restricting tobacco smoking. "These measures are logical" says President Mujica. As for his marijuana revolution, he is not trying to be more liberal, it's all about taking the users away from the "clandestine dealers."
The shabbily dressed and realistic statesman knows that his capacity for change is held in check by the bounds of global capital. Now that philosophy and religion have been abandoned, as he sees it, the market rules. He spoke out at the Rio+20 conference against growth through consumption, but pragmatically, he accepts that it is a front he has to deliver on. His aim is to counter-balance by building things that last. He detests waste and is an avid recycler.
A Marxist earlier in his life, Pepe does not pretend to have all the answers, but he does think that if everybody lived within their means, there would be the potential for a better world.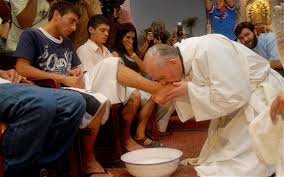 Pope Francis has been named as Time Person of the Year 2013. His papacy, still only nine months old, has quickly moved to one of humility, honesty and lack of hubris. Also a South American and a septuagenarian, Pope Francis, 76, has taken a church that was suffocating under the weight of many scandals and breathed fresh life and hope into it. His focus is on the poor and needy and what the church can do for them. "I prefer a Church which is bruised, hurting and dirty" he has said "because it has been out on the streets, rather than a Church which is unhealthy from being confined and from clinging to its own security."
These two elderly idealists and inspirational men have a lot in common. They live simply and they have no interest in the trappings and superfluities that come with high office. They wish to effect real social change for the good of all. They are humble, and the very opposite of self-aggrandizing. Between them, they make compassionate humility the new hallmark of leadership.
By Kate Henderson