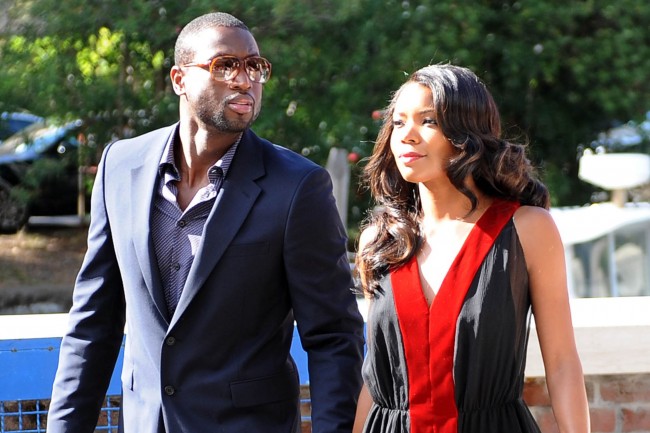 Miami Heat star player Dwyane Wade and actress Gabrielle Union have announced their engagement.
Gabrielle Union has starred in several movies including, 'Bring it On' and 'Think Like a Man.' Since her acting debut in 1999 she has been in 30 film productions. Union is originally from Omaha, Nebraska. At the age of eight she  moved to California.  A year round athlete, running track  and playing soccer, she was also an all-star point guard for the Foothill High School basketball team. She  attended the University of Nebraska then transferring to UCLA to receive her degree in Sociology.  She began modeling to pay off school debt which would lead to her acting career in movies and television.
In 2001 Union married Jacksonville Jaguars running back Chris Howard. They were separated in 2005 and divorced in 2006.
Wade has been with the Miami Heat since being drafted in 2003.  He led the Heat to their first franchise NBA championship in 2006 and was named Sportsman of the Year by Sports Illustrated in 2006.  He was also named MVP at the 2006 NBA Finals. Wade led the U.S.A. 2008 Olympic basketball team known as the "Redeem Team."  The team won the gold medal at the Beijing, China Olympics.  In 2012, the Miami Heat again won the NBA Finals and Wade won a third championship with Miami in 2013. Wade led the NBA in scoring in the 2008-2009 season gaining his first scoring title.
Wade was previously married to his high school sweetheart Siovaughn Funches, who at one point took to the streets of Chicago claiming a homeless status while fighting Dwyane over the financial aspects of the divorce. Wade married Funches in 2002 and filed for divorce in 2007 which was settled in 2010 after a lengthy court battle over the custody of the his two children.
Wade and Union have been dating for several years and rumors of an impending engagement were circulating recently. One hint was Christmas cards going out this year to friends and family with a return label from the Wade-Union family.  The card included a photo of Dwyane and Gabrielle posing with Wade's children from his previous marriage.
The engagement was announced Saturday through posts on Twitter and Instagram.  Photos were circulated showing the engagement ring and the statement that Union had said 'yes' to the proposal.  Wade proposed just prior to the Heat's Christmas party adding an additional surprise to the evening.  This will be a second marriage for both Wade and Union.
Dwyane Wade and Gabrielle Union's engagement occurred in an intimate setting at Wade's house. Wade said that the whole family was a part of  asking Union for her hand in marriage.  Wade's children were even involved asking Union to marry the entire family.  It was unexpected and intimate, just a regular Saturday at the house, Wade said.  Union said that she was truly caught off guard and was really happy.
Lebron James said that he was very happy for the couple and  that he was excited for Wade and Union to become one big family.  James also mentioned that he looked forward to the wedding and that he knew it would be a very special event. Miami Heat's managing general partner, Micky Arison said that the announcement made the Heat Christmas party a special evening. Adrienne Bosh, wife of Miami heat forward Chris Bosh, referred to the tradition of the Heat holiday party and that the announcement of Dwyane Wade and Gabrielle Union announcing their engagement was the best surprise of the evening.
By Anthony Clark
Sources
Fox Sports
Fox News
ESPN
Miami Herald