With Duck Dynasty and Gran Torino trending right now on Twitter and in the news it seems that Middle America speaks for a change. The liberal population along with GLAAD and LGBT, usually drown out other voices in mainstream entertainment. This change of direction seems to make it the perfect time to take a look at the Clint Eastwood's ode to Middle America. As well as looking at the fictional Walt versus the real Phil Robertson.
The film was co-written by Nick Schenk (story and screenplay) and Dave Johannson, the film follows the final days of Korean War veteran Walt Kowalski (Eastwood). It could be argued that the character of Kowalski is, perhaps, a bit two-dimensional, but, the film works in spite of this fact.
Gran Torino was Eastwood's last time  wearing two hats on a film. He directed and starred in the 2008 feature and, at the time, he stated that this would possibly be his last time in front of the camera. Since then, he starred in Trouble With the Curve which opened to mixed reception in 2012 playing another "old man" role, this time as a talent scout for professional baseball.
Clint's baseball version of On Golden Pond, which dealt with a similar theme of an ailing father re-bonding with his daughter, was not well received by critics or audiences. The film's box office gross has yet to meet its production cost of an estimated $60 million. The worldwide box office has been reported at just under $49 million.
Trouble With the Curve may have felt too much like a tepid re-hash of Gran Torino for anyone who might have watched the earlier Clint Eastwood ode to Middle America. The fact that the film is trending at the same time as the Duck Dynasty/Phil Robertson tempest in an eggcup, seems to show that this portion of the American demographic hungers for more media output that tells things from their viewpoint.
Eastwood's Walter Kowalski (Walt) is a retired, widowed, Korean vet whose tunnel visioned view of the world has become all encompassing since the death of his wife. As a heavy smoker Walt is suffering from an undisclosed illness, although lung cancer is alluded to via scenes of coughing up blood and a briefly glimpsed medical report, which the vet hides from everyone.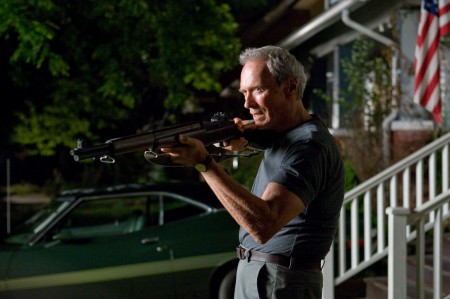 Walt has no real connection with his only son and his new neighbors, a single Hmong mother with her two children who along with grandma, are part of the ever increasing number of Asian immigrants moving into his neighborhood. Kowalski is isolated from his small family and his fellow denizens of the changing area where he lives.
The film follows his journey of reluctant discovery and his eventual, unexpected, character arc. The film offers a twist at the end which truly surprises and almost stuns the viewer. Walt is a character that we grow to like despite his xenophobia and bigoted behaviour, which does change before the film's end. Kowalski, as Eastwood portrays him, could be Dirty Harry Callahan in his dotage, but, as a beer swilling; tobacco addicted loner version who wants to be left alone.
While there is no real connection between the Gran Torino character and Duck Dynasty/ Phil Robertson apart from age and a reluctance to accept other peoples variances as normal, Middle America speaks via both mediums and has found an audience. The fictional character of Walt Kowalski is not a religious man, however, and his narrow view of mankind appears to be based on his experiences in the war.
Phil Robertson is, self admittedly, a Christian and as such feels no compunction about expressing his views on what is deemed "right and wrong" in society as seen by the church. When the 67 year-old patriarch from Duck Dynasty made remarks that were seen as being homophobic, GLAAD, LGBT and the liberal left reacted with outrage. The A&E network, that produces the show, immediately suspended Robertson in a knee jerk reaction to the negative press.
The network found out, to their chagrin, that Middle America loves the show and felt that Robertson's views should not have been blown out of proportion. The studio has since rescinded their suspension of Robertson. It seems that the head of the Robertson family has struck a chord with the same fan base that adores Clint Eastwood's portrayal of widowed war vet Kowalski.
The entertainment industry often forgets that in their haste to appease GLAAD, LGBT and the liberal members of potential audiences that Middle America also makes up a good portion of their targeted demographic. So it is not surprising to think that Duck Dynasty and Gran Torino allows Middle America to speak with a voice that resonates to more than the usual studio targeted audience.
By Michael Smith
United Kingdom
Sources: