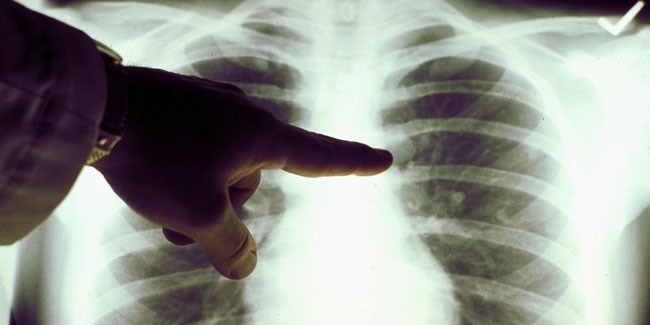 According to a new study published in JAMA Internal Medicine, more than 18 percent of lung cancer cases that are being detected through low-dose computed tomotraphy (LDCT) are actually not clinically significant disease; in fact, this disease is being overdiagnosed, they say.
LDCT is a type of cancer screening which is recommended for those who are at higher risk for developing lung cancer.  The goal of this type of screening is to diagnose lung cancer in its earliest stage when it is still easy to treat.  Because LDCT is capable of detecting lung cancer so early, it has been hailed as a lifesaver for many.
Unfortunately, while LDCT is very effective at locating early signs of lung cancer, this also means that it is prone to overdiagnosing the disease, the researchers say.  Some of the tumors which it finds may be slow growing or clinically insignificant.  The implication of this, they say, is that these tumors would probably have never developed into the full-blown, clinically-apparent disease.  Overdiagnosing lung cancer is harmful, according to the researchers, because it creates additional costs, anxiety and complications for the patients when they receive unnecessary treatment.
Dr. Edward F. Patz, Jr.  and a team of scientists from Duke University Medical Center reached these conclusions after looking at data from the National Lung Screening Trial, a study which compared LDCT screening with another diagnostic method called chest radiography (CXR).  Chest x-rays are usually the first diagnostic test that is performed when a person sees a doctor with possible symptoms of lung cancer, such a new or changing cough, shortness of breath, fever, chest pain, coughing up blood or unexplained weight loss.  These will reveal any suspicious areas in the lungs that need further testing.  They are, however, not quite so sensitive at detecting early lung cancer cases as LDCT is.
For the study, the team examined the data from 53,452 patients who were considered to be at high risk for developing lung cancer.  The study participants had all had screening done via one of these two methods.
Among those 1,089 lung cancer cases that came from the LDCT group, the study authors estimated that about 18.5 percent were overdiagnosed.  They also estimated that about 22.5 percent of non-small cell lung cancers detected with the method were overdiagnosed.  In addition, they estimated that about 78.9 percent of bronchioalvelolar lung cancer cases in this group were overdiagnosed.
The study authors concluded their report on the study by noting that in the future, once better imaging techniques and biomarkers are developed which can better predict just which patients will go on to develop aggressive disease, it will be much easier to optimize just who receives treatment and who doesn't, preventing patients from going through unneeded and worrisome cancer treatments.  Once this innovation occurs, mass screening programs will become much more valuable, they say.
By Nancy Schimelpfening
Sources:
Study Suggests Overdiagnosis in Screening for Lung Cancer With Low-Dose CT – EurekaAlert!
Frequently Asked Questions about Lung Cancer Screening with Low-Dose CT – University of Kansas Cancer Center