On The Voice, tonight, the Top Five competitors are now in the Semi-Final Performances Round of the season. The competition is getting even more fierce, and one slight mistake or slip-up could mean the difference between America voting to keep a competitor or send him or her home. Who will shine tonight, and who will America vote to send home, on The Voice?
Carson Daly, the host of The Voice, said "This is it! The Semi-Finals!" and he introduced the the coaches/mentors.
Then, the Top Five took the stage:  Tessanne Chin, James Wolpert, Will Champlin, Cole Vosbury, and Jacquie Lee. They sang "Best Day of My Life." They all rocked it out! It was a fantastic way to open the show.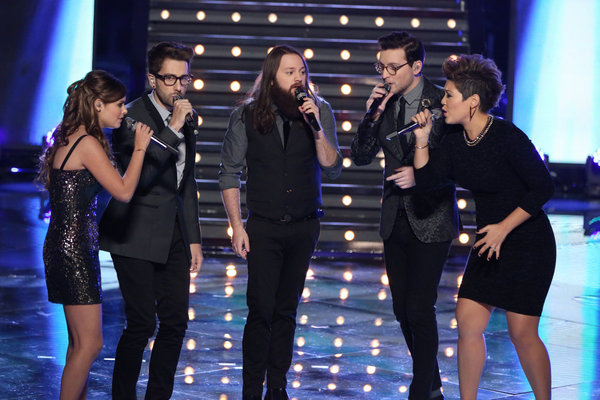 The audience was clapping as the Top Five sang, and their voices harmonized and blended together really well.  Let's keep all of them on the show! But, unfortunately, only three will move on after tomorrow night's episode of The Voice.
Back from the first commercial break, Carson again mentioned that five incredible singers are performing, but that only three will be moving on. James Wolpert will be the first singer tonight, from Team Adam. He was not feeling well last week, but he was able to make it to tonight's show because of you, America! He will be singing "With or Without You" by U2.
James Wolpert performed much better than he did last week, though, for being sick, he did pretty good then, too. He did a decent Bono-istic performance, and the stage effects were pretty cool, with jets of smoke shooting up.  The audience gave him a standing ovation!
Adam: "That song is special, so special, and that performance was incredible! It was even beyond what I thought you could do!"
Christina: "I love that song! Good job!"
Blake: "I love that song! It's one of my favorites. You might have dug yourself out of a hole — that was really amazing."
Carson said that after more commercials, Will Champlin will "take on the band Fun." Champlin is another of Team Adam's talented trio of singers who are still left alive on The Voice — the third one being the awesome singer, Tessanne Chin.
Carson mentioned that Danielle Bradberry, last season's winner, was in the audience. Then, we got to see the three team members of Team Adam eating a meal at Adam's house. Adam gave Will "Carry On" by Fun.
"I'm a fighter. I want this," Will said. Adam told him that "people will be blown away" when they hear him.
That's about right — Will  begins the song really nicely, already getting some cheers from the audience. His voice soared, and the audience clapped along as he sang, and cheered at various times in his performance. Will had everyone on their feet throughout, and he hit some amazingly high notes.
Adam: "Look at that smile, man! If Will smiles, I definitely know he knows he did a great job!"
Cee Lo: "It's great to see you all 'swaggy' up there! Well executed by you, sir!"
Blake: "Letting your heart open up a little bit will go a long way in this competition!"
Carson reminded America that if they want to see Will or any of the other competitors move on to the Final Three next week, then you need to  give them your votes right after The Voice ends tonight.
"It's a party live here on The Voice!" Carson said, introducing the judges of The Sing Off, which will air right after The Voice.
Jacquie Lee was the next performer to sing. She's the last member of Team Christina. Christina gave her the song  "Angel" to sing.
Christina being here to teach me what to do is really making a big difference," Jacquie Lee said.
Jacquie Lee is easily one of the favorites to move on to next week, and to possibly win it all. She gives a very melodic performance, charged with emotion. She hit some pretty high notes, also. She NAILED it! The audience and Christina gave her a standing ovation.
Christina: "Wow! You did things I didn't even know you'd do tonight! You blew me away! It's such a song of innocence and love. You chose your timing of when to go big — honestly, you stepped up to the plate. You showed the most power by knowing when to pull back and move forward."
Cee Lo: "Jacquie, that was probably the most perfect — just when I thought I was jaded — that's how the performance effected me tonight."
Carson said that Cole Vosbury will be up  performing next on The Voice after yet more commercials.
Carson then introduced Cole Vosbury, and we got to see Blake, Cee Lo, and Cole, at a barber shop, chatting. Cole got a bit of a trim. He'll be performing "Shameless" by Garth Brooks.
Blake told him he needs to "go Rock Star" with the song. It's either go big or go home.
Cole began the song playing the piano as he sang. He wasn't wearing his usual hat tonight, but he sang really well, regardless. He got up to sing the rest of the song, and hie showed the power he can sing with, at his best. The audience and Blake gave him a standing ovation.
Blake: "Incredible job, dude!" When I was able to get you to come over to Team Blake, you asked me to help you find your place as an artist. I think you just now figured out who you are and what you want to do."
Cee Lo: "Another great job, Cole! Every song that's been picked, you perform it like it's yours. I saw potential immediately. I'm glad Blake saw it to."
Carson said that Tessanne Chin will be the last performer to sing tonight on The Voice, right after the next commercial break.
At Adam's home, he calls Tessanne"a charismatic being with so much love in your heart." She will be singing "Bridge Over Troubled Waters" by Simon & Garfunkle. I love this song; it should be a fantastic performance.
"I can see the finis line. For me, this song is everything. I have to deliver," Tessanne Chin said.
OHHH — what a great song! Tessanne really did an AMAZING job singing it — she bought herself a ticket to next week, IMHO, with her performance tonight of this iconic hit. She had the audience in the palm of her hand. There was fog on the stage — the audience cheered when Tessanne hit and sustained the uber high note at the end of the song. The audience, needless to say, erupted in applause and gave her a standing ovation.
Adam: "That was crazy, what just happened. I know what you're going through. The sheer talent — I've never been speechless on the show before — regardless of popular opinion, I think that was one of the most flawless performances I've ever seen on this show."
Blake: "That was incredible, and great. I'm just happy for you."
That concludes this one-hour episode of The Voice. The season's getting down to the brass tacks now. All of the Top Five gave such terrific performances tonight, that I'm glad I am not the one to decide who will be eliminated and who will move on to the Final Three.
What are your opinions, America? Which three of the Top Five would you like to see move on? Please leave your opinions and comments below, and tune in with me tomorrow night on The Voice to see who makes it to next week!
Written by: Douglas Cobb