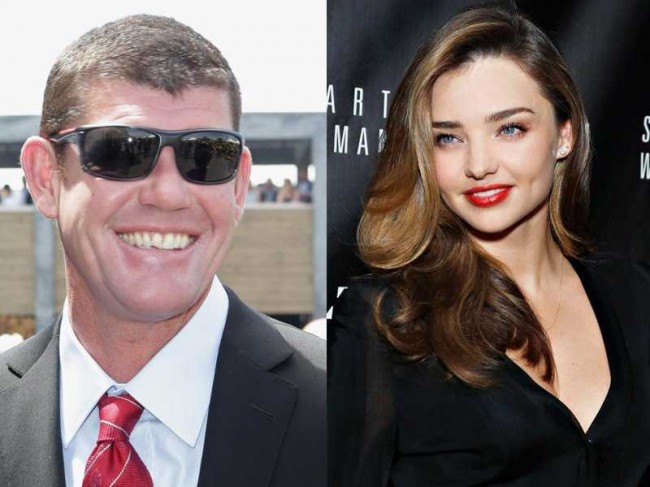 Is Miranda Kerr dating James Packer or not? Woman's Day magazine in Australia is certain that they are, but E! magazine is equally determined they are not. Under the headline "Hottest Aussie Hook-up Ever!" the Woman's Day "exclusive" claims the billionaire and the supermodel are an item, shortly after they have both ended their marriages. E! refutes that.  According to them, their sources have revealed "there is no truth to this."
They have certainly been friends for a long time. The two families, both with their former spouses, all went on holiday to a swanky resort in Tahiti last year.  They also mixed together in the same circles in Los Angeles. James is thought to have given Miranda expert business advice when she was setting up her cosmetics company, KORA Organics.
Then, abruptly, within a month of each other, both marriages were over. James left his second wife Erica, with whom he has three children, in September, and Miranda split up from Orlando Bloom 45 days later.  The Packers youngest child, Emanuelle, is just one year old. Erica has just appeared on the front cover of Australian Vogue.
Fiona Connolly, the Editor of Woman's Day says she backs her story "100%" that the casino mogul, 46, and the supermodel, 30, were a "red hot romance" and that reports she had on this were "only strengthening." She cast doubts on the veracity of E!'s source, which was unidentified.
In an odd coincidence both Miranda Kerr and Erica Packer grew up in Gunnedah, a small town in Northern New South Wales. Packer has long had a predilection for brunette beauties. Now, James is said to have told his mates "I'm seeing Miranda Kerr" thus shortening his most recent short stint as the most eligible bachelor in the world.  Mutual friends say they are not surprised. Miranda loves the high life, they say, and although she comes across as an "Earth Mother" she will love the lifestyle James Packer can provide.
Miranda and Orlando Bloom still seem on very good terms, whether the Packer rumors are true or not.
She took their son Flynn,2, to see him perform on Broadway on Romeo and Juliet, and spent all last weekend with him.
Marriage break-up is tough on everyone, no matter whether they are rich and famous or not, and James Packer spoke to the Seven Network in Australia earlier this year when he confessed he had been "in pain" back in 2002, when he felt "isolated" and "like a failure." At that point, Tom Cruise had reached out to him and offered friendship, which he gratefully received.   This was when his first marriage to Jodhi Meares was ended.  Although he then toyed with Scientology, he is not involved with the religion anymore.
James Packer comes from an extraordinary dynasty of Australian media moguls. His father was Kerry Packer and his grandfather Sir Frank Packer. He thus inherited the control of their empire, Consolidated Press Holdings. He is thought to be worth around $7 billion and is ranked second on the Australian Rich List. Despite the historic ties to the media, James saw the future in the Internet and gaming, and he sold off most of the media assets, including Channel Nine,  to fund casinos. This seems to have been a canny move as his new gambling empire, Crown is an international success. His latest move has been to team up with Damian Aspinall, gorilla conservationist and club owner, to bring more casinos into the United Kingdom.
He has not entirely left the media business behind him though, and he recently formed a production arm, RatPac Entertainment, in partnership with Warmer Bros. It has already had a smash on its hands with the movie Gravity.
Miranda Kerr shot into the spotlight as a Victoria's Secret model in 2007. She has said she had a wonderful childhood in the Australian countryside, riding horses and racing on motorbikes. All that changed when she won a competition in Dolly magazine and began modelling at the young age of 13.  A long string of international modelling assignments came her way until she was dropped by both the "Angels" and by top Australian store, David Jones, in March 2013.  Kerr has published a self-help book Treasure Yourself.
Whether they are dating, or they aren't, there is no doubt that the combination of Australia's wealthiest scion and the Lucky Country's most "binged" celebrity will continue to provide speculation about a possible new, very gilded, golden couple.
By Kate Henderson
Sources
Sydney Morning Herald
Womans Day