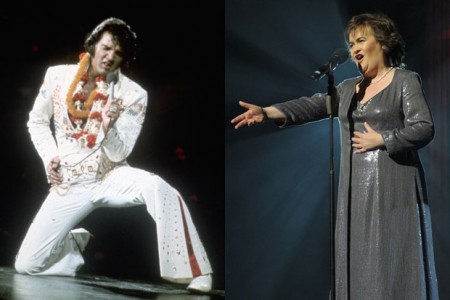 Susan Boyle, the 50 something late bloomer with the beautiful voice, recently sang with Elvis Presley.  No, it is not a bad dream.  It was however, a dream come true for Boyle to croon the old Christmas standard Oh Come All Ye Faithful with the long deceased Presley.  In the modern world of digital technology, anything is possible and just about anything is attempted.
A video was made starring the two singers, actually a few different weird takes on the conglomeration, performing the duet of sorts.  Boyle would sing, then Elvis would sing, or at least a recorded voice sounding like Elvis would sing, then somehow they sang together.  These duets with dead people are starting to go too far.  Singing with dead people is just eerie.  It was a conjoined effort that did not make much sense, but here it is for your post-holiday viewing pleasure:
The eerie trend all started with Natalie Cole back in 1991 with her unforgettable duet with her father Nat King Cole.  Oh yes, the name of the song was Unforgettable and Nat King Cole had been dead for a quarter of a century.  It was a unique idea and it turned out quite well since both father and daughter's voices blended with perfect harmony and intonation.  One time was unexpected and applauded, but it did not stop there:
Natalie felt a special bond with her father, who she lost when she was 15, and the connection was magical, even though the performance was manufactured.  She liked the effect so much, she went on to record a few more digitally created duets with her father over the next few years, including one in Spanish.  Cole sort of raised the bar in new musical recordings and many have followed the strange pattern in the last few decades.
Boyle is one of the many artists that have joined voices with the dearly departed singers of fame.  Surprisingly, Presley's estate has given the okay to use his voice and his likeness in productions and others are joining in.  Whether or not permission has been granted, the dead singer has no choice in the matter.  It leaves one wondering if they would do a duet with said person if they were still alive.
Celine Dion wasted no time singing All the Way with Frank Sinatra just a year after he passed.  Maybe he had turned her down in previous years?  Dion also did a little number with Elvis after he was resting in peace.  Even more amazing, John Lennon had written and taped Free as a Bird in 1977, three years before his death, but it was not until 1995 when his widow Yoko Ono gave the tape to the living Beatles to record.  Now that's eerie.  The song must have been better with age.
The list goes on with copycats galore and not just by recording music.  Many commercials have featured dead icons as their pitch person including John Wayne for Coors beer, Fred Astaire for Dirt Devil, Steve McQueen for Ford and Gene Kelly for Volkswagen.  The string of dead people popping up from time to time is endless.  Who could forget JFK serving a Dr. Pepper to Forrest Gump?  Now this is a classic moment in time:

They say it was the best of times, the good old days, but what about all the new talent out there?  Debatable at best.  The question remains with who gets the profits and top billing on these ventures?  Is it ethical and just the normal hype for more sales and dramatic shows?  Would these beloved stars of yore give their approval and even want to sing or act with the artists of today?
As Boyle's dream to sing with Elvis was a dream come true for her, it is both eerie, but kind of nice.  Just because it can be done through technology, does not mean it needs to be done.  But just maybe Barry Manilow could do a little something on the piano with Liberace, Joplin or even Bach or Chopin.  Then again, Beethoven is already rolling over and that should be reason enough not to.
Satire By: Roanne H. FitzGibbon