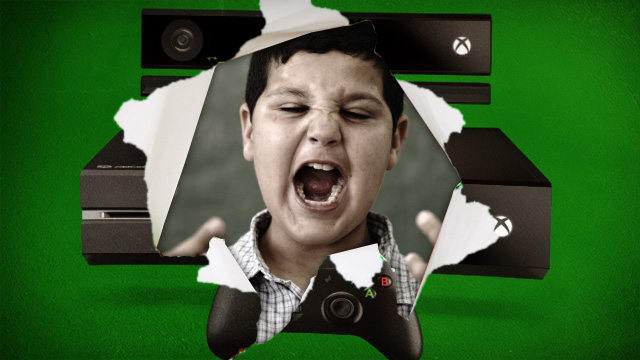 Xbox One consumers need to be extremely wary. 4chan, a website containing  a simple image-based bulletin board where anyone can post comments and share images, has been subjected to an evil Xbox One prank.
A few months ago the forum convinced people to dunk their new iPhones into water. Now, they have completely destroyed the dreams of an Xbox One without any problems, although Microsoft seemed to be doing that without any help.
Users have been complaining about loading times, kinetic issues, lack of memory and other hardware problems. Microsoft have stated that they are working towards fixing the Xbox One OS problems, which are programmed to juggle 101 things at once, but have so far has been over-worked.
4chain has added to Xbox One consumer problems and people need to be extremely wary they don't end up clicking on the site. The forum promised to provide a "hack," which would ensure backwards capability for the Xbox One, meaning the console would become unlocked and players would be able to access older games designed for Xbox 360.
There is just one sacrifice people need to make when typing in this new unlocking code. They will completely destroy their new Xbox One, which they have shelled out an awful lot of money our for.
The image to look out for, and IGNORE, is a green and grey box. It is labelled as the "Xbox One Backwards Compatibility Unlock," and has six simple instructions to follow.
Afterwards, in bold enticing letters, the picture states that players will not be able to play 360 games on their console. However instead, it "bricks" the Xbox One completely, and makes it utterly inoperable.
To further the problem, 4chan offers no reversal instructions and players are left to look upon their destroyed console with a sweat-ridden brow.
One Anonymous comment below, said "guys I did this, how do I turn it back, please it's my brothers console." The sheer panic for users can only be imagined as the Xbox One costs anywhere from $500 – $900.
4chan's prank is to be avoided by players at all costs. It only adds to the problems already reported about the console, such as accusations of sexism, software malfunctions, and an annual subscription that cost $60 as a guide to the new console.
It is not surprising that gamers are attempting to unlock their console after Microsoft had initially implied, that there would be streaming services that allowed older games to become available on the Xbox One.
The damage of the prank has been so detrimental that Xbox Live programming director, Larry Hryb tweeted "To be clear there is no way to make your Xbox One backwards compatible & performing steps to attempt this could make your console inoperable."
Xbox One consumers therefore, need to be extremely wary of 4chan's prank. Unfortunately, there is no way gamers can get the Xbox One they wished they had. Microsoft seem to have bitten off more than they can chew with this one, leaving many people feeling let down by the new console.
By Melissa McDonald