Meet the Boyinks. Crissa and Mike have been married for over 21 years and have one son and one beautiful daughter; the perfect ingredients leading to a seemingly perfect family life. Except there was a void in the family picture. It resonated within millions who watched their house values tank, their jobs become depleted and life, once so sunny, became shrouded with gray. Once Mike was laid off from his corporate America job, he and Crissa decided it was time for a change.
An idea that blossomed between the family where no one takes the full credit, but where everyone agreed.
It was time to go.
Their children, Harrison and daughter known as Storybird were homeschooled, so there was not a concern of a major shift of environment. Except one that required fuel and had wheels.
That is right. The Boyinks were going to take America by storm. By giving up the promise of dependence on a house and corporate job, the family would seek their own path in life.
Mike started his own venture called Boyink Interactive and the family prepared to start their new life. Enter their first RV purchase dubbed affectionately as the "One Year Trailer." The family opted for a durable sleeping space, rather than living space.
What was supposed to be be a year venture is now into its third. With over 4,400 pictures taken in their first year of travel, the family decided to continue on. After all, the first year was spent on scouring states and determining the amount of campgrounds they could find to catch some z's.
It was in the second year when a sensation of quiet and solid acceptance settled over the family. Their mid-west home was sold and it was time to upgrade the RV and determine a true path of life. Mike details on his blog the many adventures the family encountered. While the family drove through Phoenix, Arizona in March of this year, Crissa shared a unique groupon with her husband. One item on his bucket list to finally cross off.
Mike would have a NASCAR driving experience.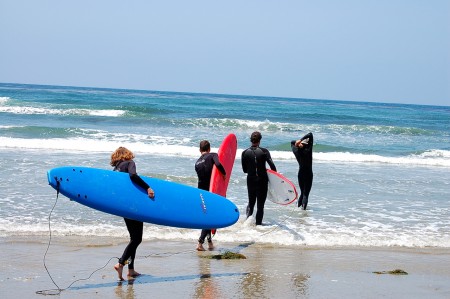 The experience, he relays, was one of the most exhilarating he'd ever had; one that was captured while the family was on the road, traveling; an opportunity that may not arisen had the family maintained their scheduled family life.
It was during their third year traveling that Mike took to his blog. A new venture was building and the family had one desire: to search for a farm. The family offered to volunteer their services for crop-raising and taking care of animals. The biggest concept was the family's desire to learn how to grow their own food, tend to animals and connect with this rugged and labor-intensive lifestyle.
Mike revealed their farm life was finally found. The Guardian Liberty Voice caught up with Mike this month to discuss his experiences.
Interview with Mike Boyink
GLV: How did you and Crissa meet? Was there ever early discussions on traveling the country?
MB: We met in a group created for post-high-school singles and sponsored by a collection of area churches. The group put together a musical performance and my wife was the piano player. Until we devised the pipe-dream years later we had no specific travel goals.
GLV: Reading over your blog really caught my attention. Do you recall if it one of you specifically who came up with the idea of hitting the road?
MB: I can't. The idea is several years older than the action and whose brain it started in I can't recall. My wife and I both grew up camping so that was familiar to us. Somewhere we mixed in the realities of being self-employed online and homeschoolers and realized we could pretty much be anywhere. We labelled the idea our "pipe-dream" and talked about it from time to time for a few years before making it happen.
GLV: One of the questions I get a lot surrounds the homeschool aspect,  is there a specific reason you decided to homeschool, instead of opt for traditional education?
MB: The initial decision was because my son was an early reader, we had friends who were homeschooling, and there were some great homeschooling support groups in West Michigan. We decided the early years looked easy enough so started there figuring we couldn't really do much wrong. Continuing was a year-by-year decision and it always made sense to keep homeschooling.
GLV: You have been traveling three years with the family. Has there been a consideration of settling to one location?
MB: We don't know. We have some interesting years ahead in transitioning the kids to either college or a life on their own and there isn't a clear path through that. Overall our mindset is that we will live this way until it makes sense not to, and don't worry (yet) about what comes next.
GLV: Has your children shown a desire to pick up a similar journey as they enter adulthood?
MB: One maybe yes, one probably no – but I don't expect that they would know that for sure yet. I keep telling them that I expect a phone call when they hit 30 going "Holy cow – that was crazy!" I think it will take that long for the full weight of what they have seen and experienced to finally sink in.
GLV: Outsiders typically will offer criticism to the choices made, calling it "crazy." Have you or Crissa ever looked at one another and thought "what are we doing?"
MB: We've had rough days where it seems like the world is plotting against us, but I don't think there has been a moment since we left initially where either one of us has thought "gee, maybe we should go live in a house again."
GLV: During the many adventures of your travel, is there anyone person who has affirmed what you are doing?
MB: No single one – just a long string of experiencing amazing moments and meeting interesting people, with many many days of normal living mixed in between.
GLV: How about those moments on the road that just brought your family together?
MB: Oh gosh – our whole life is about being together as a family. It's hard to choose but some of the special "up" times were taking surfing lessons in Southern California, attending 2 TedX conferences, going kayaking in Oregon, piloting a houseboat on the Mississippi  and dancing in an Indian Pow-Wow. But families come together in tougher times as well, and some examples there are being in a truck accident in Kentucky and getting way-laid by an ice storm in Atlanta.
GLV: I know you were looking for a farm, have you found one?
MB: Yes. We are currently on an 80 acre ranch/farm in South Texas. We have been here just a week and so far we've fed animals, cleaned out of horse stalls, done some gardening, organized some PVC inventory, and began cleaning an unused apartment. Oh, and today I learned how to drive a backhoe (cue male grunting…;). My daughter has begun learning to ride and tend horses, and my son just earned his first paycheck doing some construction work with the farm owner.
GLV: Getting lost to many can be aggravating, but for you it just might lead to an adventure. Have you ever taken a wrong way that lead to something pretty amazing?
MB: Between an atlas, Google Map, and GPS we don't have too many wrong turns – they are just "alternate routes"…;)
Having said that, there have been "serendipitous moments" like getting an email while going down the highway from the director of a marching band just saying how he likes what we were doing and inviting us to come hear his band play. We thought "cool, but we just need to keep driving." A little down the road we were hungry, got off one exit, didn't find food, got off another exit (we're starving by this point), settled on a place, and ordered food. While eating we notice a lot of kids in matching T-shirts. Turns out the band was performing across the road. So we ate, bought our tickets and watched their performance.
Another was turning a street too soon in a city and getting stranded by a Christmas parade with no place to back up or turn around. We shut down, watched the parade, waited for it all to clear out and continued on our way. It made for a late night but also a fun story.
GLV: Do you encounter other families on the road, with your same intentions?
MB: Yes. There is a small community of traveling families and we "purpose to meet" them whenever we can. In the last 3-4 weeks we have been around 4 other traveling families. One of those we have become especially close with and caravanned together for roughly 7 weeks total during 2 different stretches (one in OR and one in KY to Washington DC). That was a special experience in that we sort of took our community with us – the views would change but the neighbors would be the same.
GLV: You mention on your blog becoming debt-free, this is an amazing feat for any family. Can you tell us a little bit more, on how you developed the process to lead to that goal?
MB: The reality is that the financial process started way before the trip. I worked my way through college and graduated debt-free. We paid off my wife's college loans over time. When we started our Web Development company we choose to keep our overhead costs down in order to allow my wife to stay at home with the kids. This included staying in what was to be our "starter home". We also chose to be a one-car family (I did have a "toy Jeep" but it was a hobby, and not always road-worthy). Before we launched on our initial one-year road trip we were down to just the house mortgage, but did have to take a loan out for the RV. Returning from our one-year trip we sold the house and cleared enough to pay off that initial RV loan to become totally debt-free.
We remained that way until this fall when we needed to replace the initial RV with a new one, so are back to having a loan again. It was frustrating, but the alternative was to stop traveling and rent a place to live and we didn't like that option. So we have a new goal of aggressively paying off the new RV loan and getting back to being debt-free again.
GLV:  What are some misconceptions that may bother you that you just wish others would understand?
MB: Oh, we know there are misconceptions but we're not usually bothered by them. We look like we are on vacation but aren't (some days we don't come out of the trailer because I am working and the kids are schooling).  People think we are wealthy or hit the lottery or won a contest but we've just arranged our lives (and tolerate the inconveniences) to live this way and find it can be done for roughly the same cost as suburban living.
GLV: Would you recommend families to experiment with traveling together. Perhaps not the three years, but even for a short time.
MB: I would recommend looking at your lifestyle and truly determining if it's what you really want or are just living the way society expects you to. Do you truly get family time or is your life a constant coordination and travel game with each parent driving different kids to different activities?
If it's not what you really want take the steps to make it so – whether that's a smaller change like saying "no" to that next after-school activity or a larger one like leaving it all behind for some extended RV travel. RVing isn't for everyone and that's OK. What's not OK is sleepwalking through your life never fully living it the way YOU want to.
The Boyinks Journey Continues
Mike Boyink and his family made changes that compromised the average living people are willing to accept. With trust, love and commitment – the family knows not everyday is easy. Mike shared a recent blog post and discussed those moments of:
Decision Fatigue: which he calls the weariness "that comes from continually having to choose." Themes, states Mike, is a big part to avoid this level of fatigue.
Travel Fatigue: there are days the Boyinks feel frustrated at the long days of travel. Or headed out late and forgot to grab food for lunch. Traffic can work for them, but mostly it can work against them.
The family has learned that short tempers and bad communications does not start or end on the road. Mike states after some "food, rest" and everyone taking a break from the truck – these ailments can be eased. The Boyinks know the difficulty of their decisions and choices did not end upon purchasing an RV. They simply invent new ways to solve them by working together to make it happen and remain connected. Community is everything to the Boyinks and during the harder days and frustrated moments, there may be annoyances and the need to step away from the RV.
This family discovered there was more to life than timeclocks, rushed schedules and the perfect house in the perfect neighborhood. This family discovered the depth of one another by being placed in situations that demanded the best of them, when sometimes, they felt at their worst. A unity of hope within a country enshrouded with doubt. The Boyinks bring to surface the raw substance of family, ever-changing, ever-debating but always connecting to love fully, live fully and experience fully.
There is one emotion that never surfaces for this hard-working family: regret.
The perfect combination of the Boyinks journey is echoed by their poetic daughter.
A poem by daughter Storybird:
My Heart Has Wings
A normal day.
A normal life.
A normal brother.
A normal family.
A normal me.
All my friends.
All my idols.
Wishing I could be like every one of them.
Beautiful.
Smart.
Witty.
Friendly.
Then came the day.
A different day.
Nothing like normal.
The moving day.
All our possessions.
Into the basement.
Into the trailer.
My heart, flip-flopping.
Trying to grow wings.
It was fun.
Quite interesting.
Living this way.
With places to go.
People to meet.
Ears pricked.
Eyes peeled.
Noses tilted.
Mouths open.
Hands reaching.
And hearts…..
On wings.
Flying around.
Loving this life.
With everything different.
Our hearts.
Lifting, swooping, diving.
Exploring.
Like a dog's nose.
On the ground.
Our hearts.
Beautiful.
Our hearts.
With wings.
Back home again.
For six months.
In suburbia.
Walking along.
My heart, silenced.
Fluttering in dreams.
Of past days.
When it had wings.
Now abnormal.
An abnormal life.
An abnormal brother.
An abnormal family.
An abnormal me.
I was meant to be.
Like my heart.
A heart with wings.
A heart just waiting.
To be set free.
Has finally been.
Set free.
Angelina Bouc
Interview
Sources
The Boyinks 4 Adventure Blog
Boyink Interactive – 
Train-ee – a Boyink Business
Stunning Photo Credit to: Mike Boyink
Special thanks to:
Rebecca Savastio