Astronomers have discovered a black hole orbiting a star very far from the solar system. This binary system of a black hole and a spinning, or be-type, star is one of 80 found within the Milky Way Galaxy. This discovery has brought astronomers to believe that there is a larger presence of these binary systems in the galaxy than previously thought.
Known as MWC 656, the binary system is located in the Lizard constellation 8,500 light away from Earth. The very hot, bright blue star was found to be spinning at around 1 million kilometers per hour. The star is spinning so fast that the it is ejecting plasma from its surface and has created a ring around itself.
Marc Ribó, a researcher at the Institute of Science at Barcelona University, stated that back in 2010 they began detecting transient gamma-ray emissions from the system. After subsequent observation, they found that no more radiation was being detected. By analyzing the information they collected, they concluded that the object was between 3.8 and 6.9 solar masses. Since the object was invisible to telescopes and the mass exceeded the Chandrasekhar limit of gravitational stability of a neutron star (3 solar masses), they concluded that it could only be a black hole.
They have found two strange things about their discovery. They stated that in all be-stars found in the Milky Way Galaxy that have been located in binary systems, the companion has always been a neutron star. As well, the characteristic X-ray radiation being emitted by either a black hole or a neutron star isn't present.
Astronomers have discovered that the black hole orbiting the star is devouring the star's matter. Since the star is spinning on its axis at such a high rate of velocity, its plasma ring is being attracted towards the black hole's massive gravitational pull. The attracted mass has created an accretion disc around the black hole. Astronomers state that by studying the matter and emission of the accretion disc they will be able to determine the exact size and mass of the black hole.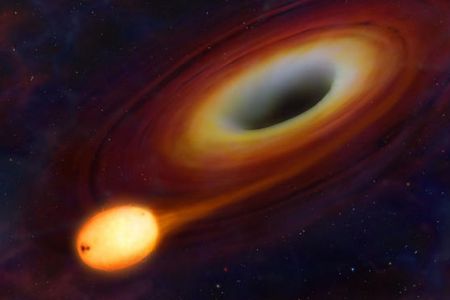 The researchers believe that the reason there is no radiation coming from the black hole is because the angular momentum of the black hole is too low. Since the be-star is spinning at such a high rate of velocity, the gravitational force of the black hole is unable to capture enough matter from the star to emit a detectable amount of radiation.
Astronomers state that be-star systems could have possibly been missed and undetected in the years searching for them. "We think these systems are much more common than previously thought, but they're difficult to detect because their black holes are fed from gas ejected by the be-stars without producing much radiation, in a 'silent' way, so to speak," said Casares of the University in Barcelona. Black holes typically emit X-ray radiation from their center due to the reactions of immense gravitational forces on physical mass. However, this black hole did not emit any radiation which attributed to its cosmic silence.
Casares said that his research team is planning on using larger, more powerful telescopes to detect small amounts of gamma radiation around these systems. He said that the best prospective telescope is the 10.4-meter Gran Telescopio Canarias in the Canary Islands. They believe that if astronomers use high-powered telescopes to check in areas where previously there was little to no radiation, more of these binary systems will be discovered. As astronomers discover more black holes orbiting stars in these be-star binary systems they will begin to develop a better understanding of them.
By Alex Lemieux
Sources:
Yahoo News