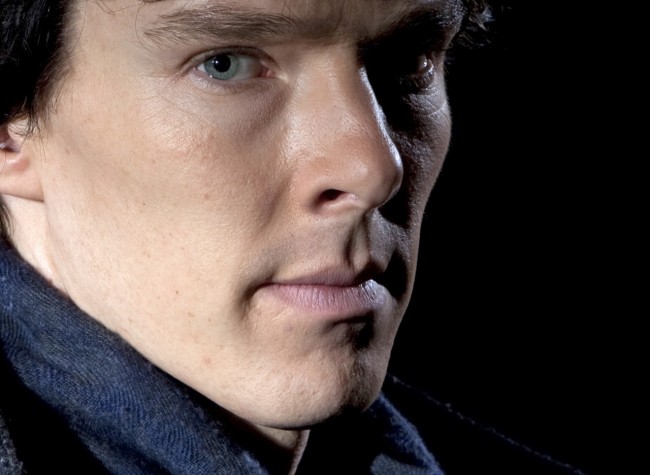 Benedict Cumberbatch has recently confirmed that he and co-star Martin Freeman want Sherlock to return for a fourth season. Thus far, there has been no official announcement from the BBC that Sherlock will reappear. However, the show's inceptors – Steven Moffat and Mark Gatiss – have already, allegedly, planned seasons four and five. Speaking to a group of U.S. reporters, recently, Cumberbatch claimed that he had already "commissioned" the next season.
The Star Trek Into Darkness star was at the Television Critics Association (TCA) Winter Press Tour, in Pasadena, along with executive producer Steven Moffat. Moffat joked the show would proceed "… until Benedict gets too famous." Cumberbatch reinforced that further seasons were on the horizon, indicating the main hurdle to revolve around scheduling issues:
"I'm fine with it. I'm going to keep going with it…It's a schedule-providing thing…I love it. I find it very invigorating."
Cumberbatch also compared notes with Robert Downey Jr., at the TCA press tour to discuss their versions of the illustrious super sleuth detective. According to Cumberbatch, the two actors have adopted entirely different approaches to playing Sherlock Holmes. While Downey Jr. uses a mix of brute force and intellect, Cumberbatch plays the part using a purely cerebral approach.
The actor spoke about his dealings with Trainspotting star Johnny Lee Miller, who plays the U.S. version of Sherlock in Elementary. Cumberbatch indicates, despite the media's assertions, that he and Miller are both fans of one another. By pure happenstance, the pair met on a plane and started talking; it seems the two regularly watch each other's work and, according to Cumberbatch, have become "really good friends."
With recent ratings in the United Kingdom having surpassed expectations, many would be forgiven for believing the fourth season would be assured. The finale to season three generated considerable interest across Britain, with 8.8 million viewers tuning in to watch – a viewer share of over 32 percent. The show has also gained significant traction in China, inspiring Sherlock fan clubs of thousands of followers and a Sherlock-themed cafe. Offering his modest opinion on the project, Moffat claims that he did not expect more than three million viewers and an award from "… an obscure European festival."
Meanwhile, the premiere of season three of Sherlock, in the U.S., saw a significant bump in ratings over season two's premiere – around 25 percent.
Speaking to Entertainment Weekly, Moffat ruminated over the contingency of a Sherlock movie. The Doctor Who writer – who was credited with the sci-fi series' revival – claimed that the team does not rule out any possibilities; however, he explains that there is something special about watching Cumberbatch and Freeman starring in the television series. Moffat also briefly reflected over the unprecedented stardom the lead actors have enjoyed, in recent years:
"Mark [Gatiss] and I sometimes imagine what would happen if we had written it now and were saying, 'We'd like Benedict Cumberbatch and Martin Freeman for the parts!'"
37-year-old Cumberbatch also informed Entertainment Weekly that he almost rejected the Sherlock part. Worrying that such a high-profile role could result in significant public attention, he claims he was reserved about taking the lead of an iconic character and "… stepping into the populist limelight." These issues were washed away, however, by the professionalism and passion demonstrated by his coworkers.
Episodes from the third season of Sherlock airs Sundays at 10 p.m. on PBS Masterpiece.
By James Fenner
Sources:
Daily Mail
Independent
AceShowBiz
MTV UK
Guardian Liberty Voice