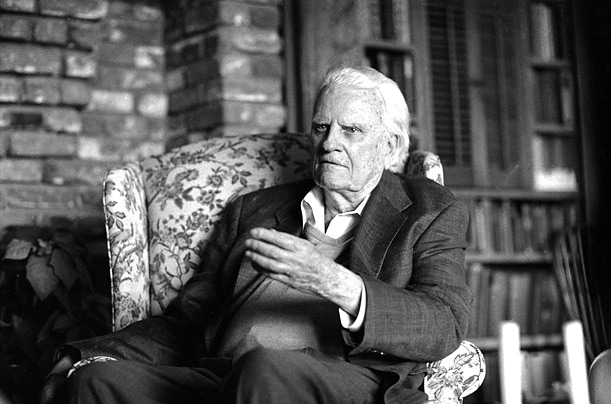 Recently, one of my heroes, Billy Graham turned 95. At the same time, began to wrap up an amazing legacy. To coincide with his birthday,  "America's Pastor" released what he said was his last public outreach. 
Since Harry S Truman, this evangelist has been known for being close to every American president; Barack Obama may be the lone exception to that rule. He has been invited to spend the night in the White House during many times of national crisis. He was particularly close to Dwight David Eisenhower and Richard Nixon.  He spent the night at the White House on the last night of the presidency of Lyndon Baines Johnson and was invited to stay the next night at the invitation of Richard Nixon on the evening of his inauguration.
He has preached in countries all over the world and  has had audiences with major world leaders all throughout history. His ministry over the last 75 years has impacted the world. For certain, that ministry has definitely impacted one middle-aged preacher from West Texas.
I grew up in a Southern Baptist church. From the time I was in elementary school, I wanted nothing more than to be a preacher someday.  True, it was kind of a strange goal for a young boy growing up in West Texas. Most boys in my class wanted to be cowboys, policemen, firemen, football stars. Not me; I wanted to preach.
I had many mentors growing up. Pastors who took an interest in me, and teachers who helped me to hone my speaking skills. When I was ten, the pastor of my church gave me an opportunity to preach.  I knew about it months in advance and was thinking about what I would be preaching. My fifth grade teacher was also a member of the same church. One day after school, he handed me a stack of pamphlets; they were Billy Graham sermons in manuscript form.  For the longest time, it was Graham's outlines and preaching style I tried my best to emulate.
Over time, I would soon adopt my own style of preaching. I would form my own methods for putting together a sermon. There was one thing, though, that I noticed in Dr. Graham that I admired the most. It was a quality I respected and it was what I think made all the difference in his ministry and his notoriety.
I am speaking of his heart for people.  Billy Graham deeply cares for people; it is at the heart of his ministry. I believe it encompasses everything he is about. He believes, like I do, that the only way to eternal life is through a relationship with Jesus Christ. In order to receive Heaven, a person has to understand the sacrifice of Jesus on the cross and understand that it was in order that mankind could gain a home in Heaven.  It is at the heart of his ministry that everyone know and understand that.
It started with crusades. Soon, he was also writing books. Through a series of events, he was able to launch a radio program. Later, he would form a production company to make movies. All of this was for one purpose, to reach people with the message of Christ. He was willing to use any means possible. He cared that much.
Time after time, he has announced that he was going to become less active in the ministry. Most of these announcements seemed to always be followed by another crusade or outreach effort with Graham at the helm.  It became apparent that retirement was not in his vocabulary.
Nowhere was that truth more evident than 2013. The aging evangelist is five years away from being a century old. Most of his contemporaries are gone. A few years ago, he lost his wife.  Most people who actually reach this age are often not active. They are ready to stop and just rest or are just plain not physically capable of doing much.
Billy Graham is different. In his 95th year, he released a nationwide broadcast where he gave a simple presentation of the Christian plan of salvation. He knew it may be the last time that he ever has a chance to address the public.  If it was going to be the last, he didn't want it to be about him; he chose to make it about Jesus.
This past December, his grandson Will reported that it would probably not be long until Billy Graham would be gone from this world, because his health is declining. To paraphrase the Apostle Paul from the Bible, his time of departure is close. Billy Graham, however, will leave an amazing legacy.
Many preachers today, myself included, often forget the true meaning of our calling. We choose to argue politics or focus on one day running a mega-church. We often get embroiled in keeping everyone in our congregation happy and making sure that our lay leadership is happy. When we do that, we lose our way. We forget what it's really all about. We forget that it's about Jesus and not about ourselves.
When that happens to me, I am reminded of Billy Graham.  I remember the simplicity of his message, the integrity of his ministry, and the compassion of his heart.
I thank my Creator for the amazing legacy which Billy Graham will leave.
By Rick Hope
Sources: