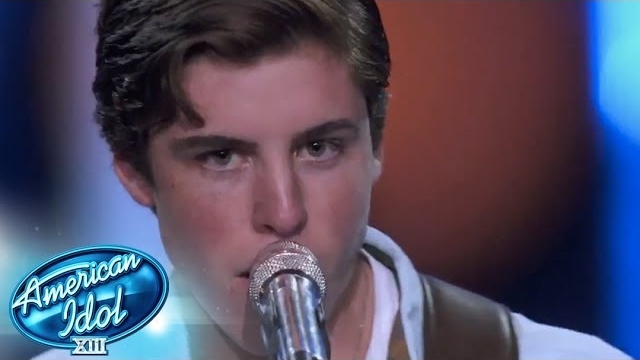 On American Idol tonight, it's the Hollywood Round, Week #1. Last night, the contestants who made it to Hollywood on the face of their auditions were whittled down first to two busloads, one which stayed and one which was driven directly to the airport to go home. The rest were asked to form groups and tonight, the three judges will hear the groups sing, and send even more people home.
"Three Mo' Days," Sarina Joi-Crowe, David Oliver Willis, and Tony Foster, Jr., are the first three up. They sing "Too Close." It sounded to me like they did a great job. J-Lo says that "individually, you all had really strong moments." She asked David and Sarina to step forward; they would stay, while the third member, Tony, who screwed up the lyrics, was sent home.
Ben Briley, Dexter Roberts,  and Casey Thraser, the "Backstreet Cowboys," were the second performers. They sang "I Want It That Way." They sounded AWESOME, and had the crowd give them a standing ovation. Keith told them that "you're all going forward."
Though we're not getting to see all of the groups tonight, some of the people going forward are: George Lovett, Neco Starr, Paula Hunt, Andrina Brogden, MK Nobilette, Briana Oakley, Kenzie Hall, Brandy Neelly, Emily Piriz.
Andrina Brogden, Briana Oakley, and another contestant — I didn't catch the name, sorry —  sing "Royals." They also were FANTASTIC, and each of them were told they get to move on.
Spencer Lloyd sings with two females, Megan Miller and Alyssa Siebken. They were really terrific, IMHO. Spencer started off the song "Best I Ever Had." J-Lo said "that was tough." The judges apparently didn't like how the group did. She is about to say who will stay and who will go, when…. American Idol went to a commercial break.
Back from the commercials, the judges are somewhat harsh with them. Spencer and Megan will be staying, while Alyssa is going home. Ryan says that the "dream has also come to an end for Madison Walker, Keith London, Austin Precario, Stephanie Petronelli and Adam Roth of San Francisco."
Tiquila Wilson decides to leave the competition altogether, saying it's not for her. Harry steps in, joking, saying that he's no longer going to be a judge on American Idol. I suppose what he said was mildly humorous, but only if he wasn't trying to make fun of Tiquila, whose decision to leave couldn't have been an easy one for her to make.
Matthew Hamel, who last night had trouble finding a group, finally teamed up with Tyler Ahlgren, C.J. Harris and Caleb Johnson, and they call themselves the "Dream Raiders."  They sing "Too Close," which, with "Royals," seems to be a popular song choice tonight. Harry said that Caleb "owned the performance." Tyler and Matthew are going home, while C.J. and Caleb are going on to the next round.
Then, Ryan shows us a clip of a group called "Collision" who also sing the song "Too Close," and he asks if we think they will all stay or be sent home. I think that they will stay in Hollywood, from the little I heard of them singing together.
The next group to perform was "Clarity." A member of the group, Sikenya Thompson, who wasn't going to perform decided to perform, at the last moment — she said that she was "sick" and her voice does sound very hoarse. She was coming down with the flu. Of course, they also sing "Too Close."
Jena Ascuitto, Sikenya Thompson, Munfarid Zaidi, and Allie Odomsang were the members of the group. Sikenya was the one with the flu, but she sang fairly well, despite her speaking voice sounding as if she was as sick as a…well, person with the flu. Allie will go home, while the other three group members will be going to the next round.
Savion Wright, John Fox, and a person whose name I didn't catch (sorry) sing "Royals." Harry Connick Jr. said that he didn't think that John Fox looked "comfortable" on the stage — he was the only one of the group to be sent home. Savion cried about John being sent home, because they had become friends due to the competition.
Back from another commercial break, Jessica Meuse speaks to J-Lo, telling her about her travails so far. The group sings "Single Ladies." Stephanie Hanvey, Nica Nashae, and Jessica Meuse sing it, and Jessica does fairly well, despite saying that she wasn't that sure she knew the words yet. All are going forward, except for Stephanie Hanvey.
All of the group did as well as they could, but not all could move on. Stephanie's mom was there, encouraging her daughter and wondering why she was sent home, as any mother would. Stephanie did great, but apparently, the judges for whatever reason thought that the other singers were a little bit better. Then, American Idol went to another commercial break.
There was just time for two more groups to perform, as tonight's American Idol was only an hour long.
"Love's Angels" sang "Say My Name." Carmen Delgina, Emmanuel Zidor, and Terrica Curry made up the group. Harry Connick Jr. said that there was no real singing done, and he thought it was a terrible choice for the group to have made. After the judges meet, Harry said that the performance was terrible, but one person had potential to go on, and that person was Emmanuel Zidor — the others were sent home.
The last group of the night on American Idol, Loud & Fierce, sang "I Want You Back" by The Jackson 5. They are Olivia Diamond, Queen Bulls, Malaya Watson, and Christina Collins. They sounded pretty sweet together, I thought. J-Lo announced that "I want you back — all four of you!" The entire group would be moving on!
Next week, even more of the contestants will be sent home. These Hollywood episodes of American Idol are taking their toll on the contestants who are left, but the judges want to try to ensure that only the best of them move on. Still, many great singers are being sent home, and many difficult decisions had to be made by the judges to narrow down the field. Stay tuned with me next week, to watch American Idol, then please check back here and read my recap/review of the episodes!
Written by: Douglas Cobb