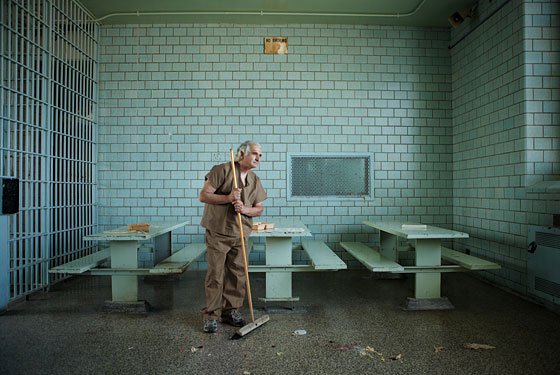 If you have never heard of him, Bernard "Bernie" Madoff was considered to be at the top of the food-chain when it came to investments. Sources say he formed the Bernard L. Madoff investment securities LLC in 1960, with likely no intention of ever becoming a federal prison inmate convicted of turning his business into a Ponzi scheme. According to research, in the beginning of his career he was able to borrow enough money to get things going, and with a small group of investors, a passionate and eager Madoff was able to turn his business into a power house, quickly climbing the Wall Street ladder to become a major name in the field of financial investments. He has been reported of stealing upwards of $20 billion from investors. He remained to be the chairman of the business until 2008 when life for Madoff began to take a turn for the worst.
Fraud at the level of billions, for one, has been known to change a man's address to say the least, and for a very long time as viewers have seen with Madoff and his hefty 150 year sentence. Madoff, being 75, should be somewhere around 225 years-old when he is rejoined with society again. Some of the victims who suffered as a result of the Ponzi scheme, sources say, they feel the long sentence should be just enough time for the financial tycoon to be rehabilitated.
The man who served the king now says he had no part in the Ponzi scheme.  According to his not guilty plea, it may appear to some that Daniel Bonventre has decided not to join his old pal Bernard Madoff behind prison bars just yet, no matter what type of scheme he may have going in there. Apparently he does not want anything to do with it. He has been reported as saying the man he knew was "trusted" by all, adding he was unaware of any "Ponzi" anything. In fact, he has suggested after 40 years of working together, whole-heartedly believing in the integrity of Madoff, Bonventre now sees him as a very sick man, "terribly" even. However Federal prosecutors may not be in total agreement with his claims of innocence. Bonventre is also being charged with what some would call "less than appetizing" allegations himself of misleading regulators by falsifying records, for which he has pleaded not guilty.
After Federal Law enforcement officers received information from Madoff's sons about their father confiding in them about the Ponzi scheme, Madoff was arrested shortly afterwards and charged with securities Fraud.
Roughly one year later the financial wizard plead guilty to 11 felony charges resulting in a catastrophic blow to the tycoons billionaire lifestyle, receiving 150 years of incarceration. If that was not painful enough, his son Mark, who had previously cooperated with FBI agents was found hanged to death from a beam in the ceiling of his Manhattan apartment in an apparent suicide, just two short years after his fathers conviction. Mark's 2 year-old son was in the next room.
Viewers can only speculate as to what life may be like for Bernard Madoff now, or how he might be adapting to prison life, where the scheme is much different.
Opinion By Aaron Thompson
Sources: